December 7, 1936 – July 8, 2022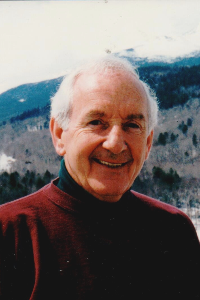 Edward C. Wade, age 85, of Reading, MA, died peacefully on July 8, 2022, at The Residence at Pearl Street Assisted Living in Reading after a long battle with vascular disease. He was the loving husband of the late Maureen Gervase (Woods) Wade.
Ed was born December 7, 1936, in Boston, MA. He was raised and educated in Somerville and graduated from St. John the Evangelist High School. He was a U.S. Navy veteran and a proud graduate of Boston College, earning a BASB in Economics as well as an MBA.
Ed had many jobs throughout his lifetime, but the career he was most proud of was his 31 years at Polaroid. He spent many years in various manufacturing and operations roles and ended his career as Director of Materials Management and Logistics worldwide for manufacturing. This position gave him numerous travel opportunities including Scotland, Holland, Mexico and Japan. He also made many lifelong friends. As he got older, he continued to keep busy working for the Census Bureau conducting field surveys and served as Vice President of "Voice of the Faithful" Boston and southwest Florida chapters.
Ed had many interests, including playing on a state champion adult softball team, where he earned the nickname, "Fast Eddie". He also enjoyed the beach and being on the ocean, a love which surely came from his years in the Navy. Never did a summer go by that he didn't organize a family whale watch. He and his wife Maureen shared a love for Irish music and both were very proud of their Irish heritage. He had a passion for following all Boston College sports programs. He attended most BC football games, cheering on the team from his seats on the 50-yard line for close to 50 years.
He will be missed for his fierce independence and love of friends and family. Ed is lovingly survived by his children: Maryann Lavoie and husband Russ of Orleans, MA, Edward "Eddie" Wade and wife Cheryl of Nashua, NH, Timothy "Timmy" and wife Jeanette of Bear, DE. He is also survived by 7 grandchildren, Jennifer and Eric Lavoie, Eddie, Sean, Bethany, Katie and Abby Wade, and one great-grandson, Eddie IV. He was the dear brother of the late James Wade and the late John Wade, and also leaves behind many loving nieces, nephews and cousins.
Relatives and friends are kindly invited to gather for Visiting Hours at the Costello Funeral Home on Tuesday, July 12, from 4-7PM, and again on Wednesday at 9AM followed by a Funeral Mass in St. Mary's Church, 155 Washington St., Winchester, at 10AM. Burial will follow in Wildwood Cemetery, Winchester. In lieu of flowers, donations in Ed's memory may be made to the Alzheimer's Association, 309 Waverley Oaks Rd, Waltham, MA 02452. https://www.alz.org/manh.