Reading, MA — Mark your calendars!! Join the Reading Trails Committee and Walkable Reading for the Tenth Annual Winter Walk on February 6, 2022. This year's walk will begin at 1:00 PM at the entrance to the Town Forest across the field from the Wood End School. Come out, get some exercise, and enjoy the fresh air. There will be refreshments and a chance to warm up near the campfire. Learn more about the Reading Trails Committee, their past projects, and how you could support and be involved in future projects.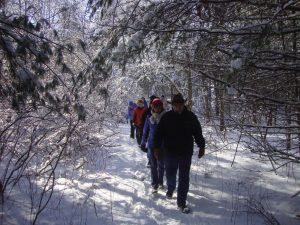 The walk is suitable for all ages. Be sure to wear appropriate clothing and footwear for walking in the winter woods. If there is enough snow on the ground, then strap on your snowshoes. We might even find tracks of some of the critters that frequent the area.
The mission of the Reading Trail Committee is to plan, develop, and maintain present and future trails in the Town of Reading. The goal is for the Town to create and maintain a connected, well-coordinated system of trails to serve the residents of the community. The Committee works closely with the Conservation Commission and the Town Forest Committee on permitting and coordinating projects. The Committee also works with the Reading Open Land Trust (ROLT) on connecting town-owned land with ROLT properties and with Walkable Reading to encourage walking.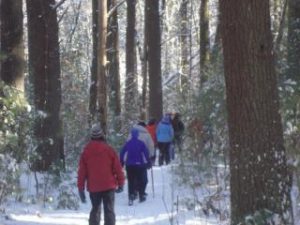 Walkable Reading's mission is to encourage and enhance increased pedestrian and non-motorized access to the community for all through education, promotion, and advocacy.
For updates, see the Trails Committee page or Walkable Reading's Facebook page.