January 10, 1942 ~ August 23, 2021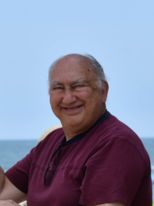 John S. Doucette – 79, of Reading and formerly of North Reading, died at his home on Monday, August 23, 2021.
Born in Reading, MA on January 10, 1942, he was the son of the late Sylvester and Alice Doucette. John was a graduate of North Reading High School, Class of 1959. He was an exceptional athlete, especially in baseball and football. He was awarded the first all-around sportsman award.
John was a U.S. Air Force Vietnam Veteran. He was A1C and he served from 1960 to 1964.
John worked for AVCO on the Apollo Antenna Program; Sanders Associates in Nashua, NH as a Technician; AAA for several years and in his later years as a machinist before retiring at age 58.
He was an enthusiastic Boston sports fan. His family remembers fondly of his devotion to "his teams", even when they made him yell at his TV Set. John loved to travel especially to New Hampshire with family during vacations. He was a devout Catholic and active in his church.
John loved his family. Not only did he love spending time with his children and grandchildren, but he also cherished his many nieces and nephews. John also had several friends, he enjoyed spending time socially with Maureen, Ed, and the folks where he lived.
John has been a resident of Reading for the past 25 years and was a member of St. Agnes Church.
Family members include his daughters, Janette A. Doucette of Virginia Beach, VA, Cathy J. Doucette of Billerica and Sandra L. Williams of NH; sons, Michael J. Doucette and his wife Colleen of Ashby, MA, John C. Doucette and his wife Joelle of Georgia and the late Paul J. Doucette; his sister, Nancy O'Donnell of Stoneham, he was the brother of the late Robert Doucette and Barbara Winters.; 9 grandchildren and 2 great-grandchildren; John also continued to have a special friendship with his former wife Diana.
Private services will be held at a later date. Arrangements are by the Croswell Funeral Home, 19 Bow Street, North Reading. croswellfuneralhome.com