March 31, 1931 – April 04, 2021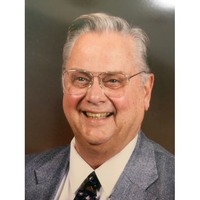 Wendell Walker Hodgkins passed away on April 4, 2021, in West Melbourne, FL, at the age of 90. He was born in Cambridge City Hospital (MA) on March 31, 1931, to Alice (Walker) and Wendell Albert Hodgkins of Winthrop, MA.
He spent a happy childhood in Winthrop and often told stories of fishing and rowing about the inner Boston Harbor in his own wooden rowboat. He took piano and organ lessons locally and graduated from Winthrop High School in 1948.
A proud alumnus of Boston University, Wendell earned a B.A. from its College of Liberal Arts in 1952, followed by an M.A. in 1953. Following a short period of drafted service in the United States Army, during which he was organist and chaplain's assistant at Fort Dix, NJ, he completed coursework toward a Ph.D. in English, supported by the GI Bill of Rights.
While at Boston University, he served as piano accompanist for the Glee Club, wherein he met a beautiful soprano whom he eventually married. Although not a music major, he studied organ with Samuel Walter and often served as Mr. Walter's substitute at the University's Marsh Chapel. During his years at Boston University, Wendell was also active in the Roger Williams Club and the Christian Association.
In 1955 Wendell married college sweetheart JoAnn Mae Isbell. They raised five children in Reading, MA, where he taught English at Reading Memorial High School for 37 years, serving as department chair for 18 of those years. Previous teaching positions were held in the public schools of Avon and Lynn, MA. He formed long-lasting friendships with colleagues, and RMHS alumni remember him with fondness and respect.
Wendell Hodgkins was active in church music throughout his adult life. He held positions as organist and choirmaster at St. Paul's Episcopal Church in Beachmont, First Baptist Church in Winthrop, and First Methodist Church in Lynn, before settling at Old South United Methodist Church in Reading, where he enjoyed nearly four decades of celebrated service. The music program flourished under his direction, bringing joy to hundreds who participated in youth and adult choirs and small instrumental ensembles. He particularly enjoyed playing organ/piano duets through the years with dear friends and family members.
Wendell's retirement years were happily spent in Florida with his second wife, Helena, where they enjoyed the company of new friends and participated enthusiastically at the community Bingo table. He continued to play the organ and never failed to share memories of family time enjoyed "at the lake" in Holland, MA, at the cottage loved by extended family and friends.
Wendell was pre-deceased by his precious son Geoffrey in 1971, beloved wife JoAnn in 1992, dear sister Ruth (Hewitt) in 2008 and her son Robert in 1995.
He leaves loving children and their spouses, grandchildren, and great-grandchildren: son David (Shiela Kibbe) of Brookline, MA; daughter Marcia (Joseph) Waitekus of South Walpole, MA; son Douglas (Pamela Dalton) of Melrose, MA; and son Roger of Holland, MA. Grandchildren include Kathryn and Geoffrey (Claire Pershing) Hodgkins: Rachel (Gaelen Moore), Leah, Joseph Waitekus; and Camille Hodgkins. Great-grandchildren are Ayla, Logan, Lucas, Olive, and Hazel Moore. Loving nieces and nephew are Susan Hewitt, Margo (Hewitt) Yntema, Roxanne (Hewitt) Scarcia, Richard Isbell, and Cheryl (Isbell) Mircheff. He is also survived by his second wife Helena (Babcock) Hodgkins of West Melbourne, FL, her grandson Brett Richard Miller, and many adoring friends.
Although absent from Reading and Massachusetts for many years, Wendell's hearty laugh, fondness for crossword puzzles, pride in his family, and ebullient organ playing remain dear memories to many.
The family will gather privately at Douglass, Edgerley, and Bessom Funeral Home in Reading, MA. Friends are invited to attend a graveside funeral service at 12:30 PM on Saturday, April 17, 2021, at the Forest Glen Cemetery in Reading, MA.
Memorial gifts in Wendell's name may be made to the Old South United Methodist Church in Reading 6 Salem Street Reading, MA 01867 or https://www.oldsouthumc.org/ or the Leukemia and Lymphoma Society (888-557-7177, or LLS.org, click on DONATE button, or mailed to LLS Donor Services, PO Box 98018, Washington DC 20090).