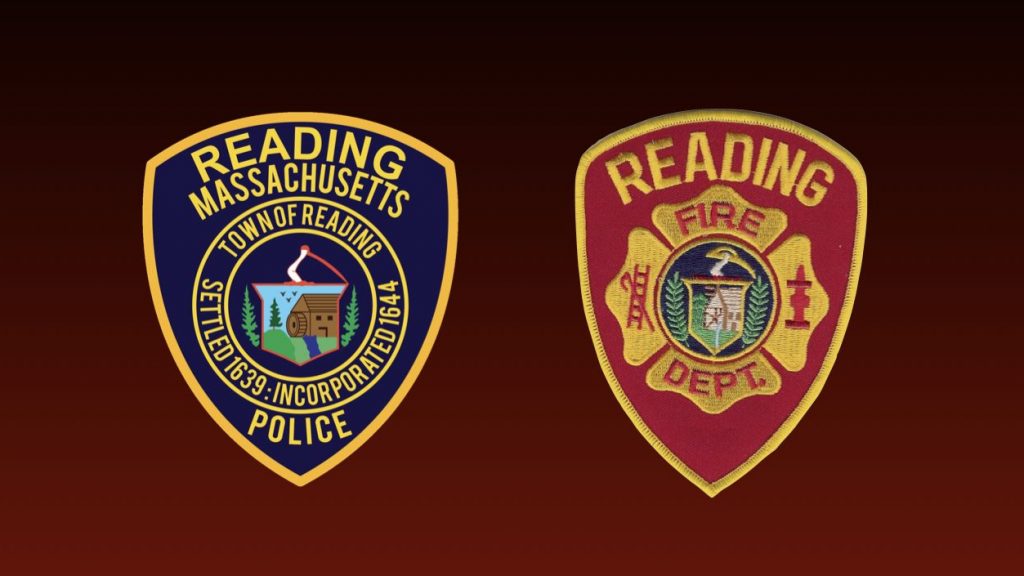 Reading, MA — Excerpts from the Reading Police and Fire Log
Thursday, March 25, 2021
12:04am – Caller Passed Motorcycle on 95S Shooting Flare in the Air.
12:36am – Building Check at Birch Meadow Elementary School.
9:15am – K9 Search Conducted at Austin Preparatory School.
9:42am – Lift Assist for Salem Street Resident.
12:17pm – Bancroft Street Resident Report of Odor in Residence.
1:45pm – Extra Check of Birch Meadow Elementary School.
1:47pm – Disabled Vehicle in Roadway on Salem Street.
2:28pm – Report of Suspicious Vehicle in Walkers Brook Drive Parking Lot for Past Few Days.
2:37pm – Report of Disabled Vehicle on Scotland Road.
3:47pm – Severed Animal Head Found in Town Forest.
5:24pm – Debris in Road on Main Street.
5:42pm, – Hit and Run Reported on Oak Street.
8:39pm – Suspicious Vehicle on Main Street Possibly Following Person.
9:23pm – Winslow Road Resident Reports Suspicious Vehicle Shining Flashlight.
9:43pm – Report of Youths Gathering on Birch Meadow Elementary School Basketball Court.
Friday, March 26, 2021
7:54am – Commercial Alarm at Grove Street Business.
8:33am – Audible Fire Alarm at Salem Street Residence.
8:41am – Report of Dog Being Walked on Fields at Parker Middle School.
9:47am – Emerald Drive Resident Reports Fraudulent Unemployment Claim.
10:22am – Truck Caught Guide Wire with Poles and Wires are Down on D Street.
11:01am – Investigation of Two-Vehicle Crash at Haverhill Street Rotary.
11:26am – Wallet and Credit Cards Turned in to Officer on Walkers Brook Drive.
12:25pm – Dana Road Resident Reports Unauthorized Charges to Credit Card.
1:29pm – Fire Alarm at General Way Building Called in by Alarm Company.
3:01pm – Key Ring Found on Grove Street.
4:16pm – Report of People Wandering in Roadway on Main Street.
4:43pm – Alarm at Killam Elementary School.
4:55pm – William Road Resident Reports Raccoon on Porch.
5:10pm – Resident Reports Missing Bicycle Found Locked up Outside High Street Business.
5:25pm – John Street Resident Brings Package Delivered to Wrong Address into Station.
5:49pm – Keychain Found on Main Street.
6:35pm – Complaint Regarding Vehicle Blocking Another Vehicle in Municipal Parking Lot.
6:55pm – Vehicle Repossession Order for Grove Street Resident Received Via Fax.
8:11pm – Report of Large Branch Sticking Out onto Sidewalk on Main Street.
9:01pm – Tree Leaning on Wires on Sunburn Lane.
10:13pm – Commercial Alarm at Walkers Brook Drive Business.
Saturday, March 27, 2021
8:55am – Haverhill Street Resident Report Regarding Information Taken in Social Security Scam.
9:41am – Criterion Road Resident Reports Unwanted Guest at Door Refusing to Leave.
10:43am – Cross Street Resident Reports Oven Sparking.
1:22pm – Dudley Street Resident Reports Vehicle Parked in Front of House for a While.
1:46pm – Officer Assists with Birthday Parade on Prescott Avenue.
8:41pm – Direct Call to Station for Summer Avenue Resident Assistance.
9:44pm – Commercial Alarm at Main Street Business.
Sunday, March 28, 2021
1:11am – Report of Vehicle Traveling the Wrong way on Salem Street Rotary.
7:01am – Suspicious Vehicle Parked in Walkers Brook Drive Parking Lot.
12:11pm – Union Street Resident Concerned Regarding Packages at Front of the House.
12:41pm – Officer Out with Disabled Vehicle on Lakeview Avenue.
1:32pm – Archstone Circle Resident Complaint Regarding Unwanted Guest Harassing Resident by Phone and Showing up at Home.
1:51pm – Investigation of Three Vehicle Crash on Grove Street.
2:11pm – Possible Fight in Progress on Green Street.
5:32pm – Oakland Road Resident Reports Hot Water Flooding into Residence.