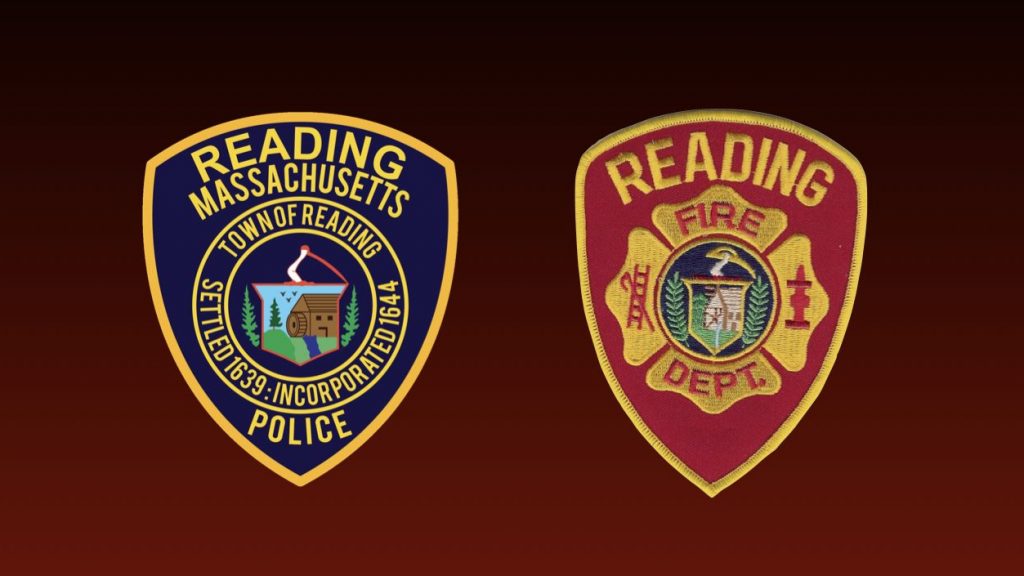 Reading, MA — Excerpts from the Reading Police and Fire Log:
Thursday, February 4, 2021
5:36am – Central Office Alarm at RMHS.
6:32am – Crossing Guard Called Out Sick.
6:34am – Commercial Alarm at Main Street Business.
8:19am – Investigation of Single Vehicle Crash on Salem Street Rotary.
8:43am – Text-a-Tip Report of Suspicious Person Looking into Vehicles ion Sanborn Street Parking Lot.
10:52am – Minor Vehicle Crash Investigated on Summer Avenue.
2:04pm – Report of Small Pot Hole Developing on Forest Glen Street.
2:29pm – Van Norden Road Resident Reports Bank Accounts were Accessed.
3:03pm – Report that Vehicle was Struck while Parked in Barrows Parking Lot.
4:02pm – Wire Down on Belmont Avenue.
7:35pm – Lilah Lane Resident Reports Fraudulent Unemployment Claim.
7:51pm – Woburn Street Resident Reports Altered Check.
9:58pm – Commercial Alarm at Walkers Brook Drive Business.
Friday, February 5, 2021
8:16am – Lift Assist for Holly Road Resident.
8:43am – Spring Street Resident Reports Passport Stolen from Mailbox.
9:54am – Alarm Activation at Temple Street Residence.
10:33am – Officer Assists with Funeral Procession on Woburn Street.
12:01pm – Assistance Rendered to Main Street Resident with Missing Vehicle.
12:35pm – Low Hanging Wire on Kenneth Road.
1:23pm – Report RegardingRegrading Hit and Run in General Way Parking Lot.
1:42pm – Martin Road Resident Reports Attempted Check Deposit Scam.
2:53pm – Loose Dog Reported on Ridge Road.
4:00pm – Officers Assist with Birthday Parade on High Street.
5:56pm – Report of Two Persons Arguing Loudly in Haven Street Parking Lot.
9:02pm – Complaint Regarding Item Thrown from Vehicle Striking Another Vehicle.
10:16pm – Wallet Reported Lost on Oakland Road.
Saturday, February 6, 2021
7:54am – Alarm for Meadow Brook Lane Resident who Fell.
8:35am – Smoke Detector Activation at Morgan Park Residence.
8:36am – Commercial Alarm at Main Street Business.
8:55am – Lowell Street Resident Reports Fraudulent Unemployment Claim.
9:18am – Report on Ash Street of Two Dogs Barking and Causing a Disturbance.
9:47am – Commercial Alarm at Main Street Building.
9:55am – Officer Assisting with Birthday Parade on Howard Street.
11:05am – Pearl Street Resident Reports Fraudulent Tax Return Filed.
11:47am – Report of Electrical Box Hanging from Wire on Main Street.
1:33pm – Traffic Lights Twisted at Main Street and Salem Street.
2:12pm – Low Hanging Wire on Henzie Street.
3:02pm – Report of Solicitor Inside Augustus Court Residence.
3:11pm -Pearl Pear Street Resident Reports Fraudulent Unemployment Claim.
7:27pm – Complaint Regarding Reckless Vehicle Operation on Main Street.
8:41pm – Ash Street Resident Reports Finding License Plate.
Sunday, February 7, 2021
1:01am – Check on Suspicious Vehicle on Haven Street.
10:55am – Report of Outside Odor of Gas at Burbank YMCA.
12:04pm – Complaint Regarding Vehicles Parked in Middle of Road on Strout Avenue.
12:42pm – South Street Resident Reports Receiving Threatening Text Messages.
2:31pm – Report of Delivery Truck Stuck in Snow on West Street.
2:51pm – Suspicious Person Walking Up and Down Driveways on Summer Avenue.
2:52pm – Investigation of Vehicle that Slid off Road and Struck Telephone Pole.
2:54pm – Investigation of Minor Vehicle Crash on Washington Street.
4:02pm – Dispute Between Salem Street Resident and Plow Driver.
4:20pm – Illegally Parked Vehicle Impeding Plow Operations on Harnden Street.
4:34pm – Investigation of Two-Vehicle Crash on General Way.
4:53pm – Vehicle Stuck in Snow on Washington Street.
5:20pm – Dudley Street Resident Reports Credit Card Stolen Three Years Ago.
5:21pm – Two-Vehicle Crash with Airbag Deployment on Batchelder Road.
10:45pm – Summer Avenue Resident Reports Items Taken from Two Unlocked Vehicles.