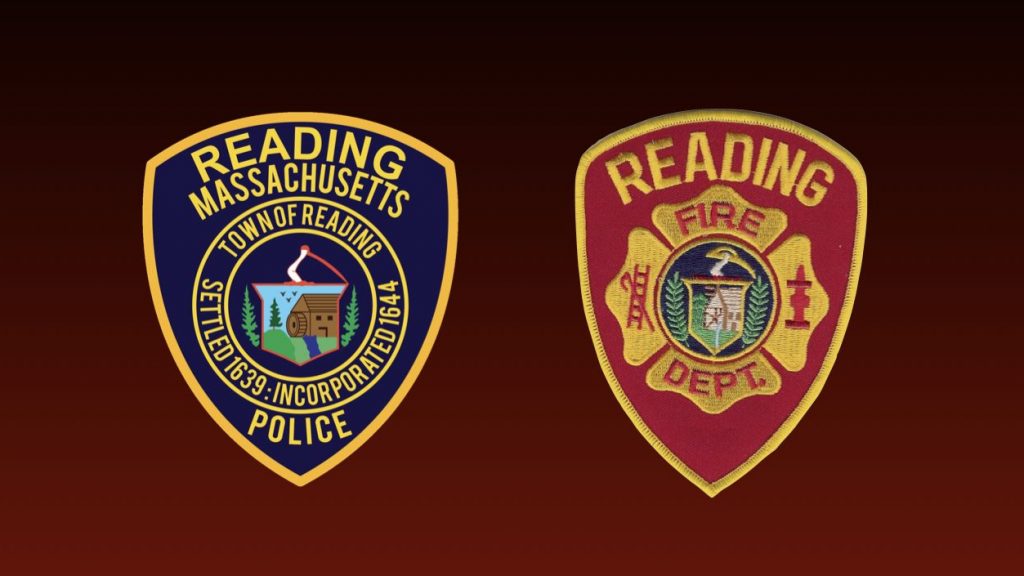 Reading, MA — Excerpts from the Reading Police and Fire Log:
Thursday, January 7, 2021
2:13am – Investigation of Vehicle Striking a Deer, Injuring the Deer on Franklin Street.
9:19am – Officer Covering Parking Enforcement in Downtown.
11:40am – Francis Road Resident Reports Fraudulent Unemployment Claim.
12:45pm – Report of Erratic Vehicle Operation on Salem Street.
1:43pm – Immediate Threat Revocation on Franklin Street Received Via Fax.
3:38pm – Report of Family at Hunt Memorial Park not Wearing Masks.
3:43pm – A Street Resident Reports Fraudulent Check.
3:44pm – Deceased Rabbit Reported on Lee Street.
4:43pm – Bancroft Avenue Resident Reports Previous Motor Vehicle Crash.
5:03pm – Report of Three Cameras Stolen from Rice Road Property.
5:32pm – Disabled Vehicle on Walkers Brook Drive.
6:07pm – Two Car Crash on Green Street with Rollover Investigated.
10:06pm – Car vs. Deer Reported on Haverhill Street.
Friday, January 8, 2021
5:36am – Commercial Alarm at Main Street Business.
10:36am – Person in Lobby Reports Check Fraud.
10:50am – Letter of No Trespass Received for Main Street Property.
11:23am – Village Street Resident Reports Mail was Tampered With.
12:06pm – Main Street Building Owner Seeks Options with Homeless Person.
12:23pm – Investigation of Three Vehicle Crash on Main Street.
1:51pm – Lift Assist for Main Street Resident.
2:08pm – Report of Person Walking and Acting Suspiciously on Causeway Road.
3:26pm – Follow-up Regarding Main Street Trespass Order.
3:59pm – Parking Enforcement with One Citation Issued on Haven Street.
5:07pm – Washington Street Resident Reports Stolen Package.
9:06pm – Door to High Street Business Found Open with Keys in Lock.
Saturday, January 9, 2021
3:55am – Main Street Resident Reports Dog Barking.
12:28pm – Suspicious Person Possibly Attempting to Hitch a Ride on Winslow Road.
3:17pm – Pine Ridge Road Resident Reports Fraudulent Unemployment Claim.
4:03pm – Report of a Branch Hanging on a Wire with a Buzzing Sound on Criterion Road.
8:44pm – Arrest for Erratic Vehicle Operation and OUI on General Way.
9:28pm – Report of Suspicious Person Running Towards Vehicle in Rear of General Way Building.
10:00pm – Waltham PD Requests Information Regarding Possible Stolen Property.
Sunday, January 10, 2021
10:25am – Highland Street Resident Reports Attempted Fraud.
11:14am – MassDOT Notified of a TV Dumped on Side of Road on Bethesda Lane.
11:25am – Fire Alarm Activation with Third Floor Smoke at Main Street Building.
12:26pm – Report of Two Parents Fighting at Burbank Ice Arena.
1:00pm – Follow-up Visit with Hancock Street Resident.
1:52pm – Report of Dog Off Leash on the Field at Parker Middle School.
1:57pm – Complaint that Person was Almost Struck by Vehicle while Crossing Ash Street.
2:52pm – Report of Dog in the Back of a Pick-up Truck on Salem Street.
7:47pm – Bethune Avenue Resident Reports Dog Running Into Woods Behind House.
9:44pm – Pinevale Avenue Resident Complains Regarding Car Alarm in Area Sounding for Past Hour.