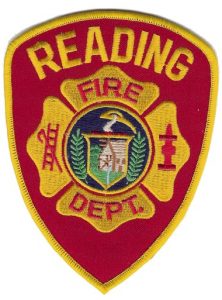 Reading, MA – Ten Reading firefighters recently received the honor of being named Massachusetts Firefighters of the Year regarding their heroic efforts in putting out the fire at 1 High Street on February 24 of this year.
The ten firefighters being honored with this award are members of Group 1: Captain Mark Dwyer, Lieutenant Scott Myette, FF Robert Beck, FF Derek Loftus, FF Thomas McCarthy, FF Paul Dalton, FF Robert Forsey, FF Eric Bagby, FF Brian Roche, and FF Steven DeBay.
The firefighters are being recognized for their efforts in responding to the apartment complex fire at 1 High Street earlier this year. The members of Group 1 responded to the fire at 3:29 am on the morning of February 24 and quickly evacuated the building while simultaneously providing aid to two people who were trapped on the third floor of the building. The two civilians were carried down the stairs by Group 1 members and given emergency medical care once out of the building, eventually being transported by ambulance to the Lahey Hospital and Medical Center.
This is the first time that any Reading firefighters have received this honor, and the recipients will be honored at the 31st Annual Firefighter of the Year Awards Ceremony. The award honors members of the Massachusetts Fire Service from across the state for acting in a manner that makes the communities they live in safer, whether that be in the form of emergency response or community service. Recipients are chosen by the Heroic Awards Committee, who decide from nominations submitted by local fire chiefs.
The awards ceremony, which is usually an in-person event with Governor Baker presenting, will be a virtual one later this year.