July 22, 2000 – November 24, 2020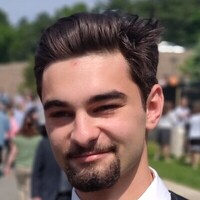 Nicholas R. Ventullo, age 20, a lifelong resident of Reading passed away unexpectedly on November 24, 2020.
Born in Winchester, MA, Nicholas was the son of Bonnie Hughes & her husband William Hughes of Reading, Nicholas Ventullo of Danvers and beloved brother of Christopher Ventullo and his wife, Olivia, also uncle to James (Chelmsford), as well as brother to Kalee & Jayda Ventullo (Stoneham).
Nicholas (Nicky) was raised in Reading and was a graduate of Reading Memorial High School, Class of 2019.
Nicholas was active in many Reading Youth Sports including hockey, baseball, football, basketball, and his favorite sport, soccer. He was a member of Boy Scout Troop 702 and a Youth Soccer Referee for many years. At Nevins Farm, MSPCA in Methuen, he attended camp and eventually became a junior counselor. His favorite past time was spending time with his friends around the campfire as well as playing video games with his brother, Chris. He enjoyed playing ping pong & candlepin bowling with his father. After high school, he attended Salem State University. He worked at Jordan's Furniture IMAX Theater and most recently at Stop & Shop in Beverly as well as landscaping with a family friend, Frank Collins. Nicholas was expected to start a job at Raytheon Technologies this month.
A gentle and kind young man who is gone too soon and will be missed by all who knew him. He will be especially missed by his best friend/brother, Michael Chabra, his longest and dearest friend.
A visitation will be held on Monday, November 30 at the Douglass, Edgerley and Bessom Funeral Home 25 Sanborn St. (corner of Woburn St.) Reading from 4-7 PM. Masks must be worn. Due to the pandemic, his funeral and burial will be private.
In lieu of flowers, contributions may be made in Nick's memory to Nevins Farm MSPCA, Methuen MA. https://www.mspca.org/adoption-centers/nevins-farm-adoption-center/