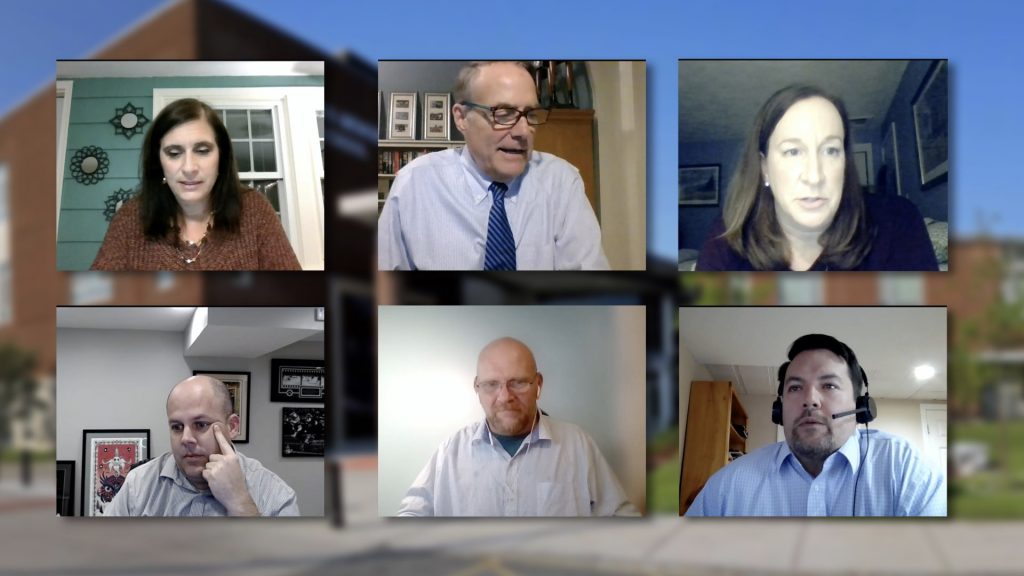 Reading, MA — Superintendent John Doherty presented his initial draft of the district improvement plan to the School Committee on November 5. The three-year plan has a basic strategy to continue to improve hybrid learning and setting benchmarks in the current school year, then seeks to improve on those benchmarks in years two and three. The plan sets specific goals related to increasing literacy, equity, and diversity within the district.
In year one, the district will seek to maintain ninety percent engagement in hybrid learning, complete curriculum guides, begin a five-year curriculum and special education review cycles, and set the baseline for increased standards to measure future growth. The "Portrait of the Graduate" work will also be completed in year one.
Year two sets the goal of a two percent increase in state and local assessments over 2020-2021 and a two percent increase in learning environment scores on the PRIDE and MCAS surveys. The school security capital project will be completed in 2021 as well. There is also a goal that seeks to increase the percentage of teacher applicants who are persons of color by ten percent in 2020-2021, fifteen percent in 2021-2022, and twenty percent in 2022-2023. The plan also sets a goal of a 2.5% increase in the overall percentage of student participation in AP exams and a five percent increase in students of color participating in AP exams.
Year three goals seek to continue growth with five percent achievement growth in assessments and student learning environment scores over year one. Decisions regarding elementary space will be completed by 2023 as well. The district plans to set a goal of ninety percent retention of teachers of color. There is also a proposed goal of a ten percent decrease in the achievement gap.
School committee member Tom Wise praised the plan. "The specificity in this document is great to see," Wise stated. Member Shawn Brandt praised the initiative but expressed concern about achieving the percentages for attracting candidates of color. These percentages are more significant than the rate of persons of color in the candidate pool. "We need to develop a culture that will attract candidates of color." Doherty proclaimed.
Doherty also presented his goals for the current academic year, which creates the groundwork needed to complete the district improvement plan. School Committee member John Parks suggested goals be added to prepare for Doherty's "exit plan." Doherty will be resigning at the end of the school year.
Doherty plans to meet individually with the committee members in the coming week to discuss specific aspects of the plans before the committee votes on both plans at its November 19 meeting.
Enrollment consultant Dale Gienapp reviewed the results of the elementary enrollment study for the committee. The study was last reviewed by the members almost a year ago. Gienapp reminded the committee that, by his assessment, given enrollment projections and expected program changes, the district needs thirty-five percent more space over the next ten years than is currently available in the elementary schools. He also suggested that only two current sites, Killam and Birch Meadow, can achieve realistic expansion. "This problem does not bleed into your middle schools or your high school," Geinapp stated.
Gienapp suggested his two "most viable" schemes to meet the need. The first is a rebuild of Killam Elementary School into a two-story 725 student school, then using redistricting to create space at all the schools. This scheme would create a 2,020 student total capacity at the elementary schools at a 2019 cost of approximately $78 million before the Massachusetts School Building Authority (MSBA) reimbursement. The second scheme calls for a Killam rebuild into a two-story 660 student school with the construction of an addition to Birch Meadow Elementary School. Redistricting would again be used to create space in all the schools. This scheme will create a total capacity of 2,000 students at a 2019 cost estimate of $102 million before MSBA reimbursement.
Gienapp discussed the next steps with the committee as they seek to determine the best way forward. Once a letter of intent is filed with the MSBA, Gienapp suggested the process would take three and a half to four and a half years before the buildings would be move-in ready.
Reading Memorial High School principal Kate Boynton and School Committee member Carla Nazzaro reported on a new volunteer program at the school that, according to Nazzaro, "would bring students back to a full hybrid model." Boynton continued to explain, "We designed a robust hybrid plan that we were not able to implement due to staffing issues." Volunteers would be used to monitor satellite classrooms and aid students with access to technology. Teachers would still be responsible for all instruction. Interested residents should contact the school, Boynton, shared. "Reading is at its best when we all come together for a common purpose." Nazzaro continued. "We want this to be the best experience it can be for our students."
Doherty reported that eight RMHS students had tested positive for COVID-19, though none had yet attended school. He has suspended all in-person extra-curricular activities until November 13, stating that no policies or restrictions had been violated at these activities.
One staff member at Birch Meadow has also tested positive, quarantining thirteen staff, including principal Julia Hendrix. Doherty was quick to point out that none of these additional staff have tested positive. Assistant Superintendent Christine Kelley has been the on-site administrator this week at Birch Meadow.
"The cases we currently have are because precautions were not followed outside of school." Doherty shared while imploring students and families to continue to wear masks, maintain distance, and wash hands outside of school. He also asked that quarantine and testing suggestions be followed if families travel out-of-state during the coming weeks.
The committee voted 6-0 to approve the second readings of the policies on students' immunization and non-discrimination. The School Committee adjourned at 9:40 pm.