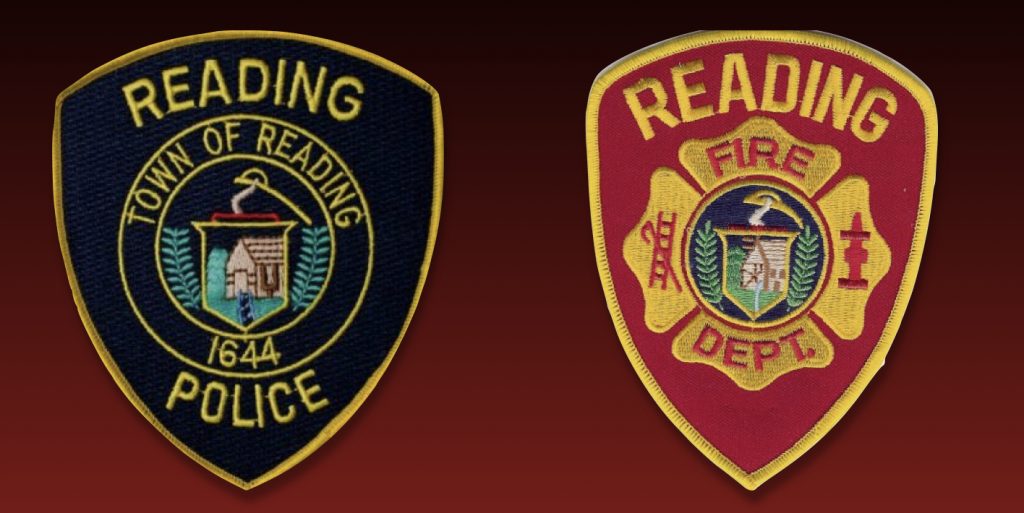 Reading, MA — Below are highlights from the Reading Police & Fire Log
Monday, August 24, 2020
1:15am – Audible Smoke Alarm Heard at Elliot Street Residence.
6:54am – Report of Backpack Taken from Pennsylvania Avenue Driveway.
10:35am – Lost Bracelet Turned in at Station.
11:29am – Crane in Road on Line Road.
11:51am – Lift Assist for Walnut Street Resident.
1:41pm – Complaint of Erratic Driver on Haverhill Street Rotary.
2:53pm – Dispatch Assist with Phone Repair at Highland Avenue Residence.
4:03pm – Report of Needle Found on Washington Street.
5:17pm – Permission Requested to Leave Fifty-three Foot Trailer on Elliot Street.
6:43pm – Report of Suspicious Person Watching Apartment from Across Main Street.
8:11pm – Traffic Lights Not Cycling Properly Reported at Main Street and Summer Avenue.
10:17pm – Report of Construction Cone and Bucket Thrown from Vehicle on Oakland Road.
10:32pm – Ten to Twelve Youths Sent on Their Way from Park View Road.
10:33pm – Tree Limb in Roadway Reported on Howard Street.
Tuesday, August 25, 2020
8:00am – Parking Enforcement on Haven Street.
8:07am – Report of Overnight Break-in at Gould Street Construction Site.
10:36am – Panic Alarm at Reading Memorial High School.
11:33am – Lakeview Avenue Resident Reports Unwanted Guest Inside Apartment.
12:27pm – Assistance Rendered to Individual Retrieving Belongings from Lakeview Avenue Residence.
1:13pm – Disabled Tractor Trailer Reported on Main Street.
1:58pm – Complaint of Improperly Disposed-of Computer Monitor on Pleasant Street.
3:35pm – Investigation of Minor Vehicle Crash on Walkers Brook Drive.
3:38pm – Complaint that Former Worker took Key to Personal Items at Main Street Residence.
3:51pm – Curtis Avenue Resident Reports Fraudulent Unemployment Claim.
3:59pm – Disabled Vehicle on Summer Avenue.
4:17pm – Complaint of Suspicious Vehicle Parked for Two Weeks on Salem Street.
7:50pm – Disabled Vehicle with Flat Tire on Pond Meadow Drive.
7:50pm – 258E Order Sent to Salem Street Resident.
9:15pm – Complaint of Youths Being Loud Near Fields at RMHS.
9:56pm – Report of Store Lights Flashing at Main Street Business.
11:15pm – Stoneham PD Wishes to Speak with Sturges Road Resident.
Wednesday, August 26, 2020
1:18am – Commercial Alarm at Salem Street Business.
3:19am – Public Assistance at Augustus Court Residence.
6:37am – Disabled Vehicle Reported on Woburn Street.
8:10am – Charles Street Resident Seeks Advice on Issue with Neighbor.
8:11am – Complaint Regarding Multiple Construction Vehicles Parked on Both Sides of Shady Hill Lane.
9:28am – Report of Light Haze of Smoke and Odor Inside Town Hall.
11:25am – Informed that Private Investigator will be in Area of Van Norden Road.
11:40am – Elderberry Lane Resident Reports Possible Social Security Scam.
11:44am – Lost Keys Turned in at Station.
2:52pm – Officer Assists with Possible disabled Vehicle on Main Street.
4:27pm – Rocky Road Resident Complains of Almost Being Hit by Erratic Driver.
5:26pm – Officer Assists with Birthday Parade on Pearl Street.
6:22pm – Avalon Road Resident Reports Unauthorized Credit Card Transactions.
7:08pm – Still Alarm at Main Street Business.
9:01pm – Report of Youths Gathering in Walkers Brook Drive Parking Lot.
9:27pm – Verbal Warning Issued for No Headlights During Walkers Brook Drive Vehicle Stop.
11:32pm – Still Alarm at Main Street Business.