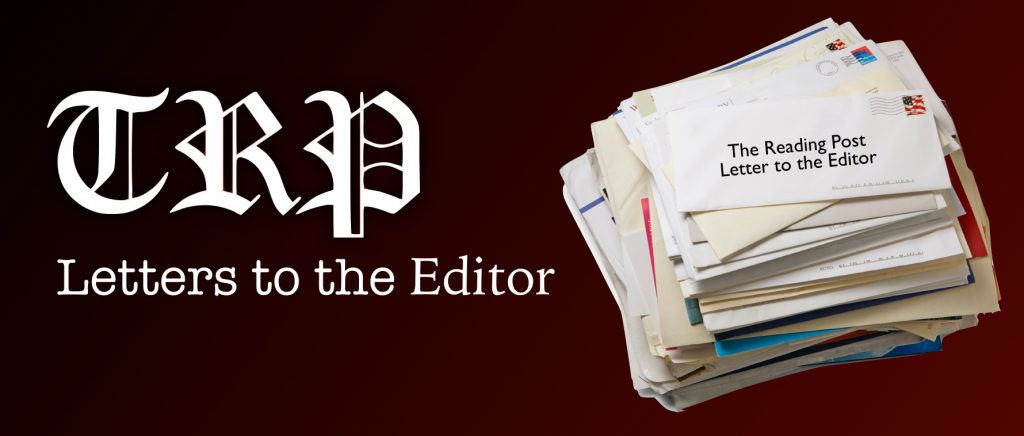 The Reading Post accepts Letters to the Editor. All letters must be signed. The Reading Post reserves the right to edit or not publish any letters received. Letters do not represent the views or opinions of the Post. editor@thereadingpost.com
---
To the Editor,
Recently, Town Meeting member Angela Binda wrote a letter on August 11 stating her opposition to the recall of Select Board member Vanessa Alvarado. In her letter she stated, "the many accusations leveled at Vanessa are simply and plainly false", yet she goes on to make her own accusations regarding John Halsey that are simply and plainly false. She does not address what the accusations are that have been leveled against Ms. Alvarado. The main accusation against Ms. Alvarado is that she violated the charter by delaying the police chief hiring process. Rather than defend Ms. Alvarado against these accusations, Angela Binda's letter focuses on why former Select Board member John Halsey would be a bad fit to fill the vacancy if the recall vote passes.
In her opening paragraph, she states that Mr. Halsey, "just lost his re-election bid in the spring". She is not entirely wrong in saying this, as Mr. Halsey was not re-elected to the Select Board in March 2020. She omitted that in 2019 Mr. Halsey announced he would not seek re-election thus did not pull nomination papers to appear on the ballot. It became clear to Mr. Halsey by the February 11, 2020, Select Board meeting that his leadership and experience were still needed on the board. Many concerned citizens approached Mr. Halsey asking him to be available as the subject of a write-in campaign. With less than two weeks until the election, Mr. Halsey launched a write-in campaign where he received 2,905 votes, which may be a record. Based on the outpouring of citizen support, Mr. Halsey's write-in campaign had a clear impact on the election results.
She claimed, "John Halsey is the only Select Board member in memory to have been required to resign from a position as Select Board liaison to a Committee" which is wrong. At the July 10, 2018, Select Board meeting, which is on YouTube, Mr. Halsey resigned from his position as Recreation Committee liaison of his own volition. Mr. Halsey acknowledged that the Recreation Committee felt it was time for a change in their liaison and he was more than willing to accommodate that. It is simply not true to say Mr. Halsey was forced to resign.
Angela Binda also claimed that Mr. Halsey threatened to sue members of the Recreation Committee, which is not true. Mr. Halsey could not make every Recreation Committee meeting as their liaison because their meetings were in direct conflict with the Select Board meetings. Mr. Halsey was not present at the April 17, 2018, Recreation Committee meeting as he was at the Select Board meeting. At the Recreation Committee meeting, members stated that Mr. Halsey's involvement with five different boards for outside town organizations was a major conflict of interests as some of those organizations dealt directly with the Recreation Committee. A sentiment that was shared at that meeting about Mr. Halsey was that "it is hard to determine what hat he is wearing". The committee then took a unanimous vote of the present members to send a letter to the Select Board requesting a new liaison. These words left an innuendo in the air that Mr. Halsey was acting inappropriately by both serving as the Recreation Committee liaison and being heavily involved with other recreation organizations. Mr. Halsey was advised by counsel that he may have had a legal course of action available and he made this abundantly clear to the Recreation Committee. However, he did not want to file any lawsuits, he pursued no further action, and never threatened any lawsuits.
Angela Binda went on to reference the Open Meeting Law complaint that Mr. Halsey filed against Ms. Alvarado in 2018. She stated that Town Counsel determined the complaint to be "baseless" which is not true. Town Counsel's response never called the complaint baseless and did not insinuate that belief. She omitted why Mr. Halsey filed the complaint. During executive session of a 2018 Select Board meeting, when the board members, the Town Manager, and the note-taker thought they had finished with their proper executive session business, Ms. Alvarado decided she was not finished. According to a firsthand account and the draft minutes attached to Town Counsel's response, Ms. Alvarado stood up, told the other board members and the Town Manager to stay, ordered the note-taker to leave the room, and proceeded to berate Mr. Halsey using a written statement about his behavior from a previous executive session meeting. Ms. Alvarado created a de facto executive session meeting without proper notice and without the note-taker. It is very concerning that an elected official would demand the note-taker to leave an executive session meeting, it is even more concerning that people would support that official for doing so. Angela Binda referred to Ms. Alvarado as, "an intelligent young woman who believes in more open government…and has shown respect for town volunteers and staff". It does not seem fitting that someone who believes in open government and respects town staff would order the note-taker to leave an executive session meeting. An official that supports open government should always want a note-taker present to properly document a meeting.
On September 1, we have the opportunity to recall a member of the Select Board who violated the town charter. We have the opportunity for John Halsey, an experienced public servant, to fill the vacancy that will arise should the recall pass. Please join me in voting for the recall and voting for John Halsey to fill the vacancy.
Sincerely,
Alec David Giacalone
Orchard Park Drive