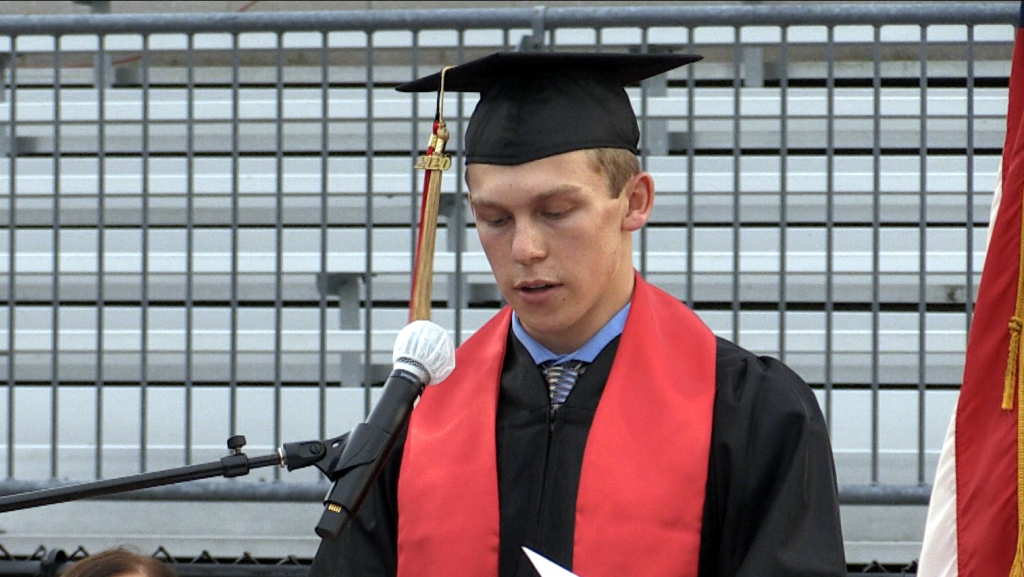 Good afternoon Graduates of the Class of 2020.
We're here today to celebrate some pretty amazing accomplishments. Throughout the last four years, the members of our class have achieved incredible feats in academics, athletics, and community service. Our drama club has put on wonderful shows, our sports teams have brought home many trophies, and our various band groups have performed at a very high level.
Not having been part of many clubs or teams at the school, I don't find myself particularly qualified to talk about the specific accomplishments of our student body. What I can say, though, is that I have felt consistently impressed by the feeling of progress and success each day I entered the building. Despite taking my 'senior privilege' during G block for all of junior year (sorry about that one, Ms. Theriault), I was around enough to notice a great camaraderie and general sense of achievement among our class.
Recently, I was having a discussion about legacy with my parents as we sat around a fire. The conversation made me think about many broad questions. What is my legacy at this moment? What do I want my legacy to look like in the future? How do I connect my current life with such a legacy? While these questions are somewhat vague, and certainly don't have to be answered anytime soon, they are useful to think about, and doing so has brought me to two major conclusions.
First, our accomplishments to this point are significant and have profound effects on the world. When I began to think about the question of my current legacy, I listed the following places and the way in which I would be remembered by people at each of these places: at our high school, I will be known as a smart student with a hefty course load; at my gym, I will be known as the team captain with the good work ethic; by my family, I will be known as a jovial and enthusiastic person. Though I've worked hard to be known for these things, they did not seem to have much of a positive effect on the world outside of my immediate family.
By taking a deeper look, I was able to find some ways in which my actions have had a large positive effect on others' lives. As a gymnastics coach, I have engaged a lot of children in a sport that has meant the world to me. In the last four years, I have worked with nearly every participant at Sunday Swim, a swimming program for children with special needs. I am proud that my legacy includes the small part that I have played in these childrens' development.
I know that many of my friends and peers in the crowd today have volunteered their time at Sunday Swim, and I hope they recognize the positive effects of their work. Of course, Sunday Swim is by no means the only place that members of our class have volunteered in the last four years. Through organized clubs, NHS service projects, and certainly just on their own accord, Reading High students have participated in countless altruistic activities.
Each student in the crowd has had a positive impact on the lives of others, whether that be through volunteering, a job, or simply helping out classmates, friends, or strangers. It is important to recognize our actions and how they affect the lives of those around us. The collection of these actions will determine how we will be remembered; they determine our legacy.
The second important conclusion that I drew from this conversation was that my legacy has only begun to form. At the end of my life, it is unlikely that I will be remembered for my place in a high school, in a gym, or even at Sunday Swim. I don't know what I will be known for by the generations to come; rather than stressing about this uncertainty, I find the choices and autonomy exhilarating.
Our futures are open to all sorts of possibilities, that can all be wrapped up in the simple question: What will my legacy be? It is fascinating and exciting to explore the opportunities ahead of us, all of which will eventually form our legacies.
We have all accomplished amazing things and have begun to develop our legacies, but we are far from finished. Whether you've mapped out your whole life, or haven't got the faintest clue what you want your legacy to be, we are all embarking on this new, exciting journey. Though we may not be together physically, in the next few years, we are brought together by the shared legacy we have developed at Reading Memorial High School, something that should not be underestimated. We have grown and changed together throughout the last four years, with ups and downs at every turn, but we have created our legacy as a group of hard-working, successful young people.
Now it is time to move away from our common experiences and legacy and go create our own individual memories out in the world.
So, Class of 2020, congratulations on the legacy you have created so far, and good luck as you go out into the world and form your own legacy.