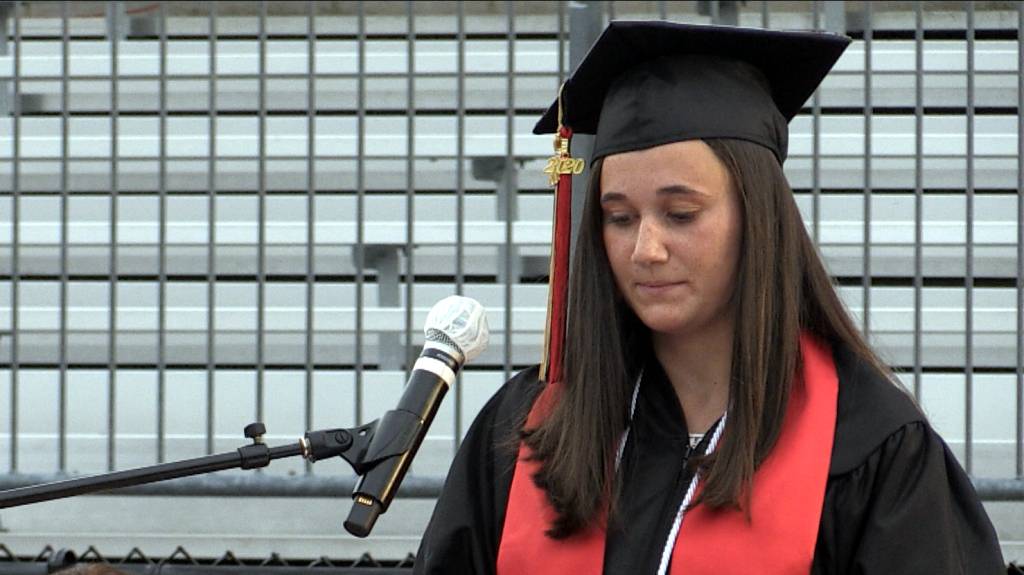 Good evening class of 2020, loved ones, and staff.
I would like to start by thanking everyone who has helped us get here. First and foremost, thank you to the parents who have gone above and beyond in showing their support for us over the last few months, whether it was decorating their door or adopting another senior. Thank you to the wonderful staff who have worked tirelessly to ensure that we would all be in one place tonight to get our diplomas. Thank you to the teachers who have been nothing but supportive during this time, and who have been inspirations and role models for us over the past four years. And lastly, to my fellow classmates who have kept a smile on their face when nothing was going our way: thank you. It has been a privilege to be able to call you all my classmates, and my friends.
Two years ago, three of my closest friends and I were captains of our summer swim team. Despite the many differences in age and personality on the team, we found one thing in common amongst all swimmers: an inclination to complain. Whether it was that the meet was too long or that the pool was too cold, the younger swimmers were always able to find something that was wrong. In an attempt to salvage our sanity, my co-captains and I came up with the only logical way to remedy the constant negativity: we invented the "positivity police." We hung up signs threatening to call the positivity police if we heard complaints and constantly reminded unhappy kids that they did not want the positivity police to come looking for them. It took this small, kind of ridiculous idea, and we immediately noticed a change in the atmosphere. There were a lot more laughs and jokes on the pool deck, and a lot less tears and whining.
During the subsequent school year, this mentality echoed through my mind in everything I did. If we are being realistic, a high school classroom isn't always the happiest place and it can be easy to find yourself surrounded by complaints. Anytime I got myself stuck in this cycle of negativity, I would hear the voices of my co-captains in the back of my head, threatening to call the positivity police on me.
At the end of our senior year when we were all asked what we believe in, without hesitation I thought: I believe in being positive. Even with everything going on in the world, I believe in finding a positive twist to every situation and in smiling even when you don't want to.
Now I am sure that this is probably not the first thing you all thought of when prompted with the same question of what you believe in, but I have seen firsthand the optimism and joy that radiates from all of you. For some of you, this may mean smiling at your classmates in the halls, while for others this may be starting a club you are passionate about or working on a project to make the school a better place. We certainly stayed positive even after getting beat by the freshman in a tug-of-war, and our school spirit at sports games has been unparalleled. I can only imagine what else we could have brought to the school if we got those last few months, but during that time I have watched as you formed car circles just to be able to see your friends' faces during quarantine, as you found new ways to have backyard proms, and as you went all out for virtual spirit week from your houses. This unceasing positivity, in my opinion, is unique to our class.
I cannot pretend it is easy to be optimistic given our current circumstances. It is much easier to lose hope, to see only the bad things and the lack of progress happening around us. Despite that, Class of 2020, I urge all of you to continue seeing the good. Even more, I urge you all to be the good, be the positive in a world of despair.
I wish each and every one of you the best of luck wherever your life may take you next, and I hope anytime you want to complain or begin to lose hope, you hear my voice in the back of your head threatening to call the positivity police on you.