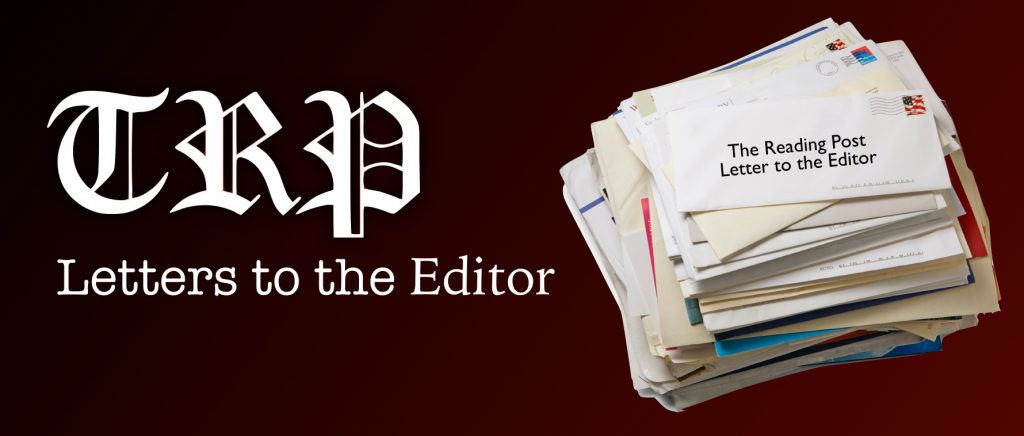 The Reading Post accepts Letters to the Editor. All letters must be signed. The Reading Post reserves the right to edit or not publish any letters received. Letters do not represent the views or opinions of the Post. editor@thereadingpost.com
---
To the Editor:
I would like to publicly thank the Reading Select Board for responsibly scheduling the recall election. Its decision making was a perfect example of doing its job the way it should be done, which involves listening to input from all town residents, taking the time to obtain and consider expert advice and relevant information, and then having an informed discussion and making a considered judgment.
In reviewing much of the input to the Board from residents on the scheduling of the recall election, it was interesting to see that most of the input calling for quick scheduling of the election presented no rationale for doing so, but rather simply demanded that the Board do so. It's also interesting to note that the effort to recall Ms. Alvarado was initiated by John Arena, the former Select Board (SB) member who Ms. Alvarado beat in the 2018 election. His two close colleagues, Dan Ensminger and John Halsey, who left the SB in 2019 and 2020, are also leaders of the recall effort and the push to hold the election quickly. 
These facts plus statements made by supporters of the recall on social media and elsewhere certainly make it seem as though this recall effort is a personal political vendetta. This conclusion is further reinforced by the reason for the recall that is given on the recall petition, as well as the other reasons that supporters have put forth on social media and elsewhere. The reasons given – even if they were true and they are not – do not rise anywhere near the level of wrongdoing that would justify a recall.
It is disappointing that a relatively small group of residents would engage in this kind of nasty, personal attack on a town volunteer who is working hard to do what's best for Reading residents. There's no constructive purpose to being so nasty or for forcing us to have this recall election.
There's an established mechanism for discussion and selection of Select Board members – our spring election. If some residents disagree with Ms. Alvarado on some substantive issues, they should run for the Select Board when her term is up next April and make their case to Reading's voters.
I'd like to thank our Select Board members for all their hard and thoughtful work under the difficult situation of the coronavirus pandemic. I know they are all committed to doing their job of determining through careful consideration of what is best for the residents of our town. 
John Lippitt
23 Mineral Street