A gathering to reaffirm that Black lives matter on Saturday, June 13th
A coalition of members of the Reading, Massachusetts community has united for racial justice to reaffirm that Black lives matter. This group is rallying in response to the brutal murders of George Floyd, Breonna Taylor, Ahmaud Arbery, and so many other Black men and women, as well as the persistent, institutionalized bias and racism in the United States that led to their tragic deaths.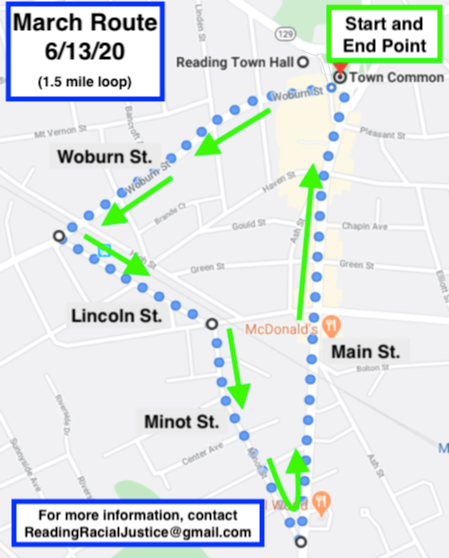 The coalition will be leading several initiatives, the first of which is a peaceful, socially-distanced demonstration to be held on the Town Common on Saturday, June 13 from 4 PM to 7 PM. It will include a Rally, a March, and a Vigil inviting the community to come together to show their solidarity, mourn all those lost, speak out for reform, and pledge to make a long-term commitment to fighting racial injustice.
This event and other related activities have been developed by Reading Embraces Diversity (RED) and the Reading Human Relations Advisory Committee (HRAC) in conjunction with The Reading Teachers Association (RTA), the Friends of Reading METCO, the Reading Public School Administration and Staff, the Reading POP Huddle, the Reading Public Library, multi-denominational clergy, parents, and other concerned neighbors who are supporting these actions calling for racial justice. RCTV will be streaming this event live.
The rally will begin at 4 PM and will take place on the Town Common (parking available at the Reading train station and Parker Middle School). Speakers will include students, teachers, administration, state officials, and concerned citizens. At 4:45 PM, the march will be led by members of the coalition on a route ending back at the Common. In advance of the march, the community is invited to leave messages IN CHALK around the Town Common and along the march route to express their feelings and experiences related to the systemic racism in our society as well as their personal pledges to help end racism. This march will be followed by a vigil and moment of silence. The event will conclude promptly at 7 PM.
Participants are required to wear masks and practice social distancing per town and state ordinances. Please bring fully charged cell phones, flashlights, and battery-operated candles to "light" the Vigil in remembrance of those lost. Please don't bring lit candles or open flames. Please decorate and wear a white shirt with the slogan of your choice in solidarity. Signs are also encouraged! You may want to bring a towel to sit on during the speeches. The Reading Town Common is wheelchair accessible. If you anticipate needing an accommodation to participate in this event, please email ReadingRacialJustice@gmail.com.
To support the goal of long-term change, the coalition's plans also include related activities and educational initiatives that will take place before and after this week's rally. More to come…
For more information please follow Reading Embraces Diversity (RED's) Facebook page. To volunteer, please email ReadingRacialJustice@gmail.com For interview requests, please contact Janice Grant Menes of R.E.D. at readingembracesdiversity@gmail.com