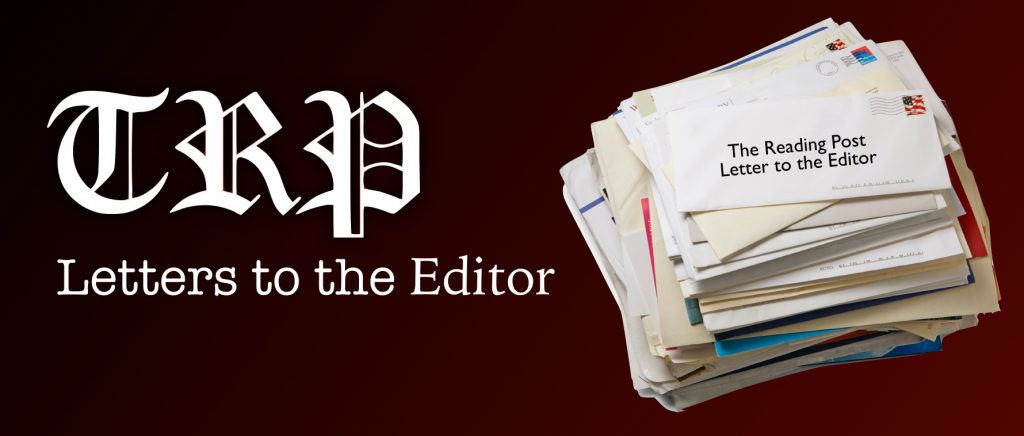 The Reading Post accepts Letters to the Editor. All letters must be signed. The Reading Post reserves the right to edit or not publish any letters received. Letters do not represent the views or opinions of the Post. editor@thereadingpost.com
---
Two weeks ago, I took Andy Friedmann's campaign sign down from my yard. Like many of you, I was deeply disappointed by the unfortunate events at a Select Board meeting. I come from a deep police family – my dad is a retired Major from the town where I grew up, and a graduate of the FBI National Academy. My brother is an officer in the next town over. His Major graduated from the National Academy in the same class as our former Chief Segalla. I used to babysit for that Major's kids when I was in high school. Uncles and grandparents have been police officers. The result is a deep and abiding respect for the sacrifices that our police, and their families, make. The risks they face. The holidays with family they miss, because public safety doesn't stop.
I was also there that night in early February, with several dozen members of the Police Department and a handful of other community members. I was nearly as stunned as they were when the meeting took an ugly turn.
And then the next day, I cooled down. I reflected on what I had experienced. I started questioning why so many of the officers in attendance seemed to have been told a vote would take place, when one had not yet been scheduled. I reflected on the tension created in that environment. I didn't find it to be intimidating, but the tension was unmistakable.
So, yes, under those difficult conditions, Andy stuck his foot in his mouth, but that's not the Andy I know.
The Andy I know ran on a very clear message three years ago. He wanted to improve relationships between the Select Board and the various volunteer boards and committees around town. He wanted to be an advocate for the issues and challenges facing residents. And he wanted to ensure that our town government happened out in the light as much as possible.
In the course of working for those principles, he's sometimes going to ruffle feathers. He's going to run up against folks who are reluctant to do the hard work required to have open and transparent government. He's going to make mistakes.
So if you want a polished politician with a future on Beacon Hill, Andy Friedmann is not your guy.
If you want a silver-tongued devil who will flash a huge smile and tell you exactly what you want to hear, Andy Friedmann is not your guy.
If you want somebody who occasionally makes a mistake, owns it, and then gets back to work striving for a town government that works better for all of us, Andy Friedmann is absolutely your guy.
I'm extraordinarily proud of the professionalism the RPD, and Chief Clark in particular, have demonstrated through the recent turmoil. I'm also proud of Andy for all that he has accomplished in these last three years. And I'm proud to have his sign back in my yard.
Please join me in re-electing Andy Friedmann to the Select Board on March 3rd.
Shawn Brandt
Franklin Street