Launching a district management organization to help create a vibrant downtown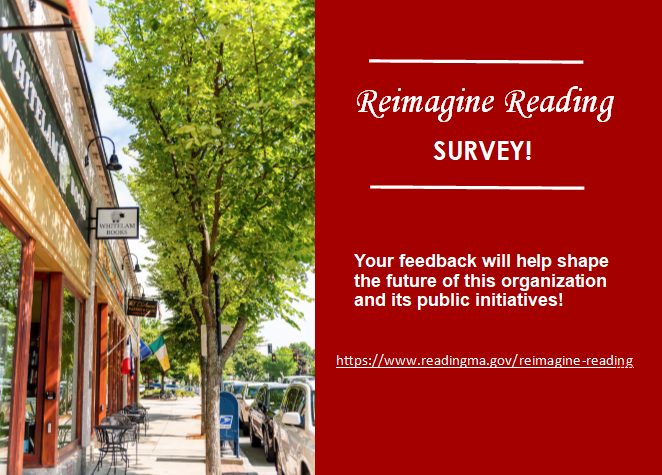 Reading, MA– ReImagine Reading today announced the launch of a community-wide survey as one of many public engagement initiatives to help shape a future district management organization. Feedback from community stakeholders will directly shape the future of this organization and efforts to create a vibrant downtown.
The survey is available online at ReImagine Reading Survey. Hardcopies of the survey are also available for pick-up and/or drop-off at Town Hall, Reading Public Library, YMCA, and the Pleasant Street Center. Everyone is encouraged to submit their opinions.
The survey is available now through October 15, 2019.
ReImagine Reading is a community initiative and partnership with the local business owners, property owners, community organization representatives, and residents and the Town working collaboratively to help create a downtown district management organization. Town Planning and Economic Development staff and working group of more than thirty-five community members have been developing an inclusive public engagement strategy to spark town-wide interest and inspire positive changes for a vibrant downtown.
For more information about this downtown district management organization initiative or assistance with the survey, please contact Erin Schaeffer, Economic Development Director at eschaeffer@ci.Reading.ma.us.