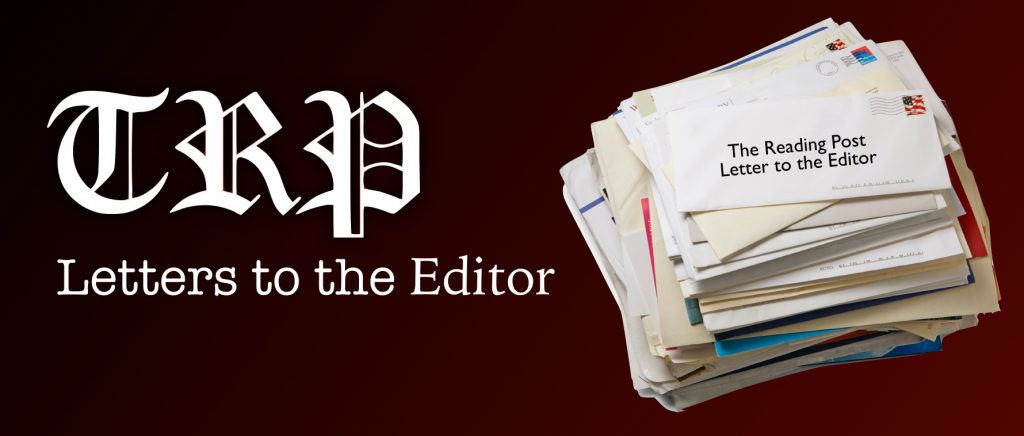 The Reading Post accepts Letters to the Editor. All letters must be signed. The Reading Post reserves the right to edit or not publish any letters received. Letters do not represent the views or opinions of the Post. editor@thereadingpost.com
---
Dear Reading Voters –
I want to first thank you for the opportunity you have given me to serve on the Select Board for five terms totaling 15 years. I have been gratified by the many good wishes that you have sent my way since I announced my intention not to run. It has been an honor and a privilege to serve you, and I was quite serious when I said at my last meeting that no member of the Board succeeds on his or her own.
During the last year I watched the Select Board struggle a bit at first, but then mature into a cohesive unit that has produced a number of accomplishments. Serving on the Volunteer Appointment Subcommittee, I worked first with Barry Berman (and later, Vanessa Alvarado) to interview and approve dozens of candidates for our volunteer Boards and Committees. We were pleased to have a diverse set of candidates to choose from and were able to assign all of them to their chosen committee(s). I was also pleased to work with Town Council and Town staff to negotiate a ten-year extension of our cable contract with Comcast. This included continued funding support for RCTV and its many community-based activities. Barry Berman and I also served on the Subcommittee that negotiated a three-year contract renewal for our valued Town Manager, Bob LeLacheur.
Andy Friedmann and I spent many hours on two subcommittees that focused on the tedious but necessary job of overhauling our antiquated Select Board policies. We crafted, negotiated, and approved updates to policies involving the operation of the Board, extension of the Code of Conduct to include Select Board members, updating of guidelines for interviewing and appointing members of our volunteer Boards and Committees, and devising a process and timetable for setting goals and conducting the annual evaluation of the Town Manager. At my last meeting on March 26, after lengthy and collegial debate the Select Board unanimously approved these policy changes. I thank Andy and the Board for their many hours of dedicated work in bringing this effort to fruition.
I have examined the current field of Select Board candidates to see whom I would recommend succeed me. I am looking for the candidate who best:  (1) demonstrates community service and leadership skills (2) listens to and works well with the public, Town staff, and fellow Select Board members, (3) brings a down-to-earth, common-sense perspective to the job, (4) is unaffected by the toxic identity politics now practiced at the national level, (5) has demonstrated fiscal restraint in his or her prior Town service or current employment, (6) has demonstrated respect for the taxpayers and fee-payers of Reading, and will stand against fiscal practices and policies that hurt our citizens on fixed incomes and our small businesses.
There is one new candidate who clearly meets all six of these criteria: Carlo Bacci. I have known Carlo and his family for a number of years and can attest to his commitment to Reading and his strong work ethic. Many others have spoken to Carlo's family and professional background, so I will not dwell on that here.
If you have valued the work I have done as a Select Board member, please consider voting for the candidate who I feel is best suited to continue the work I have started. Please join me in voting for Carlo Bacci for Select Board, on Tuesday, April 2!
Sincerely,
Dan Ensminger
Oakland Road