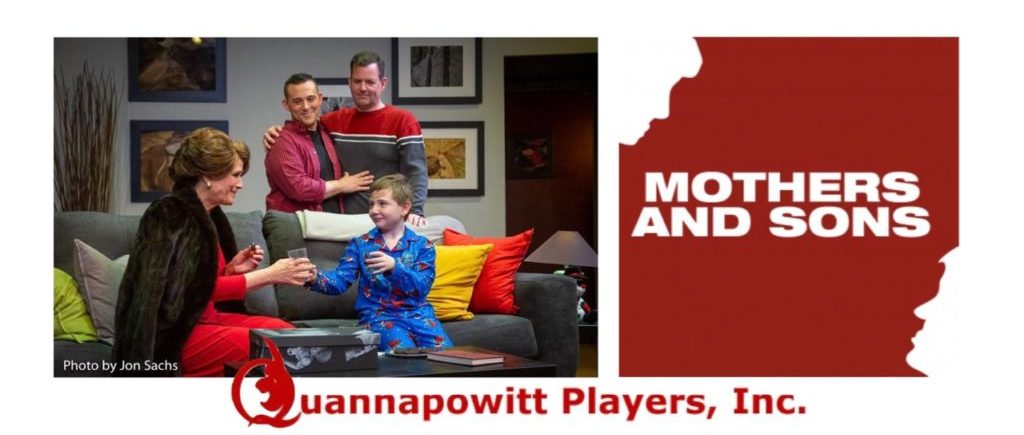 The Reading 375 Committee is thrilled to partner with The Quannapowitt Players to celebrate our town's 375th anniversary.
From March 22 – April 6, come out and enjoy the powerful, touching play "Mothers and Sons." Reading 375 t-shirts and commemorative pins will be on sale in the lobby before and after the show and at intermission.
The Quannapowitt Players are also participating in PorchFest, an afternoon of outdoor music on June 8 that is part of the Reading 375 celebrations. You can learn more about PorchFest, and all of the Reading 375 celebration on our website: reading375.com.
The Quannapowitt Players' final production of the season is a truly hysterical comedy, "Funny Money," which will run from May 17 – June 1. Enjoy $5 off their ticket price by using your Reading 375 commemorative pin!  Make a reservation by calling the Box Office at 781-942-2212 and bring your 375th to confirm your reservation.  Pins are available at Whitelam Books, The Reading Cooperative Bank, and RCTV Studios.
Reading 375 is grateful for the support of The Quannapowitt Players.
Reading 375 is a non-profit, volunteer-driven organization whose goal is to bring our community together to celebrate Reading's 375th anniversary in 2019. Events will occur over a two week period, from May 31 – June 15, and will include local artists and musicians, architecture unique to Reading, and fun community gatherings. The Reading 375 Steering Committee hopes to create a town-wide celebration of Reading's rich history and exciting future. Commemorative anniversary t-shirts are available at Reading Trophy and Shirt and RCTV Studios. Limited edition Reading 375 pins are available at Whitelam Books, Reading Cooperative Bank, and RCTV Studios for $3.75. To learn more and stay informed, like and follow Reading 375 on Facebook and check out our website at reading375.com.