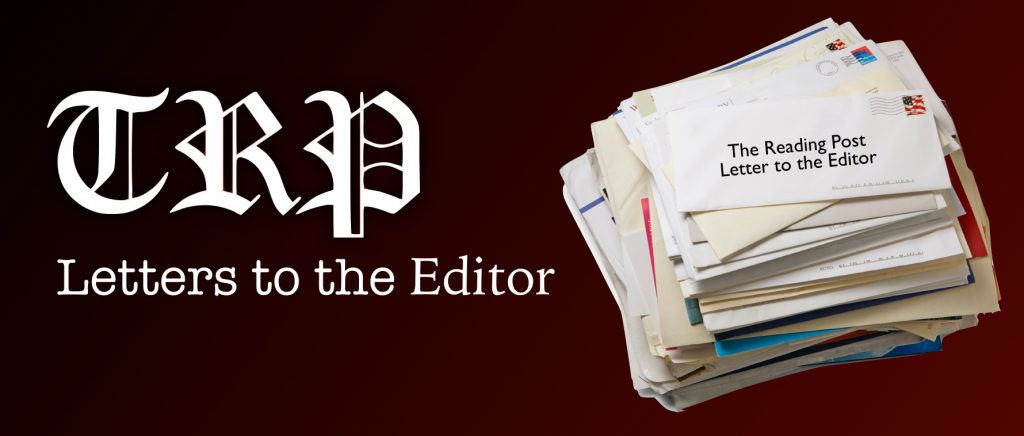 The Reading Post accepts Letters to the Editor. All letters must be signed. The Reading Post reserves the right to edit or not publish any letters received. Letters do not represent the views or opinions of the Post. editor@thereadingpost.com
---
As one of your Selectman, I feel it is important to share my opinion on the upcoming override ballot question. I offer it with all due respect to the many diverse viewpoints in our town. As an elected official I take very seriously my obligation to represent the interests of not only all voters, but of each and every citizen of our town.
For decades I have taken a conscientious interest in many things affecting our town, starting as a citizen volunteer over 28 years ago. Additionally, serving over the last seven years as a Town Meeting member, I have gained a deeper knowledge of the budget process. During the last four years as one of your Selectmen, my involvement with the budget process and overall management of town business has been both enlightening and intense. I have heard and absorbed many divergent points of view and have always sought to represent the greater good of our town and its citizens.
It is with this deeper background in town affairs that I have, after much thoughtful study and reflection, come to the conclusion that I will vote YES on April 3rd on the ballot question calling for a tax override. Beyond my decision on my personal vote, I have also endeavored to share my findings with as many friends and neighbors as possible — in the hope that they too can support and vote for the override ballot question.
My conclusions are based on several key factors. Having personally participated in the process, I can unequivocally state my informed opinion that the strictest attention has been paid to expense management, revenue development, and deployment of that revenue.
Furthermore, the needs as articulated and prioritized by the Town Manager — with oversight and counsel from the Board of Selectmen —genuinely represent minimum needs to maintain quality standards. As the Board of Selectmen's "Public Safety" liaison, I feel especially qualified to opine on the single largest "ask" the town-side is making: the staffing needs of our police and fire departments. Having worked closely with both chiefs and their deputies, I can say adamantly that their requests for additional police officers and firefighters are imperative to maintain the highest quality service that both departments have always provided to all the citizens of Reading. The other requests presented by our Town Manager likewise are true "needs" as opposed to "wants," and have been thoroughly vetted and endorsed in order of priority through collaboration of the Town Manager and the Selectmen.
I have also given great thought and study to the tax dollars that will be delivered to our schools and its students — our town's children. I compliment both the school committee and the superintendent on the process they have employed this year to articulate the needs of our school department. I have long believed that taxpayers are most comfortable paying taxes when they know what those dollars are delivering. I feel the school committee has laid out very clearly, exactly how your additional tax dollars will be spent. Though no expert on educational expenditures myself, I feel that their proposal is perfectly appropriate given the circumstances. The overwhelming majority of the override funds in this case are earmarked for retaining and adding teachers, as well as maintaining and developing "mission critical" curriculum. Although educational expenditures can be highly complex, especially in Massachusetts, the detail of how exactly your override tax dollars would be allocated have been
described in a simple and straightforward way. These factors made my choice to support these proposals very easy.
There are two overriding principles beyond the obvious and imperative need to keep our citizens safe: that we care for our most at-risk group of citizens — our children and our elderly. This must be accomplished through wise and prudent management of the tax dollars entrusted to our town government. With both "Reading Senior Tax Relief" and classroom development serving as lynchpins of these imperatives, I believe these needs are being addressed.
The Selectmen spent a "spirited" four-hours in discussion on January 30th with the goal of arriving at a responsible, reasonable override dollar amount to present to voters, as well as determining the manner in which it will be presented on the ballot. The resulting compromise was a unanimous 5-0 vote in favor of the both proper form and dollar amount. This board seldom votes unanimously on anything but spoke with one united voice on the override. (Viewing of this meeting is available on the RCTV YouTube channel.)
For me personally, it wasn't a vote made just to end contentious debate and arrive at decisions for Reading's voters. I voted in favor of presenting an override to you for very specific reasons: I believe this override is essential to the maintenance of our town and to ehance the preservation of Reading as an outstanding place to live. I employed my professional and personal skills and considered my own moral compass to come to the very personal decision to vote in favor of this override. The stakes are high and must be considered thoroughly.
As one of your Selectmen, I sincerely invite you to join me in voting YES on the override on behalf of our town.
I am available to any citizen in Reading to further discuss this, and to answer any questions about how I came to my conclusion.
Respectfully and Sincerely,
John R. Halsey, Selectman & Town Meeting Member
Beaver Road