Winter Storm Grayson expected to hit in the overnight hours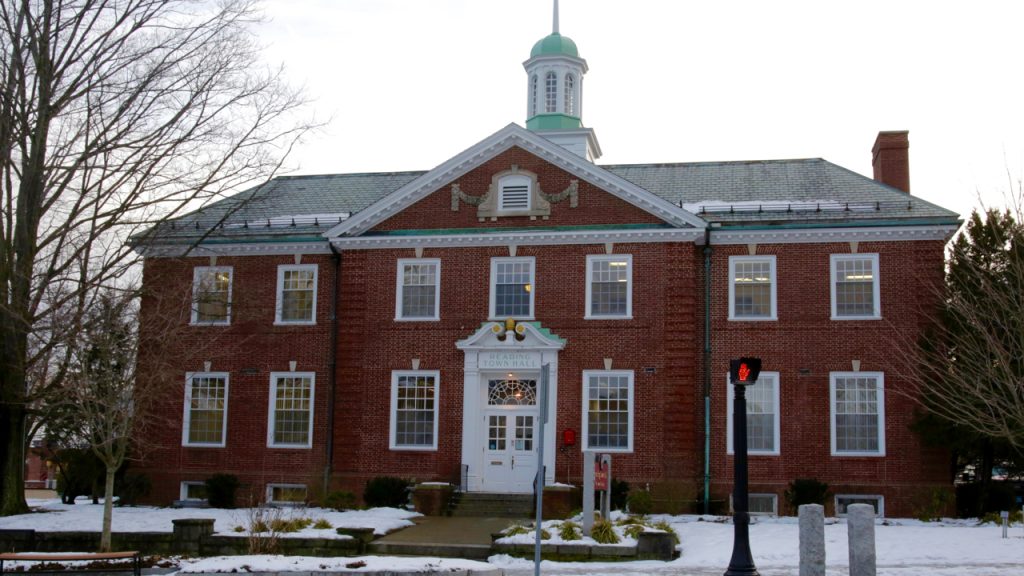 READING, MA – Residents and businesses are informed that, due to a severe winter storm expected tomorrow, January 4, 2018, Town Offices will be closed for business. This includes any scheduled night meetings.
The closure includes Reading Public Library, Town Hall, and the Senior Center.
What to Expect:
The National Weather Service issued a Winter Storm Warning for this region in effect from 1AM Thursday to 1AM EST Friday. Winter storm Grayson is expected to drop between 8-12 inches of snow, with localized amounts up to 14 inches. Both AM and PM commutes will be affected.
Frigid temperatures will once again resume following the storm on Friday and Saturday.
Winter Storm Grayson is expected to bring a combination of heavy, wet snow and high wind to the region which could lead to a significant amount of downed tree limbs and power outages.
Power Outages:
Residents who need to report a power outage or request information should call Reading Municipal Light Department directly at 781-942-6594. RMLD also operates a Twitter account with current information under the handle @ReadingLight. 
Please check on elderly neighbors, particularly in the instance of power outages and frigid conditions.
Christmas Tree Collection:
Christmas trees placed curbside must be moved for the duration of the storm. Tree collection is scheduled for next week, beginning Monday, January 8. If the trees are buried in the snow, they will not be able to be collected by our hauler.
Trash & Recycling Collection Delayed:
The Department of Public Works sent a reminder to residents that rubbish and recycling will be cancelled for tomorrow.
Already delayed due to the Monday holiday, Thursday's storm pushes collections to Friday and Saturday. If your normal collection is Wednesday, you will be picked up on Friday.
If your normal collection is Thursday, collection will begin Friday and continue into Saturday. Please leave trash and recycling out until collected.
If your normal collection is Friday, you will be picked up on Saturday. 
All collections expect to be completed by Saturday.
Please have all trash and recycling curbside by 6:30 AM on your appointed day. 
Potential delays are possible, due to severe cold and storm clean-up. 
Stay Informed: CodeRED – Social Media – Website – SeeClickFix
Stay in contact with the Town through social media pages on Facebook and Twitter as well as check the Town Website, www.readingma.gov. Additionally, sign up for Community and Emergency Alerts through the CodeRED service on the Town Website for calls, emails, and text messages related to storm response in town. Please report any non-emergency service requests through See Click Fix accessible here: readingma.gov/public-works/pages/seeclickfix
Please see the Town's Facebook page for links to emergency preparedness guidance.
Let's all be good neighbors!