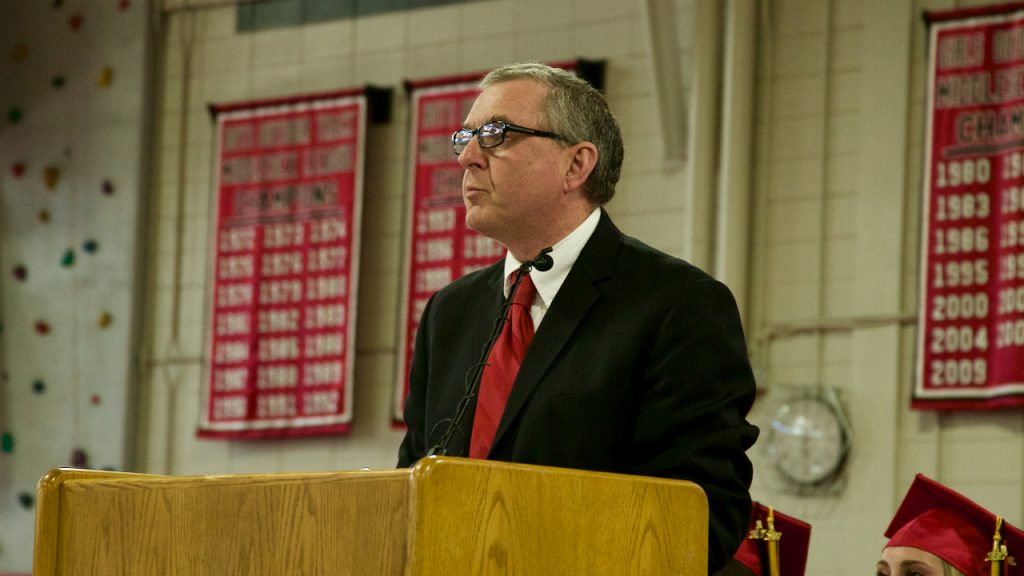 Mr. Bakr, school committee members, fellow administrators, and faculty, family, and friends of the graduates, students, other guests, and most importantly, members of the graduating class of 2017, it is with great pride that I address you today as you complete your graduation requirements for the Reading Public Schools and begin the next leg of your journey. This is my eighth graduation speech as superintendent, and I continue to be impressed with the accomplishments of each graduating class. As the class of 2017, you have reached milestones and achievements as students, engineers, scientists, athletes, musicians, actors and actresses, and artists. It is evident by these accomplishments and what we see each and every day from you that our future is in very good hands.
I also want to thank the Class of 2017 because after eight years, you have helped me reach a milestone as well. I finally made the Main Street Countdown. The pictures of me are not too flattering, but I will take it. Thank you for including me in your memories.
Your class has also reached another set of milestones. According to long-time resident Bill Brown, today's RMHS graduation is the 150th in Reading history, the 60th on this property, and the tenth in this renovated high school. Today, you are all a part of history, and if we assume on average 300 graduates each year, approximately 45,000 students have graduated from Reading Memorial High School. By the end of today, 3,317 students will have graduated from the new school. Certainly, our community, our country, and our world have changed since the graduating classes of 1867, 1957, or even 2007. There is, however, one area that I believe has become more and more of a priority to our society as time has gone on and that is providing service. I know that many of you have volunteered hours of your time to help others who are in need. Today, I would like to focus my remarks on the importance of service and highlight how you have experienced service in your lives.
One organization that is very familiar with service is Rotary International, one of the largest community service organizations in the WorId. Rotary's motto is "service above self," and I have had the privilege of being a member of Reading's Rotary Club for the last five years. Some of you have been members in the Rotary-sponsored student Interact Club which has participated in many community service projects—and I have had the privilege of working with you as well. I have seen first-hand through this organization the importance of providing service and receiving service in our daily lives.
Why is community service so important? When we engage in service, we are improving the quality of life for others by giving back to the greater good of the community. This type of activity ultimately makes our entire community stronger. In addition, volunteering is well known for skill development and is often intended to promote goodness. When we volunteer, we reap the benefits because it allows us to appreciate and respect the differences that each of us has. This in turn helps us develop a greater empathy and understanding for one another. Service activities give you the opportunity to discover who you are and the type of person you want to be. As the leader of the Indian Independence Movement, Ghandi once wrote, "The best way to find yourself is to lose yourself in the service of others."
Providing service can look different in many ways. Your teachers, administrators, coaches, and advisors, many of whom are here today from as far back as when you were in kindergarten, have dedicated their lives to providing service above themselves to prepare you and give you the skills that you need to live and contribute in a democratic society. Our police officers, firefighters, and military personnel risk their lives each and every day to provide service to our community and to keep our country safe and secure.
But perhaps the greatest example of service can be found in your parents, grandparents, and other significant adults in your life who have modeled service for you during your entire life. They have provide you with support, boundaries (even when you did not think you needed them), and their love. They have educated you and prepared you for this very moment so that you are now prepared to take the next steps in your journey. I am sure that they have a treasure chest of those memories which they have stored in their hearts and minds for days like today.
Your parents remember your firsts; such as the first day of kindergarten and the first time that
you read a book. They remembered every new school year as you began a new grade. This year's first day of school may have been particularly difficult because it was your last first day of school before high school graduation. They also remember when you began participating in your first activities. It may have been dance, scouts, music, or sports, followed by your first recital, your first badge ceremony, your first art show, your first choral or instrument performance, or your first sporting event. These same people have also been there for your setbacks and disappointments, ones they wished you did not have to experience, but they were there for you, providing guidance, advice, comfort, and sometimes just a shoulder to cry on.
Your families have volunteered countless hours at many of your events and supported your fundraising efforts. Some have sold refreshments and raffle tickets; others have coached your teams, and probably all have driven you back and forth from one activity to another. They were there for many parts of your school life attending parent teacher conferences, PTO meetings, and keeping track of your progress. Which brings us to this year, when all of the firsts became lasts: your last game, your last dance recital, your last concert, your last performance, and your last day of high school. All of these times, whether it was a first or a last, have provided both you and your parents with so many wonderful memories. Each of them should prove to you that your years of hard work and their years of support and guidance have been worth the effort and time.
They have done their best to coach you, nurture you, challenge you, and encourage you to believe in yourself and in your abilities. The role they will now play in your lives may change, but they will always be an important part of your lives and as they step back a bit, but continue to provide the guidance and support you will need. This is the ultimate meaning of "service above self."
Dr. Martin Luther King once said, "Everybody can be great. Because anybody can serve. You don't have to have a college degree to serve. You don't have to make your subject and your verb agree to serve. You don't have to know the second theory of thermodynamics in physics to serve. You only need a heart full of grace – a soul generated by love."
As I mentioned earlier, many of you in the Class of 2017 have embraced Dr. King's words and have provided countless hours of service to promote good will or improve the quality of life for someone in the community. I would like to share a few of the many examples from your class.
Anna Barbo has one of the highest numbers of documented volunteer hours in your class volunteering at the Lazarus House, Project Bethlehem, Bridge to Hope, Nutrition Mission, teaching CCD, and working with students at the Killam Elementary School. Akshita Rao has volunteered countless hours of her time educating students in science and engineering at the Museum of Science, our FIRST LEGO League, and middle school science Olympiad teams. She has performed dance fundraiser events and charity shows to raise money for Akshaya Patra (a non-profit organization that provides meals to 1.6 million children in India every day) and the American Nepal Medical Foundation, specifically contributing to disaster relief from the recent earthquakes. Emily Allardi has volunteered her time with A World of Difference, Girls Rising to raise funds for college tuitions for girls who cannot afford to attend college, the Reading Food Pantry, and as a soccer coach for the EMARC Special Olympics. Ian Ballou has volunteered his time for several years also at EMARC teaching kids with disabilities how to swim. Erin Hamlin has volunteered for several summers at Lahey Hospital, Cradles to Crayons, and has been part of their Teen Leadership Corps since she was a freshman and served as a team captain for the program. Celina Bove has volunteered more than 200 hours at Winchester Hospital plus countless hours of service to RMHS as a four-year class officer.
Jessica Squires, Catherine Grayson, and Ruthie Wilson have been supportive voices on the Human Relations Advisory Committee and A World of Difference Club in advocating for respect for others and their support of a Human Rights Resolution in our community and in our school. Nick Miele, Liam Dwyer, Ryan Driscoll, Ryan Melley, James Reilly, Matt Thomson, and Kevin Tobin have spent the last three winters volunteering countless hours in inclement weather to shovel walks and driveways for our senior citizens and those in our community who are disabled. Allie Foley, Jamie Azulay (As-u-lay), Sam Johnson, Austin Counihan, John Eldridge, and Katie McKenna have been dedicated members of the Interact Club, volunteering their time at soup kitchens like Rosie's Place in Boston, My Brother's Table in Lynn, and Sunday Breakfast Mission in Philadelphia while also raising money for worthwhile causes such as eradicating polio in our world. And these are only a few of the many examples of the countless others who are unsung heroes among us today. These examples reaffirm my belief that our future is in very good hands.
So Class of 2017, regardless of what your plans are for next month or next year, I encourage you to continue to embrace volunteering your time to provide service to help others. The problems in our world and in our society are becoming increasingly complex and challenging, so the more we reach out and help others, the better our world will be. Think about how different our world could be if each of us gave a little time to help others. My challenge to you is simple but meaningful. No matter what path you take, always include service activities and helping others as part of your journey. You will never regret the difference that you can make.
In a few short minutes, you will be receiving your diploma which symbolizes a successful culmination of your Reading Memorial High School experience. As you walk toward this stage, receive your diploma and shake the hands of School Committee Chair Jeanne Borawski and School Committee Vice Chair Charles Robinson, reflect and remember on your Reading Public School experience. Think about how you can use the power of service to make a positive difference in this world. As Dr. Seuss once wrote in his book the Lorax, "Unless someone like you cares a whole awful lot, nothing is going to get better, it's not." We look forward to hearing about and seeing where your journey will take you, and how each of you will make this world a better place for you and future generations. We are rooting for you.
Class of 2017, on behalf of your parents, family, educators, and the entire Reading community, I congratulate you on your graduation. I wish you good fortune and much success on your journey ahead.