Fire Chief Gregory Burns and Police Chief Mark D. Segalla report that the Reading Fire and Police Departments responded to a six-alarm fire today.
At approximately 1:13 p.m., the Reading Fire Department received a report of a fire at 52 Sanborn St. Upon arrival, firefighters were met with heavy smoke and flames at the condominium complex, which was formally Reading High School.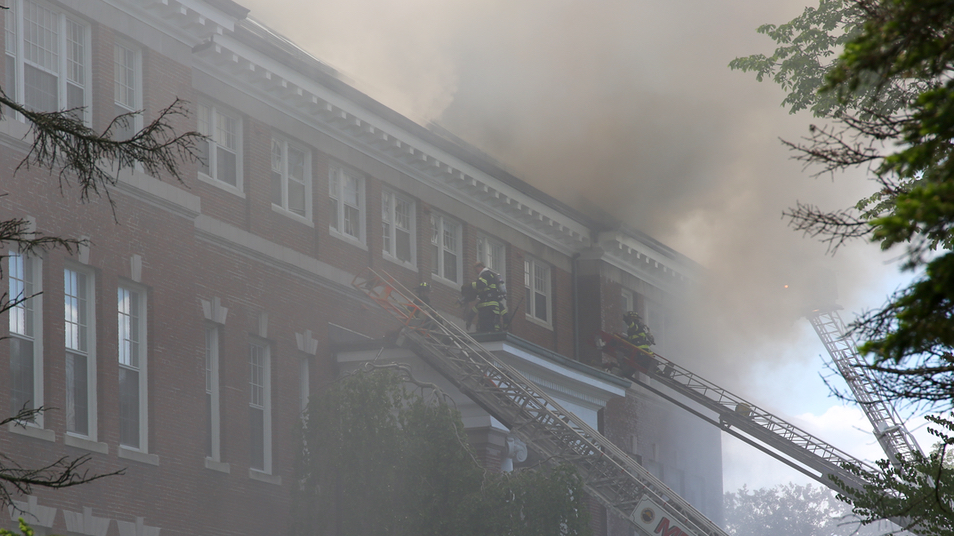 Reading firefighters made an aggressive attack on the blaze and quickly struck a fourth alarm, which then escalated to a five-alarm, six-alarm fire, and then seven-alarm, sending fire units from several other communities to the scene.
Firefighters from Malden, Stoneham, Boston, Melrose, Wakefield, Lynnfield, Cambridge, Everett, Lynn, North Reading, Medford, Woburn, Somerville, Burlington, Winchester, and Saugus responded to the incident. Police from North Reading, Stoneham, Woburn, Wilmington, and Wakefield also assisted.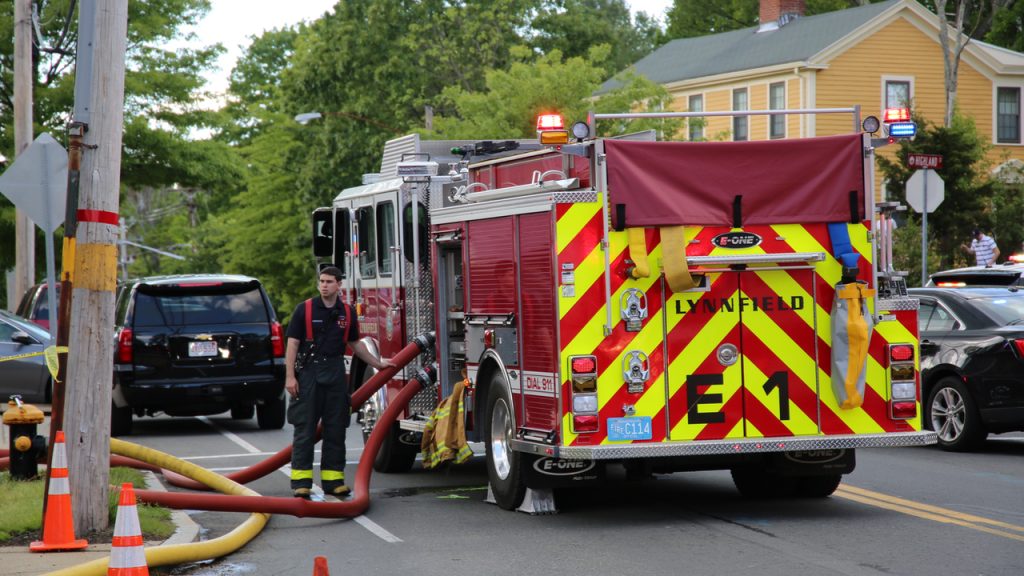 There are 41 units in the former school building, which was converted to residences in the 1980s. There were sprinklers in common hallways and stairwells but not in individual units, as they were not required at the time.
Approximately 60 people were evacuated from the building. A dozen pets were rescued and no injuries have been reported at this time. Firefighters remain on scene to combat the blaze as the fire has not been put out at this time.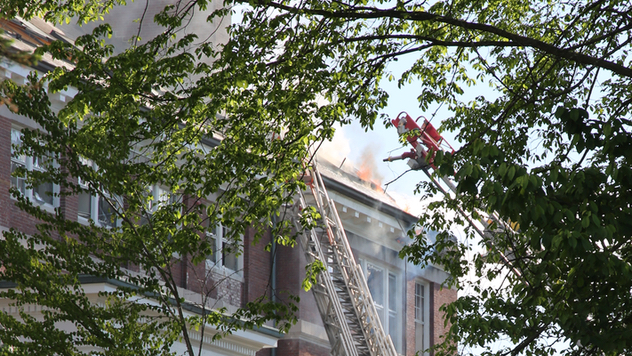 The origin and cause of the fire are under investigation by the Reading Fire Department and the State Fire Marshal's Office.
The American Red Cross is on scene and assisting displaced residents. 
 "This was a large fire and required an aggressive response from our firefighters," Chief Burns said. "We appreciate the tremendous help of all departments from both neighboring towns and as far away as Boston, who arrived on scene to help with aid. There were more than 100 firefighters on scene and due to everyone's efforts everyone was evacuated and there were no injuries."
Additionally, Capt. Phil Boisvert is ending his 40-year fire career with this seven-alarm fire. He was the fire incident commander and called out the second, third, and fourth alarms while on duty. The entire Reading community wishes Captain Boisvert good luck in his well earned retirement.
For anyone looking to help, the American Red Cross of Massachusetts is accepting donations here or you can call the Regional Headquarters at 617-274-5200.
This is a breaking news update. More information will be released as it comes available.