Annual Town Meeting Will Continue Thursday April 27th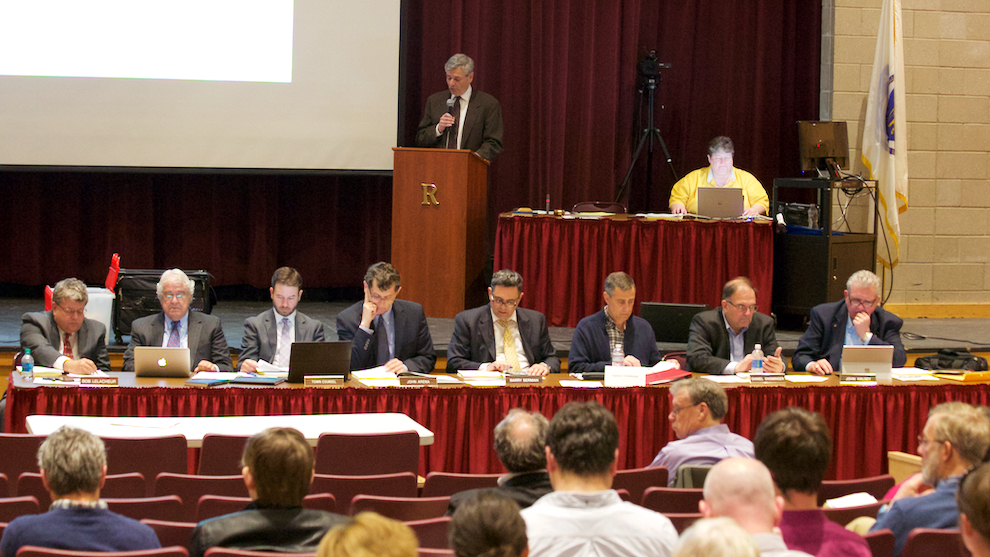 Town Meeting worked through twelve articles during the first night of its Annual Meeting on Monday night. Article 9, which declared the town owned land on Oakland Road, across from the high school as surplus and under the jurisdiction of the Board of Selectmen caused the most discussion. Several town meeting members expressed concern over what plans the Selectmen may have for the approximately four acres of empty land. "This does not authorize the Selectmen to sell the land." explained Town Manager Robert LeLacheur. "It allows them to begin a public discussion about what the best use for the land might be." Selectmen Barry Berman commented, "Surely the best use for (the land) is not for the storage of empty beer bottles and old tires." After continued discussion the article passed overwhelmingly.
Also generating discussion was the decision in Article 11 to authorize $2.4 million in debt for needed sewer system repair work on Haverhill Street near Charles Street.
Most of the business considered during the meeting consisted of "housekeeping" articles that involve items needed to be authorized annually by Town Meeting. Included in these was Article 6 which authorized the town to pay a small bill from the prior fiscal year that had been accidentally overlooked, and Article 14 which involved a planned transfer of funds from the Affordable Housing Trust Fund.
Article 19, a zoning bylaw adjustment regarding accessory apartments, was tabled because questioning by Town Meeting member Angela Binda caused confusion as to how to proceed on the article. The tabling will allow members of the Community Planning and Development Committee which proposed the changes and Town Counsel Ray Miyares to make necessary alterations to the proposal. Town Meeting adjourned at 10:00 p.m., and will resume on Thursday night at 7:30 p.m.