"I can't do my job if I do not hear from you," remarked Congressman Seth Moulton as he opened a town hall style meeting at the Reading Public Library on Saturday, March 4. An estimated 400 people attended the meeting filling the new public meeting room and three overflow rooms to hear the Congressman speak to a variety of issues including preservation of the Affordable Care Act, immigration policy, and national investment in infrastructure improvement. "In my first term I did more town halls than any member of Congress." Moulten continued.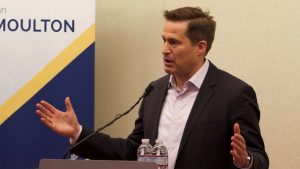 After brief opening remarks Moulton, a Democrat who represents the Massachusetts Sixth Congressional District which includes Reading, took questions from the audience. He spoke several times about working with Republicans, especially when asked about a campaign finance reform amendment to the U.S Constitution, divisiveness in Congress, and military spending. When asked about President Trump's proposed $54 billion increase in military spending, Moulton expressed concern about how to pay for it. "Cutting funds to the Department of State puts our troops at risk." the Congressman added. "Soldiers should not do the job of diplomats … we should be trying to stop wars before they start." He supports new Secretary of Defense Jim Mattis's plan to audit the DoD in an attempt to save a potential $200 billion.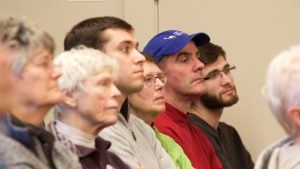 Moulton expressed support of investing in infrastructure improvements but feels that the investment should be made in 21st Century technology. "We should not just be adding another lane on a highway." Moulton stated. "Projects like a north-south link through Boston are what we need. In most countries in the world, if you wanted to go to Washington, you would hop on a train and be there is a few hours, and on-time. Not here."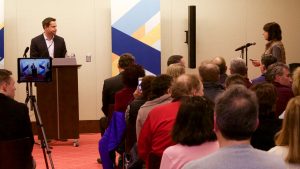 Moulton also expressed support for renewing the Summer Pell Grant program and for sensible gun control laws. Leaning on his experience as a United States Marine he stated, "I support the Second Amendment, but if you need a weapon of war to hunt with, you need to learn how to hunt!" Upon being asked, Moulton also conveyed his belief that the Trump administration's "travel" ban is "harmful to our national security" citing reports that terrorist groups such as ISIS are using it as a recruiting tool.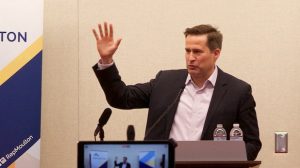 The short one-hour meeting ended with Congressman Moulton again thanking people for their time and for allowing him to serve them in Washington. "It is a true honor to represent you." he closed with.