Submitted by StreamTeam member Gina Snyder
Ten years after Reading stopped pumping the groundwater wells that supplied the drinking water to the town, we're in the worst drought in decades. Prior to 2006, with conditions like we've had this summer, the Ipswich River, which runs along the northern border of Reading adjacent to Reading's well field, would be a dry riverbed littered with dead fish. But this summer it is not.
Before Reading negotiated and bought into the Massachusetts Water Resources Authority drinking water system, every second or third year the Ipswich River, which is fed by the same aquifer that Reading used to pump, would go dry. In 2002 there was a particularly severe drought. But ever since Reading stopped the pumping, the river has had water in it at the Town Forest. The drought of 2016 has given us reason to celebrate the switch voted in Town Meeting in 2006.
This weekend, the Reading Stream Team got together to re-enact the famous kayak-without-any-water ("Got Water?") picture taken in 2002 when the Ipswich River Watershed Association brought together Stream Teamer's and the Massachusetts Executive Office of Environmental Affairs at this location in the river to show the conditions. The team could not quite reproduce the photo as this year there's water in the river!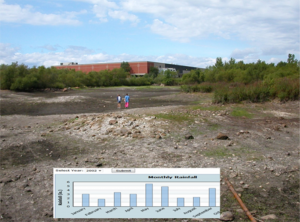 The comparison image shows a graph of rainfall amounts over the summer of 2016 compared to the drought in 2002. The graphs show that monthly rainfall totals during this summer have been much lower than they were in 2002, but the river continues to have water quite a ways downstream.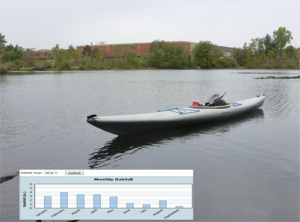 While conditions are dire elsewhere in the Ipswich River and some of its tributaries, with dry riverbed conditions downstream of the Reading Town Forest, Reading has reason to celebrate – its section of the Ipswich River has "Got Water!"