The Community Planning & Development Commission will host a public hearing on changing the Section 8 Sign Bylaw at its regular meeting, scheduled for Monday, August 8 at 7:30 PM in the Selectmen's Meeting Room in Reading Town Hall.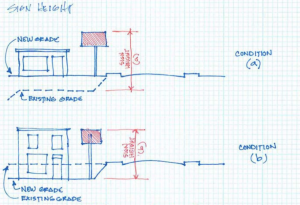 After the hearing the commission will discuss the proposed changes to the bylaw to be recommended to the Subsequent Town Meeting scheduled for November 14, 17, 21. The proposed changes will help bring the sign bylaw into compliance with recent Supreme Court rulings. The hearing is open to the public. Complete drafts of the proposed amendments are available in the Public Services Department at the Town Hall Monday through Thursday from 7:30 AM to 5:30 PM and Tuesday from 7:30 AM to 7:00 PM. They are also available on the town's website on the Community Planning and Development Commission page.
The commission also plans to finalize amendments to the bylaw dealing with the process of site plan review in town and some minor edits to the bylaw regarding accessory buildings or structures on a property.  These also will be recommended to Town Meeting in November.