Reading, MA – Fitness Within is excited to announce its 2nd annual Operation Run To Heal 5K at Memorial Park in Reading, on Saturday, September 23, 2023 — in person & virtually.
Fitness Within, ranked #1 personal training studio, is proud to bring Operation Run To Heal 5K to Reading for the second year in a row. Proceeds from this 3.1-mile run will benefit the Green Beret Foundation, an organization dedicated to providing emergency, immediate and ongoing support to our wounded Special Forces Soldiers, their families, and the families of our fallen. The Green Beret Foundation has provided direct assistance to nearly 13,000 Green Berets and their families as they overcome unexpected challenges of life. This community event is promised to have a lasting impact on Gold Star families across our nation! Owner and Studio Director of the Fitness Within, Domenic Prisco, expressed his excitement about the upcoming event, stating, "We are thrilled to host the 5K Road Race, an event that not only promotes physical fitness but also serves as a platform to honor and support our nation's Gold Star families. By participating in this race, you are not only challenging yourself but also making a tangible difference in the lives of those who have made unimaginable sacrifices."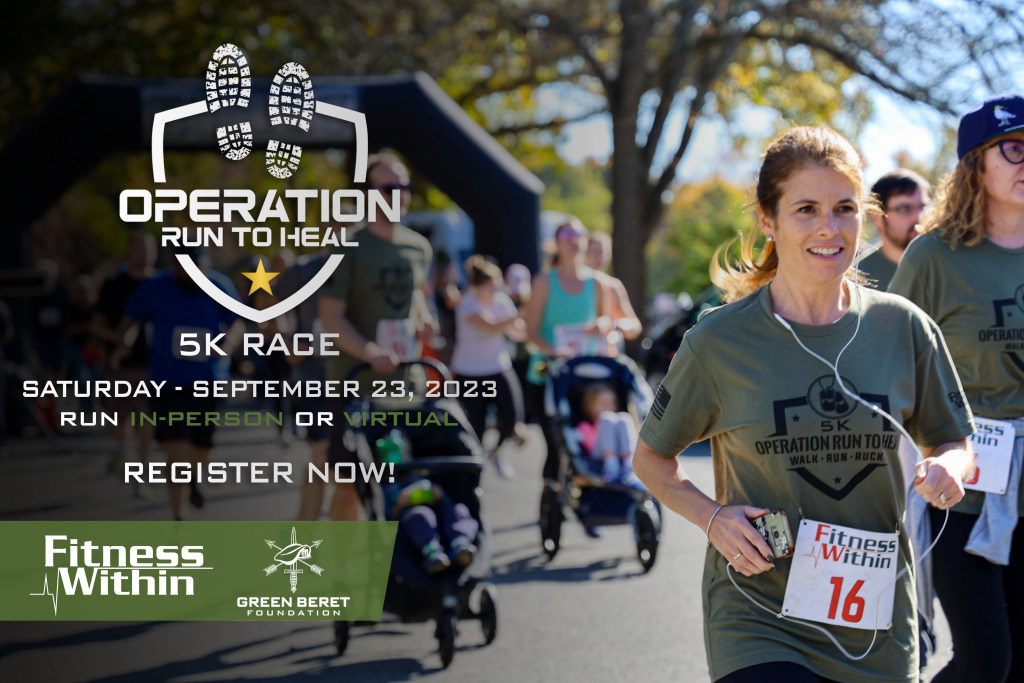 Operation Run To Heal 5K is a unique, fun, and challenging event. To get the most out of the challenge, join Fitness Within's legendary "Warrior Challenge Bootcamp" class before the race. This unique opportunity is guaranteed to challenge you to be the best version of yourself as you meet exceptional coaches who will motivate, encourage, and help you move safely outside your comfort zone. This bootcamp class is sure to have everyone sweating, smiling and pushing limits together!
Fitness Within encourages this to be a family-friendly event, with race participation being open to people of all ages and abilities. Participants are given the option of walking, running, and even rucking. Operation Run To Heal 5K will also be featuring an ultimate post-race Beer Garden celebration at the Reading Common with local brews, food, live music, and fun games. "We wanted to create an event that not only promotes physical health but also fosters a sense of community and enjoyment," explains Prisco. "The post-race celebration is a chance for everyone to unwind, connect with others, and celebrate their achievements. It's all about creating lasting memories and forging new friendships."
What each 5K participant receives:
Operation Run to Heal T-Shirt.
Operation Run to Heal Dog Tag Finisher Medal
Access to the ultimate post-race beer garden celebration with a FREE beer ticket (participants 21+ only) **Must show ID when picking up your race packet to receive a beer ticket
**Gold Warrior Challenge Dog Tag Medal for participants who register for the pre-race Warrior Challenge Bootcamp Class — 1.5 hours before the 5K race (ALL fitness levels welcomed) **limited spots** *This will be a chipped-timed race.
Event Schedule
September 23 12:00 PM EDT – WARRIOR CHALLENGE BOOTCAMP CLASS
September 23 1:00 PM EDT – OPENING CEREMONY
September 23 1:30 PM EDT – RACE START
September 23 2:00 PM EDT – ULTIMATE BEER GARDEN CELEBRATION
For more information and to register for the 5K Road Race, please visit operationruntoheal.com. Together, we can honor the sacrifices of our Green Berets and support their families in their time of need.
Those who would like to sponsor the event or learn more about sponsorship opportunities may contact Domenic Prisco at domenic@fitness-within.com or (781) 942-2919.