Saturday, June 24, from 1:00-7:00pm
Reading, MA—Reading's third annual Juneteenth Freedom Festival is shaping up to be a great event. Come down to the Town Common on Saturday, June 24, starting at 1:00 pm for a family-friendly event with food, music, dance, community speakers, and a beer garden.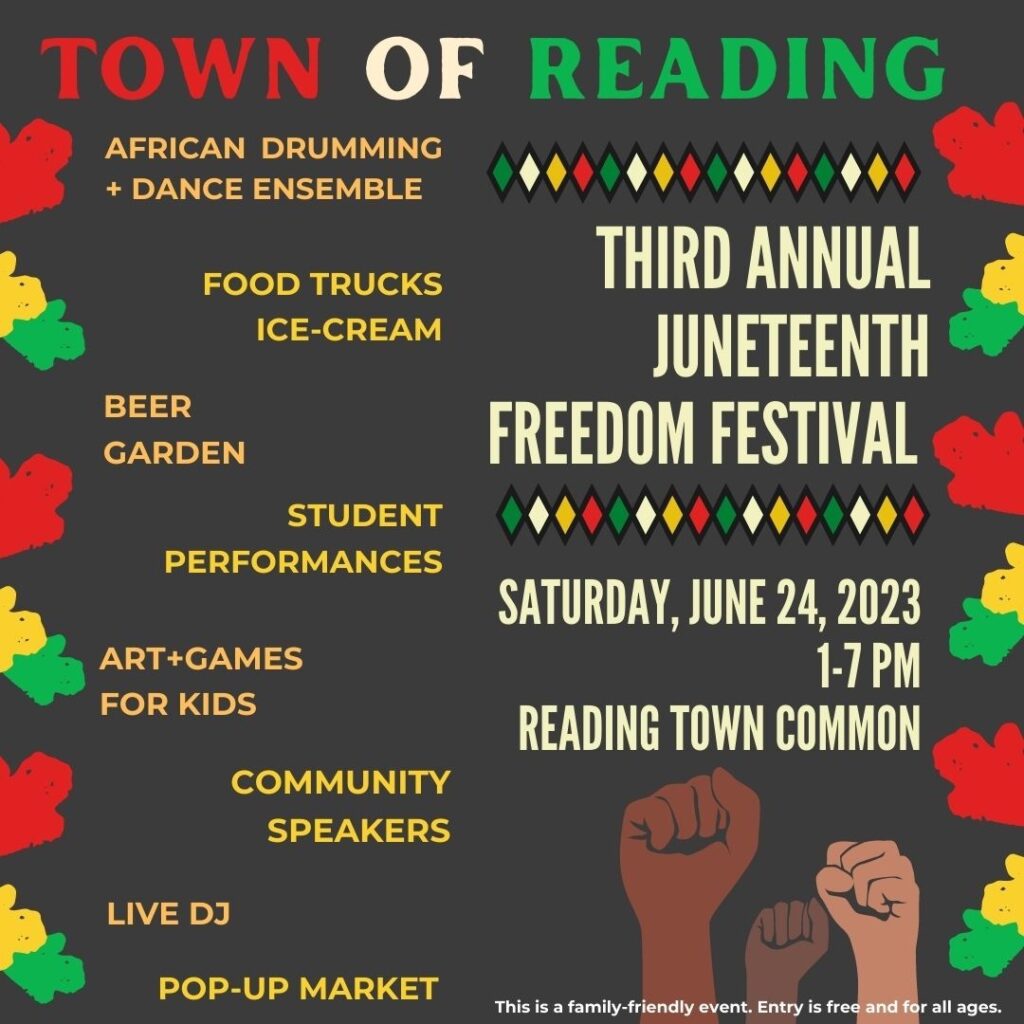 The day kicks off with an interactive celebration of dance led by Ammaya African Dance & Drumming, and stay for performances in dance and choir from Reading Memorial High School students and community speakers. If you love to eat and shop, we've got you covered with a Pop-up Market featuring black-owned businesses and a Beer Garden with Brockton Beer Company and White Lion Brewing Company.
Attendees should park at the Upper Haven Parking Lot and along Woburn Street. Spillover into the Brande Court lot is also recommended.
The Juneteenth event is sponsored by OESJ, the Town of Reading and the Reading Public Library. Learn more about vendors and program: https://bit.ly/RPLJuneteenth
Juneteenth Agenda
1: 00 PM Welcome
1:10PM African American National Anthem
1:15PM Interactive Dance/Drumming Ensemble by Ammaya
2:30 PM Student Dance Performance & RMHS Mixed Choir
3:00 PM Community Speakers (ASL interpretation available)
4:00 PM Live DJ
For more details, contact the Office of Equity & Social Justice, oesj@ci.reading.ma.us. The event location is wheelchair accessible and ASL translators are available on request.
We look forward to seeing you there!
❦
The Reading Public Library is committed to evolving together to strengthen communication, equity, collaboration, and learning in our community. Our mission is to be a center and resource for learning and civic engagement. We provide a place and platform of, by, and for the people who can benefit as individuals as well as contribute to the well-being of the community. We work to achieve these goals and commitments by focusing on education, equity, accountability, and access.