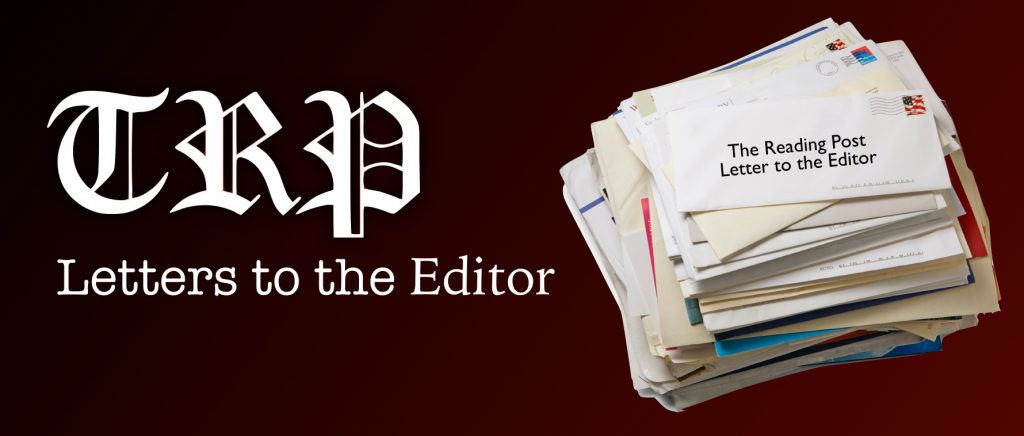 The Reading Post accepts Letters to the Editor. All letters must be signed. The Reading Post reserves the right to edit or not publish any letters received. Letters do not represent the views or opinions of the Post. editor@thereadingpost.com
---
Dear Reading Community & Precinct 2 Voters:
I am writing this letter to provide my endorsement for a set of candidates running for Town Meeting (TM) in Precinct 2. I applaud and respect all that have decided to run for a town government position. It is a thankless (and non-paying) job. These endorsements in no way diminish the contributions and/or desires to represent the community of those not listed below.
In my experience, I have always been focused on maintaining a common-sense approach to government: one that understands and prioritizes the critical needs of the community but recognizes our limited resources and respects fiscal discipline. We have some important decisions ahead of TM including (potentially) a new Senior Center, new Killam school, more downtown development, other items on our capital plan, and participation in Green Communities, to name a few. All of these will have a financial impact on the community.
There is always a long list of town issues that need to be addressed. My approach has been to work together with those that are willing to problem solve, and I have a track record of doing just that. I am endorsing the following individuals for Precinct 2 Town Meeting seats that I believe are aligned with these concepts, are open to ideas, listen to each other, and are not wed to any ideology. This slate of candidates also represents a good mix of individuals with different backgrounds and perspectives.
Howard Cohen (candidate for Re-Election): Friend and neighbor, long-time resident and long-time TM member.
Margaret "Peggy" Connors (candidate for Re-Election): A 41-year resident and homeowner in Reading with extensive experience in public administration, teaching and counseling, and volunteer to many civic organizations.
David Gentile (candidate for Re-Election): Born and raised in Reading, currently serves as a member of Retirement Board and is a town employee.
Nicole Lamson (candidate for Re-Election): Mom of two young kids and a paralegal. Invested in the community and always looking for ways to solve problems. Recently took the initiative to investigate crosswalk on Salem St. to allow for direct access to Memorial Park.
Brian and Vanessa Curry: Brian & Vanessa have lived in Reading since 2019. They have two daughters, one attending Killam Elementary and the other in pre-school. The Currys have a history of community service, with Brian a 10+ year Big Brother Mentor and Vanessa an active volunteer in schools, a youth soccer coach and a board member for Reading's Connect the Tots nonprofit group. Brian is also running for a seat on the Board of Library Trustees.
Boris Nusinov: A newcomer to Town government, but a longtime resident, actively involved with coaching youth sport teams. Boris is ready to bring a fresh perspective.
Nathan Riley: Nathan recently moved to Reading with one child already attending Reading Public schools and another in pre-school. As a Financial Advisor, Nathan is looking to apply his experience to the betterment of Reading.
John Parsons: John is running for the vacant 2-year TM seat. He is a long time Reading Resident and has previously been a Town Meeting member. John currently serves on the Council on Aging and is their representative to the ReCalc Committee that is studying future options for the Senior Center.
A complete list of candidates for the upcoming Town Election can be found at readingrecap.com/election-2023/ including candidate biographies.
I hope you will join me in support of these candidates on Tuesday, April 4, 2023.
Respectfully Submitted,
John Sasso
Richards Rd