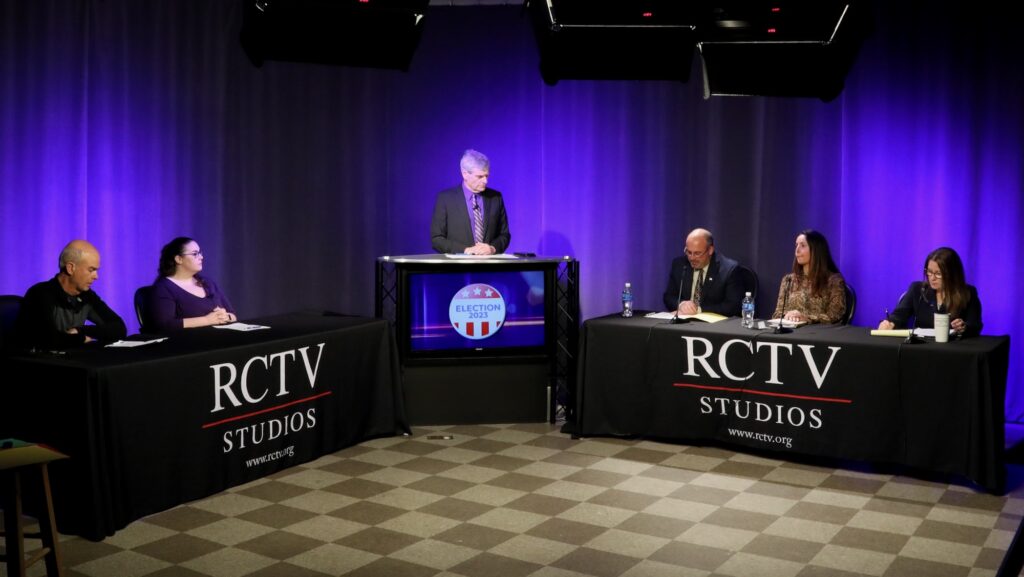 Reading, MA — The three candidates for the two seats on the Select Board participated in a forum on Tuesday night, answering questions posed to them by Catie Robertson of the Reading Post and Robert Holmes of the Daily Times Chronicle. Each candidate was given an opportunity to answer each question.
The forum, moderated by Alan Foulds, began with opening statements. Melissa Murphy introduced herself as a fifteen-year resident of Reading who once worked as a paralegal, has been on the Wood End School Council, and has been a member of Town Meeting for two years. Murphy indicated that she has a strong aptitude for listening as well as for the research of difficult issues. Murphy seeks to ensure that the town is responsible in its spending, supports local businesses, and improves communication with its residents. Murphy stated that she wants to help "end the divide" in town. "The Select Board has the responsibility to unite the town, not divide it," Murphy shared.
Incumbent Carlo Bacci has been a Town Meeting member since 2019 and has served on the Select Board for three years. He has been a small business owner for thirty years. "As a former 'brick and mortar' business owner, I bring a unique perspective to the board," Bacci added. He stated that successful completion of the Killam Elementary School Project is the town's "top priority" and that he hopes to present a new senior center project to the voters in a positive and economical way.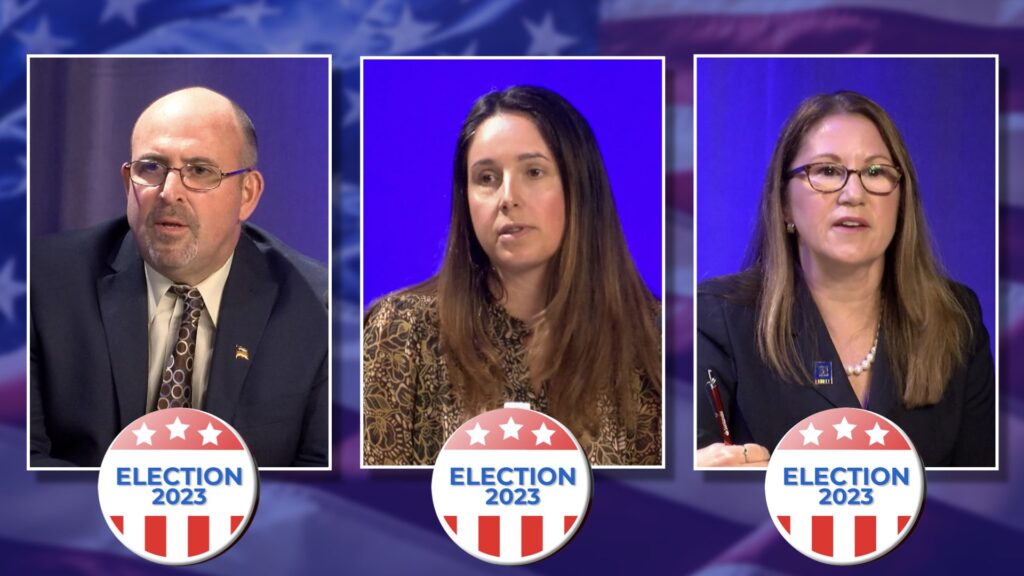 Incumbent Karen Gately Herrick has served on the Select Board for three years and has been a member of Town Meeting since 2002. Prior to her service on the Select Board, she spent five years on the Finance Committee. Herrick currently also sits on the Killam School Building Committee. She stressed the accomplishments the board has worked on over the past three years, including weathering the pandemic, hiring a new town manager, and working towards making Reading more climate-friendly.
The first question posed to the candidates asked what the biggest challenge facing Reading will be over the next three to five years. Bacci suggested that the hiring and retention of staff in the current economic climate will continue to be a challenge. Herrick cited the completion of projects such as the safety improvements in the Oakland Road area, the downtown water and sewer construction, the Auburn Street water tower, and continued work on the Killam Elementary School Project and as a new senior center. Murphy continued this thought, adding being economically mindful of residents when proposing projects and making sure that new facilities can be adequately staffed and programmed.
The next question dealt with the commercial tax shift. Herrick stated that 29% of Reading residents are considered cost-burdened, that is, spending more than 30% of their incomes on housing. "It is time for a tax policy that works for our residents that will equitably share the tax burden," Herrick stated. Murphy, citing concerns for small businesses, stated that she would oppose any greater tax shift than already exists. Bacci shared that he never supported a tax shift and would vote against increasing it. "To have a thriving community, we need a thriving downtown," Bacci declared. "I did not support it last year, and I will not support it next year," he concluded.
When questioned about how the board could encourage commercial development in town, Murphy expressed support for the work of new development director Ben Cares and wishes to support businesses by continuing to encourage events like last week's Winter Fest. Bacci indicated that there is no one quick fix for commercial development but suggested that it does not help when board members are rude to business owners. He cited an email sent by a board member regarding the split tax rate that he considered to be insensitive to the concerns of businesses. Herrick answered back, stating that businesses do not decide where to locate based on the tax rate, noting businesses that have left town to relocate to communities with higher tax rates than Reading. Bacci shot back that, in his opinion, Herrick is not a small business owner and does not understand the struggles that businesses owners share.
On the subject of a possible new senior center, Murphy recognized the need for appropriate services and programs, noting that seniors had indicated no appetite for a significant impact on their tax bills. She wants to seek creative solutions for the short and long-term meeting of the needs of senior residents in town. Herrick noted that work has already been done to increase the town's mental health staff and that $900,000 of American Rescue Plan Act funds had been set aside for senior programming and for a feasibility study for a new center. Bacci recognizes that seniors are underserved in the current building but noted that the plans that had been shared for a possible new senior center on Harnden Street are "too expensive."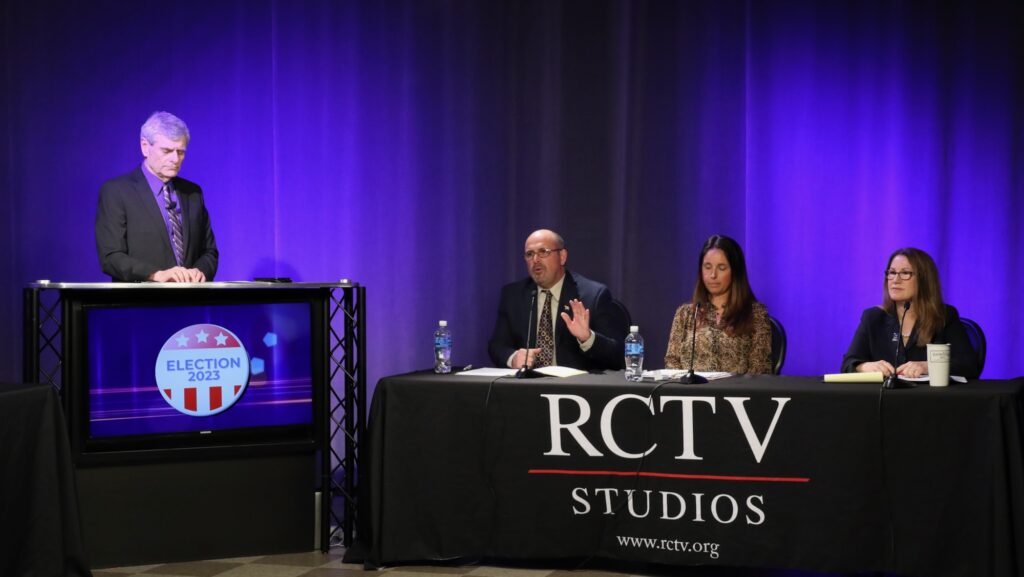 In reference to the Menorah and Christmas tree issue from last November, Herrick defended her vote, sharing, "I believe in building a Reading for everyone." She touted other inclusion activities, such as the hiring of a Diversity, Equity, and Inclusion Director, as well as other events in town. "My decisions will always be about what is best for Reading," Herrick stated. Bacci believes that the process used last fall failed due to a quick vote without time allowed for reflection and citizen input. "We needed better guidance from Town Counsel, and we needed a better process," Bacci opined. He stated that he hopes there will be more time allotted for a decision this year and that he will review it looking to see what the town wants. Murphy stated that she would vote for a Menorah and a Christmas tree if that is what the town wanted. She also said that she believes that the process used by the Select Board last year pitted residents against each other. "We should not have seen the nastiness we saw," Murphy said.
All three candidates acknowledged the issues with downtown parking. Bacci shared his belief that the issue will not be solved but could be managed. "Without a parking garage, we are always going to struggle with parking," Bacci declared. He also indicated that he wanted to delay the use of kiosks in town-owned parking lots until the effects of new regulations and greater enforcement could be understood. Herrick shared that she voted in favor of the kiosks after the presentation from the volunteer PARC committee, recognizing the efforts of the many volunteers that participated in the work. "The Select Board needs to be responsive and respect our volunteers in all their forms and capacities," Herrick noted. Murphy indicated that she is not opposed to kiosks and believes that they will keep cars moving in the town-owned lots downtown and prevent commuters from keeping their cars in the lots all day. She also believes communication about the kiosks will be key to their success.
Things got heated when the issue of pursuing grants was asked. Bacci and Murphy were troubled by a Herrick campaign flier which they claim states that she takes credit for the $8.1 million Reading has received in grants over the last few years. Bacci noted that "we've had a good run on grants" and credited town staff for pursuing them with state and federal officials while indicating support for the staff continuing to do so. Herrick shared her belief that applying for grants has been ignored for many years and that she is pleased that the town is now on a different path with "talent who are willing and able to seek out supplemental funding." She indicated that she has reached out to the state delegation frequently and has led the charge to join the Green Communities grant program.
Bacci still disputed his perception that Herrick claims she did the work on her own. "We are a board of five, not a board of one or two," Bacci answered back.
Herrick responded that it is a board of five but that some members are more engaged and involved and deliver more results for Reading. Herrick used the earmarks for the community garden as an example. Murphy shared her point of view that Herrick's mailer is less than honest about the grants. Herrick responded again that several grants came about as the result of the advocacy of some, not all, of the members of the Select Board. "We will continue in this effort," Herrick promised.
When asked what they would change about the board, Herrick indicated that she hoped that discussions could be kept on-point and that members would not speak "to fill up air time." She also would like to see more collaboration on environmental stewardship. Bacci stated that he would like to see a board that is not rude to its volunteers and does not interrupt those who are speaking. He suggested that Herrick had "eviscerated" volunteer Carl McFadden at a recent meeting. He would like to see a board, with himself and Murphy elected, that "respects our staff, respects our volunteers, respects Fidel, and respects our residents." Murphy answered similarly as Bacci. "If the Select Board does not come together and stop the bickering, nothing will get done," Murphy shared.
After closing remarks, Foulds thanked the candidates and reminded viewers to come to the polls either during the early voting at town hall or in the Hawkes Field House on April 4.