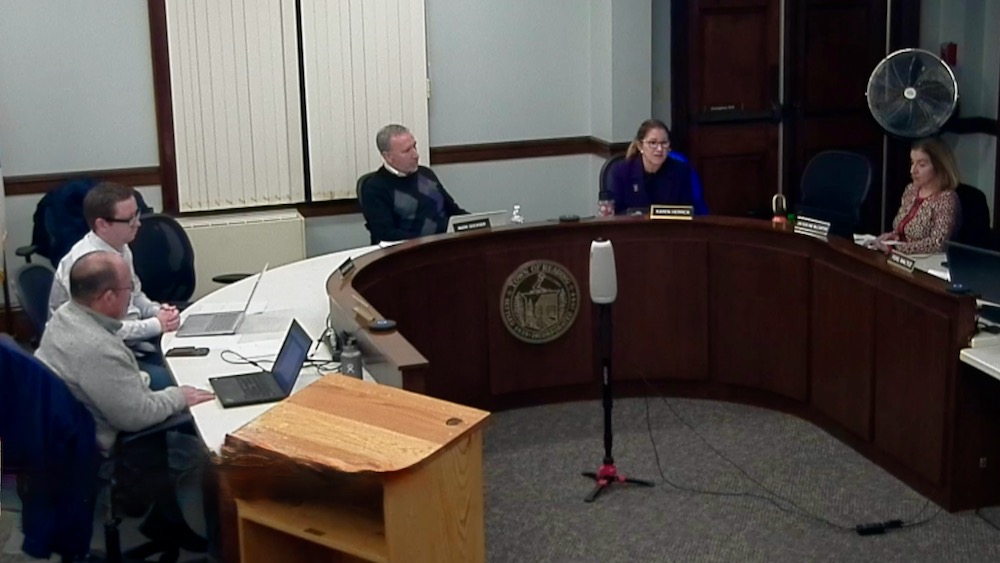 Town Manager Goals
Reading, MA — By a vote of 5-0, the Select Board approved goals for the upcoming year for Town Manager Fidel Maltez. Maltez presented his goals in four categories: execution, momentum, vision, and communication.
In execution, Maltez intends to guide the conclusion of Reading joining Green Communities; he will continue to work toward MBTA compliance, complete the Auburn Street water tank project with cell carrier antennas installed, begin phase one of the Birch Meadow improvement project, and work on the Maillet, Sommes, Morgan wetland project. He noted that he intends to pursue Verizon to ensure it installs a cell antenna on the water tower.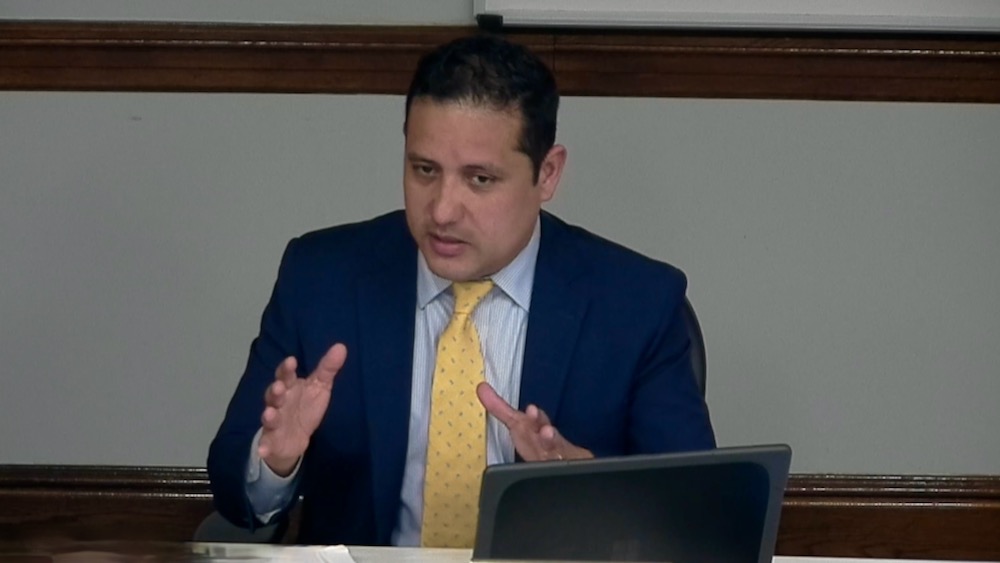 Maltez seeks to continue the momentum already started with several upcoming projects, including the Killam Elementary School project, the senior/community center, land use on Oakland Road and Symonds Way, and continue to encourage more community events like the beer gardens and WinterFest.
Maltez will provide vision to help with employee retention. The town will continue offering staff training and development opportunities and will continue to pursue grants. Also, the plan is to increase infrastructure for the Health Department and begin work on phase two of the Birch Meadow improvement project.
In the final category, communication, Maltez will plan to expand communication with residents through social and other media; he will continue communications with staff and seek to improve responsiveness and accountability. He highlighted plans for an online construction map that residents can use to get updates on the construction status in town, where street closings may occur, and other information. Select Board member Christopher Haley piloted the map with Maltez and indicated that he was impressed with the tool.
In response to the goals, Select Board member Jackie McCarthy stated approvingly that the goals "build on what Fidel has done in his first year."
Financial Update
Town Accountant Sharon Angstrom provided the board with a quarterly financial update. Angstrom reported that 71.1% of budgeted revenues had been collected thus far, a little behind the 72.7% collected as of this time in the last Fiscal Year but ahead of the expected 67% revenue collection. She also noted that most of the vehicle excise tax forms are sent in February and that revenue from this tax will be collected in the coming months.
financial-update-march-2023

Angstrom continued to report that expenditures are at 72.6% of budget, but this is expected as much of the spending on capital expenses occurs in the first part of the year. Angstrom also shared an online tool from the Massachusetts Division of Local Services which gives a graphical representation of the town's financial information. After the presentation, the Select Board voted 5-0 to appoint Angstrom to continue as town accountant through June of 2024.
Town Counsel
The board next launched into a discussion regarding whether or not to conduct a review of Town Counsel. Haley, who presented the idea, stated that he had been pleased with Miyares and Harrington's work and praised the responsiveness of lead counsel Ivria Fried. He expressed concern over the hours required for work done regarding the menorah and Christmas tree discussions in November.
"It could have been handled better," Haley suggested.
Select Board member Carlo Bacci, while also complementary of Fried, stated that he would like to see what the cost of the competition would be. He did acknowledge, "The Christmas and menorah thing was mostly on us." McCarthy expressed that she is impressed with Fried's work. "It takes an evolved and savvy lawyer to bring in colleagues when needed," McCarthy noted. She also shared that there are only a "handful of options" when it comes to municipal attorneys, though she indicated that she would be open to exploring other firms.
Both chair Mark Dockser and member Karen Herrick said they do not think a review is needed. "Ivria understands the law and communicates it clearly," Herrick affirmed. Dockser referred to the service received from Miyares and Harrington as "exceptional" and noted his level of comfort when working with the firm.
During public comment, residents Liz Whitelam, Jessie Arnold, and Angela Binda all spoke in support of retaining Fried as counsel. "She is thorough, she is clear, she is informed," Binda declared. The board will continue its discussion at the March 21 meeting.
Preview of FY24 Water & Sewer Rates
Maltez gave the board a preview of possible water and sewer rates for Fiscal Year 2024. He noted that total expenditures for water should be 2% lower than in FY 2023 due to fewer capital expenditures. Maltez also expects a 2.5% increase in sewer expenditures in FY 2024. Maltez then floated the idea of using a tiered rate system with five tiers to bill customers. In a tiered system, residential customers using less water would pay a lower rate for water and sewer. Large residential and commercial users would pay a higher rate. This system could save those in the lowest tiers up to 10% on their water and sewer bills.
Dockser indicated enthusiasm for the plan as it could encourage conservation, which he believes is not encouraged under the current single-tier system. Bacci also stated approval of the concept of a tiered-rate system. During public comment, resident Melissa Murphy expressed concern for the tiered system and encouraged the board to consider allowing separate water meters for residents who use water for lawns and pools and other activities where the water does not end up in the sewer system. Haley suggested that both avenues could be explored simultaneously, arguing that it makes no sense to solve one issue with water rates and not solve another.
Maltez informed the board that a consultant would be coming to the March 21 meeting to help continue the discussion.
Volunteer Appointments
The board voted 5-0 to appoint the following residents at the recommendation of the volunteer appointment committee (Haley & McCarthy):
Liz Rogers to a full position on the Cultural Council with a term expiring June 30, 2026.
William McCants to a full position on the Conservation Commission with a term expiring June 30, 2025.
Chris Cridler to a full position on the ZBA with a term expiring June 30, 2024.
Tony Rodolakis to an associate position on the Conservation Commission with a term expiring June 30, 2024.
Mark Wetzel to a full position on the CPDC with a term ending June 30, 2024
William Hughes to a full position on the Town Forest Committee with a term ending June 30, 2024
Salvatore Clemente to an associate position on the Animal Control Appeals Committee with a term ending June 30, 2024
The board also discussed how to attract more volunteers to the boards and committees it oversees.
Town Meeting
The Select Board voted 5-0 to reopen the April Town Meeting warrant. It then voted 5-0 to add two citizen petition articles to the warrant. It then voted 5-0 to close the warrant again. The two new articles, twenty-four and twenty-five, relate to creating sidewalks or other walking paths to the Wood End Elementary School from an adjacent neighborhood.
Harden Street
A planned discussion on the purchase of 17 Harnden Street was put on hold due to all the information not yet being available. The Select Board adjourned at 10:35 pm.