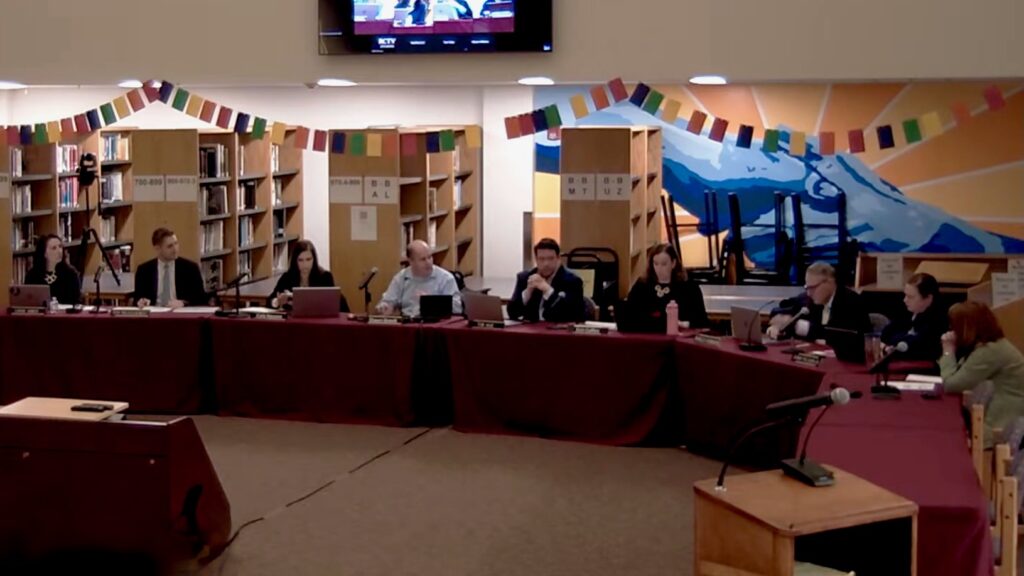 Reading, MA — The School Committee voted 6-0 on Tuesday to recommend to the Select Board that a warrant article creating a Special Education Stabilization Fund be placed on the warrant for April Town Meeting. Director of Finance Susan Bottan explained that the fund would only be available for unforeseen special education needs and would not be available for annual budget adjustments. Expenditures from the fund would be available for circuit breaker reimbursement.
Bottan continued to explain that the fund would be created by using unexpended funds from the school department budget at the end of each fiscal year. Bottan shared that it could take several years to grow the fund to the limit of 2% of annual spending, a cap placed on such stabilization funds by Massachusetts General Law. Unexpended funds from the school department budget are often "returned" to the town's free cash reserves at the end of the fiscal year. Expenditures would only be allowed through a joint vote of the School Committee and the Select Board. School Committee member Thomas Wise pointed out that the fund could be used for out-of-district expenditures and any unforeseen special education needs.
"[The stabilization fund] allows us to focus our normal budget dollars in a more proactive [manner] instead of a reactive way, but also providing a backstop," Wise explained further. The Select Board is expected to discuss the Town Meeting warrant at its February 21 meeting.
Erin Burchill, K-8 Humanities Curriculum Coordinator, updated the committee on the new ARC Core literacy curriculum rollout. "ARC Core is really a knowledge-building curriculum," Burchill explained. She continued to report that grades three to five are in year one of program implementation, kindergarten through two are about to launch, and teachers in grades six through eight are learning the curriculum and preparing to launch it next year. Burchill praised the professional development included in the curriculum, which, according to Burchill, engages teachers in targeted training on the new materials. Each school receives eight professional development visits during curriculum implementation, with continued coaching afterward.
Burchill also explained the ongoing independent reading level assessment process that is part of the curriculum. She noted that reading levels in grades three to five increased from 47% proficient and above to 57% from October to January. She also shared that this level of growth has leveled off as the curriculum has increased expectations.
Burchill concluded by sharing that she will be working on revising district curriculum documents, coordinating assessments, and providing professional learning in the curriculum over the coming months.
Director of School Counseling at Reading Memorial High School (RMHS) Lynna Williams reported on her department's activities over the last several months. She and her staff are involved in four general activities, social and emotional counseling, academic advising, college and career planning, and collaboration with teachers, parents, and administration.
The department has hosted future freshmen nights, eighth-grade transition meetings, a college and career fair, college admissions panels, one-on-one course section meetings with students, and coordinated meetings with college representatives. She highlighted the Project Wayfinder curriculum, which she stated, "is allowing us to develop stronger relationships with students."
The Project Wayfinder curriculum helps provide students with a pathway for their high school careers. As freshmen, they create a sense of belonging; as sophomores, they look at finding their purpose; as juniors, they begin post-high school planning; and as seniors, they make a plan and work on college applications or work on resume writing and interview skills.
Willams continued to share that members of the RMHS class of 2022 attend college in 23 different states; 50% went to private colleges or universities, 61% stayed in New England, with 36% staying in Massachusetts. Of that group, 64% attend Massachusetts public colleges or universities.
In 2022 the average RMHS student scored a 585 in writing on the SATs and a 595 in math. Both of these are down slightly from 2021, though Williams noted that many students are not choosing to take the exams a second time, on which students tend to have higher scores. This led to a discussion about more and more colleges not requiring students to submit exam results.
Willams also reported that RMHS administered 592 AP exams to 290 students in 2022, with 75% receiving a score of three or better. In 2021 326 exams were administered to 201 students, with 72.6% receiving a score of three or better. "Our students, overall, do well on AP exams," Williams stated.
Williams concluded her presentation, adding, "So much of what is important is not only how we are preparing [students] in the classroom, but how we are preparing them for the future."
Superintendent Thomas Milaschewski presented the framework for the multi-year district improvement plan. The current plan, developed by the previous administration, is in its final year of implementation. The new plan aligns with the district's four stated goals, which include providing safe and supportive learning environments, coherent instruction, efficient school operations, and family and community engagement. Milaschewski shared that a more detailed plan will be provided to the committee in a few months. This plan will include updated frameworks, specific action plans, and plans to seek community input into the plan.
School Committee chair Shawn Brandt asked Milaschewski to consider including ways the School Committee can support or contribute to initiatives. Member Chuck Robinson encouraged creating a section in the plan for successfully completing the Killam project. Several members stated agreement with Robinson on this request.
The School Committee also voted 6-0 to approve Milaschewski's mid-year formative assessment. Brandt noted that there was a consistency in committee member observations regarding Milaschewski's progress on his goals. He also noted overall positive comments regarding Milaschewski's performance, especially in the areas of culture and academic progress.
Brandt reported mixed observations regarding progress on scheduling work, though praised the amount of work being accomplished on many different initiatives, including the progress being made in coaching the principals. Milaschewski responded that he appreciated the feedback and shared that the positive progress reflects leadership across the district.
The School Committee also voted 6-0 to support a draft warrant article for Town Meeting regarding adjusting the requirement for new employee physicals. Wise noted that the current policy is "outdated from a practice and policy perspective."
The School Committee adjourned at 10:15 pm