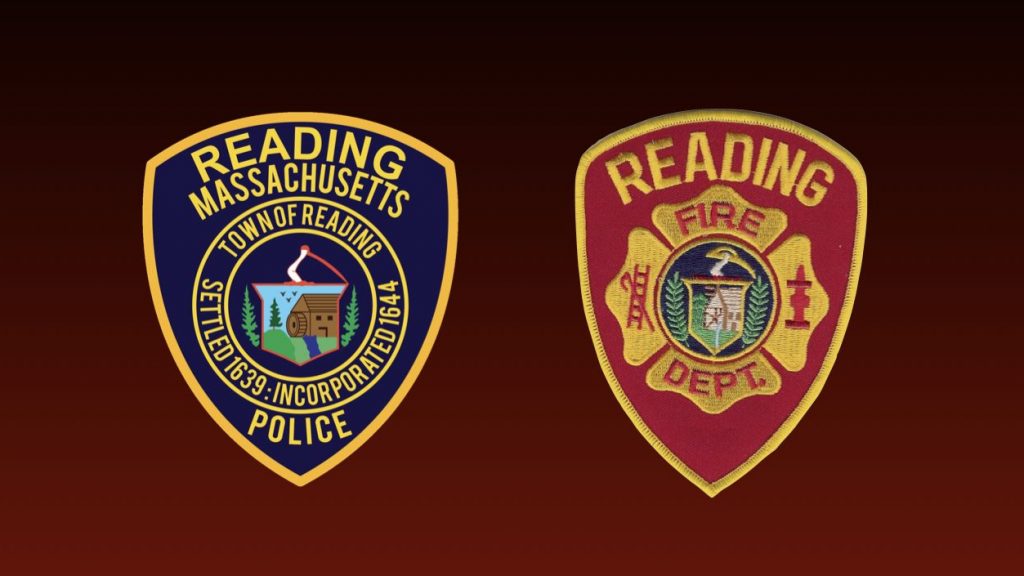 Reading, MA – Excerpts from the Reading Police and Fire Log:
Wednesday, February 1, 2023
6:44am – Alarm Sounding in an Emerson Street Residence.
7:02am – Wallets and Ear Buds Found on a Pleasant Street Bench.
8:23am – Lift Assist for a Woburn Street Resident.
8:25am – DPW Notified of a Downed Traffic Light Pole on Lowell Street.
10:43am – Main Street Train Gates Stuck Down.
12:17pm – High Pressure Gas Pipe Hit by a Crew on King Street.
12:26pm – King Street Resident Reports Odor of Natural Gas in Home.
1:48pm – Traffic Enforcement on Haven Street,
1:59pm – RPD Assists Wakefield PD with a Hit and Run.
2:20pm – Traffic Enforcement on Main Street.
2:35pm – Investigation of a Two-Vehicle Crash on South Street.
3:55pm – Officer Requested to Read a Chip on a Lost Dog on Glenmere Circle.
4:03pm – Complaint Regarding a Vehicle Parked Too Close to the Corner of Village Street and Haven Street.
4:05pm – Traffic Lights not Cycling Properly at Main Street and South Street.
4:22pm – Report of a Possibly Abandoned Vehicle in an Archstone Circle Parking Lot.
4:32pm – Report of a Vehicle Parked in the Street on Frank Tanner Drive.
5:35pm – General Panic Alarm at a Sanborn Street Residence.
5:50pm – Charles Street Residence Reports Computer Hacked.
6:24pm – Alarm Sounding at a Green Street Building.
6:43pm – Report of Two Individuals Soliciting Door to Door on Archstone Circle.
7:12pm – Traffic Enforcement on Oakland Road.
8:39pm – Gould Street Resident Reports a Person Did Not Return Car.
8:44pm – All-Night Parking Exception Granted on Oak Street.
8:45pm – Franklin Street Resident Reports Sewage Backing up into the Home.
8:55pm – Verbal Warning for No Headlights on Oakland Road.
10:01pm – Report of a Suspicious Person Stumbling Down Woburn Street.
Thursday, February 2, 2023
7:29am – Report of a Wallet Stolen from an Unlocked Vehicle on Main Street.
7:52am – Report of a Damaged Water Spigot at Wood End Cemetery.
8:34am – CO Detector Activation in a Haven Street Garage.
8:35am – Complaint Regarding a Tree Company Blocking the Road and Sidewalk on West Street.
9:36am – Dog Turned in at RFD.
9:59am – Fire Alarm Activation at a Walkers Brook Drive Business.
10:04am – Deceased Raccoon in the Road on Haverhill Street.
10:46am – Follow-up Phone Call with a Main Street Resident.
1:01pm – Assistance Rendered to an Augustus Court Resident.
1:05pm – Woburn Street Resident Reports ID Theft.
1:15pm – House Lockout on Middle Street.
1:35pm – Fire Alarm Activation at an Augustus Court Residence.
1:36pm – Traffic Enforcement on West Street.
2:45pm – Report of a Suspicious Person on the Train Tracks on Ash Street.
3:20pm – Forest Street Resident Reports Possible ID Theft.
3:56pm – Report that a Vehicle is Parked Illegally in a Private Gould Street Parking Lot.
5:02pm – Haven Street Resident Reports False Statements.
5:14pm – Verbal Warning Issued for a Red Light Violation on Timothy Place.
6:12pm – Extra Check of a Haverhill Street Residence.
6:33pm – Unit Came Upon a Disabled Vehicle at the Salem Street Rotary.
7:16pm – Report of a Car Fire at a Salem Street Business.
8:15pm – Suspicious Person Claiming to be from Verizon is Knocking on Doors on Main Street.
10:05pm – West Street Resident Reports Vehicles Speeding.