WAKEFIELD — Superintendent David DiBarri is pleased to share that growing interest among students has led to an expansion of girls sports programs at Northeast Metro Tech, and that there are also two girls wrestling this year.
This year Northeast Metro Tech added a girls ice hockey program in collaboration with Wakefield Public Schools, offering Northeast Metro Tech girls a chance to play ice hockey with students from Wakefield. So far six girls have signed up to play hockey on the cooperative team, with several racking up points as the team has a 6 and 8 record.
Sisters Celeste Scoppettuolo and Gianna Scoppettuolo, of Revere, are among team leaders with five goals and nine assists and three goals and six assists respectively.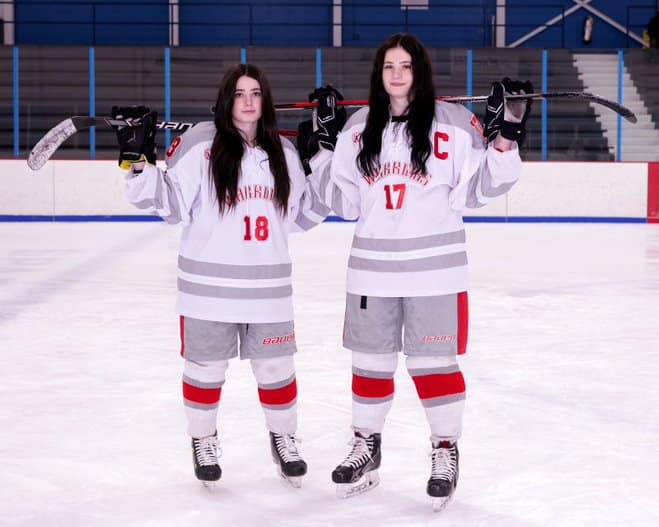 The cooperative ice hockey program enables Northeast girls to play against other girls, whereas they previously played with the boys ice hockey team.
Meanwhile, two girls are wrestling against boys with the Northeast Metro Tech varsity wrestling team, and both are performing well so far this year.
Northeast wrestlers Shelby Galex, of Woburn, and Francesca Casolli, of Revere, have both contributed to the Northeast Varsity Wrestling team this year, with Casolli starting in the 120 pound spot.
"Shelby is an outstanding leader in our program and she has a great work ethic," said wrestling coach Bruce Rich. "She competes on the coed team and has won several matches, and she also finished second at the Senator All-Girl Wrestling Tournament on Jan. 16 as she faced 20 very competitive girls in her weight class."
"I would like to congratulate Francescia on her many accomplishments. She's one of the few female wrestlers to be part of what was once an all male varsity team, and she is also on the National Honor Society, and an impeccable student all around," said Northeast Metro Tech School Committee Member Anthony L. Caggiano of Revere. "Francescia is kind and full of determination. Francescia's parents attend all of her academic and sporting events. They should be proud of the exceptional daughter they've raised. This is what Northeast Metro Tech is all about — the success and persistence of students and growing our programs to their fullest potential."
Additionally, three years ago the school also added a girls Field Hockey program, which began as a club sport but which has already grown to become a full varsity team with 20 players this year.
Existing girls sports programs have grown as well, with 265 girls taking part in programs this year, and another 81 girls taking part in coed sports such as Cross Country, Indoor Track, and Swimming and Diving.
Expanding interest in girls sports also led the school to add freshman teams for volleyball, basketball and softball, in addition to the existing varsity and junior varsity teams for those sports.
"We want to add as many programs as we can, because we try to be a no cut school," said Athletic Director Donald Heres. "More and more students are coming from the communities and they're looking forward to playing sports, so we try to do whatever we can to provide programs so we don't have to cut anybody or deny anyone an opportunity to compete."
Athletic Director Heres said the school uses surveys of students to determine interest in new sporting programs, which is how the cooperative ice hockey program came to be created this year. Such surveys are conducted on an ongoing basis, as the school seeks to identify areas where student interest justifies adding a club or varsity team.
"Sports offer our students opportunities to learn about teamwork, competition, setting goals and achieving goals with hard work and dedication, all while students are able to improve their physical health," said Superintendent DiBarri. "I'm pleased to see interest in our sporting programs increase among girls, and I look forward to adding even more programs to provide an avenue for those who are interested in competing."