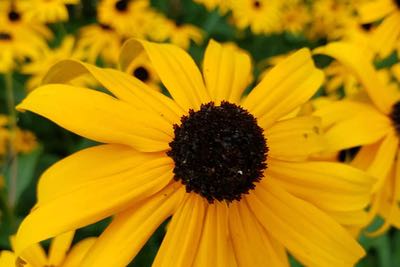 Lincoln, MA — Michael Foley of North Reading has been named a winner in Mass Audubon's 2002 Picture This: Your Great Outdoors photography contest. Michael took top honors in the contest's Plants & Fungi category, Under-18 division, for his image of a Black-eyed Susan flower.
The statewide conservation organization's annual photo competition attracted more than 7,000 submissions from hundreds of photographers of all ages, backgrounds, and abilities.
Contest categories included People in Nature, Birds, Mammals, Other Animals, Landscapes, and Plants and Fungi. Participants entered in their appropriate age groups: 18-and-Older or Under-18.
All images—photographers could submit up to 10—must have been shot in Massachusetts or at Mass Audubon's Wildwood Camp in Rindge, NH, but may have been taken any time prior to or during the 2022 contest period.
Chatham resident Kimberly Robbins's striking image of a Great Egret balancing on one foot with wings spread was named the Grand-Prize Winner. Robbins wins a $250 gift card for her Grand Prize-winning photo, in addition to being featured in Mass Audubon's member newsletter, Explore.
Michael and other Category winners receive $100 gift cards, and eight Honorable Mentions receive $50 gift cards, which can be redeemed at a Mass Audubon shop or wildlife sanctuary.
To see all winning photos and Honorable Mentions, visit www.massaudubon.org/picturethis.
Mass Audubon is the largest nature-based conservation organization in New England. Founded in 1896 by two women who fought for the protection of birds, Mass Audubon carries on their legacy by focusing on the greatest challenges facing the environment today: the loss of biodiversity, inequitable access to nature, and climate change.
With the help of our 160,000 members and supporters, we protect wildlife, conserve and restore resilient land, advocate for impactful environmental policies, offer nationally recognized education programs for adults and children, and provide endless opportunities to experience the outdoors at our wildlife sanctuaries. Explore, find inspiration, and take action at massaudubon.org.