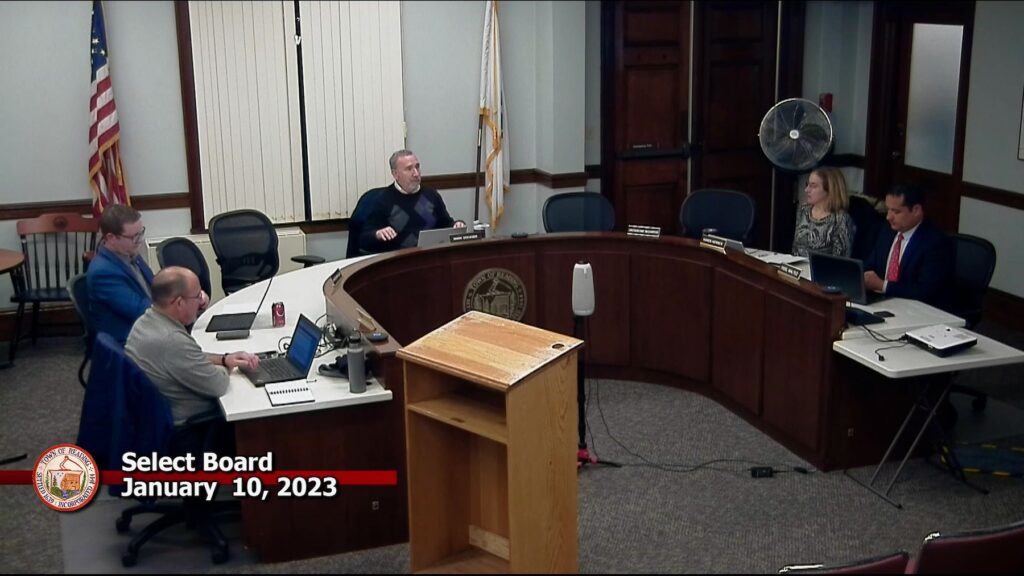 Reading, MA — Anser Advisory Project Manager Nicole Lambert shared the proposed Housing Production Plan with the Select Board on Tuesday. The Housing Production Plan aids in creating a strategy to enable the town to reach its affordable housing goals. The plan, which must be updated every five years, contains a proactive strategy to understand current housing conditions and determine projected housing needs in town. Massachusetts currently mandates that 10% of the housing stock of each town and city be rated as affordable. Reading currently rates 10.5% of its housing as affordable.
Anser used a survey, census data, and public input sessions to help prepare the plan. Lambert reported that there were 753 responses to the survey, which indicated that residents would support rehabilitation of vacant and foreclosed properties, development of town-owned land, and the development of mixed-use buildings to meet housing goals. Residents also support affordable single-family housing, two-family homes, communities for those who are fifty-five and older, and accessory dwellings on existing homes.
Census data indicated that a family income of $105,000 is required to afford rent in Reading and that the average single-family home sells for $825,500, which requires a family income of $150,000 to afford. Select Board member Jackie McCarthy expressed concern at the high income needed to afford a home in town, while member Carlo Bacci called the figures "daunting." Select Board member Karen Herrick agreed, stating her belief that even "affordable" units in Reading with rents over $2,600 a month are not that affordable.
Lambert suggested several strategies to help achieve affordable housing goals that are a part of the submitted plan. The first set of goals are regulatory in nature and include the development of more inclusionary zoning districts that allow varied types of housing by right, continued support of 40B and 40R developments, preserving the existing stock of affordable housing, and requiring open space, connectivity, energy efficiency, and transit-oriented development. She added that the MBTA Communities process could be a part of several of these goals.
Lambert also added goals that are funding strategies such as a first-time home buyers program, strategic use of the affordable housing trust fund, and support for those aging in place. She also floated the idea of tax incentives for those developing "deeply" affordable housing in town.
Noting that the town already is above the 10% mandated threshold, Select Board member Christopher Haley inquired if that level could be maintained. Director of Development Andrew McNichol responded that he was confident that the 10% could be maintained.
"Having inclusionary zoning is an important piece," McNichol advised.
Chair Mark Dockser acknowledged that being above the 10% mandated threshold prevented the town from being "held hostage" by developers but added his belief that it is only a starting point for affordable housing goals in town. He continued to suggest that the board develop a "high-level" vision for development in town, of which the Housing Production Plan is a part. "I think we are on the right track," Dockser commented.
The Select Board intends to vote on the plan for submission at its January 24 meeting. The Community Planning and Development Commission will add its approval at its February 13 meeting. The plan must be submitted to the state by February 18.
The Select Board voted 6-0 to terminate an inter-municipal agreement with Wakefield regarding the young adult POST program as of June 30. Only one Reading resident is enrolled in the program and will graduate this year. Town Manager Fidel Maltez shared that Superintendent Thomas Milaschewski reported that there are no students in the foreseeable future who intend to enroll in the program and that Reading is developing its own program for this population. The termination will save the town $60,000.
The board discussed format and timing for its formal review of Maltez. The public session review will be on January 24 and will include a "360-degree" review from key staff. The board also received a public health update from Public Health Director Adetokunbo Solarin. There were 2,910 reported cases of COVID-19 in Reading in 2022, 395 more than in 2021. Many of these cases were during the "omicron" surge earlier in the year. There were, however, fewer cases in the last quarter of 2022 than in the last quarter of 2021, though cases were on an upward trend as the year ended. The Centers for Disease Control currently lists Middlesex County as a "high-risk" transmission county.
Maltez gave a brief overview of the projected Fiscal Year 2024 budget. Revenues are projected at $119.2 million for FY 2024. Maltez shared that through cost savings, most departmental requests were able to be met, including a shared senior planner and sustainability director. Dockser asked for an update about the possibilities of a change in trash and recycling contractors. Maltez shared that most contractors are facing staffing problems and are requiring automated trash pick-up, with every household using the same barrels. He expects a proposal to be presented to the board for automated trash pickup in February.
The Select Board adjourned at 10:45pm.