August 23, 1946 – December 31, 2022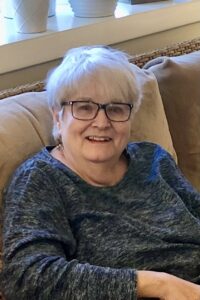 READING – On Saturday, December 31, 2022, Dianne Patricia Kennedy, loving mother, and grandmother, passed away at age 76 in the presence of her family at Kaplan Hospice House. Dianne was known for her kindness, thoughtfulness, and support of many civic and charitable organizations. She spent much of her time with her family and was very close to her grandchildren, who brought her great joy.
Dianne was born on August 23, 1946, in Newton, MA to John and Myrtle Kennedy. Dianne graduated Concord-Carlisle High School in 1964 and attended Cedar Crest College.
Dianne was a long-time resident of Reading MA, a Town Meeting Member and an active member of the Reading Democratic Town Committee. She enjoyed her recent work with Seniors Helping Seniors, her Temple Street neighbors and her many friends. She worked at WordTech Corporation for more than 25 years. Dianne was a lifelong learner, attended Harvard Extension School and participated in workshops and book clubs at Reading Public Library. She was a volunteer for the Boston Marathon and the Friday Night Supper Program at Arlington Street Church. She was a strong supporter of social justice, human rights and animal rights. Dianne was a movie buff and an avid reader. She challenged herself with crossword puzzles and could often be found cheering at the sidelines of her grandson's sporting events or ringside at her granddaughter's horse shows.
Dianne is survived by her daughter, Heather Wolsey and her husband, Craig Hovey of Beverly, MA; her daughter, Brooke Faulkner and her husband, Bryan Faulkner of Haverhill, MA and her beloved grandchildren, Riley and Casey Faulkner. Dianne is also survived by her brother, Jack Kennedy and his wife, Joanne of Portland, ME; her nephew, John Kennedy III of Portland, ME and his daughter, Ebba Copeland Kennedy; and her nephew, Matthew Kennedy, his wife Kate and their children, Evelyn, Ethan, and Benjamin of Gilbert, AZ.
ARRANGEMENTS: A Celebration of Life will be held at a later date. Assisting the family with the arrangements is O'Donnell Cremations – Funerals – Celebrations, 167 Maple St., (Rte. 62) DANVERS. In lieu of flowers, donations in Dianne's name can be made to the Reading Public Library Foundation, P.O. Box 96, Reading, MA 01867 https://readingplfoundation.org/rf/ To share a memory or offer a condolence, please visit odonnellfuneralservice.com.