With Kirsten Manville and Ten Other Area Performers. SATURDAY, December 10 at 7:30 pm.
Linden Tree Coffeehouse's WINTER POTPOURRI is back for an evening of discovering new talent! on Saturday, December 10 at 7:30 pm. Ten New England singer-songwriters will play two songs each with hopes to be chosen to perform during next year's season. Audience input will play a major part in the decision, so please come down to help make the choice while enjoying new music and new faces. The admission for this show is a suggested $10 which will be shared with the Wakefield Interfaith Food Pantry.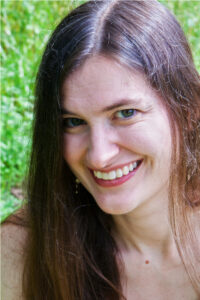 Featuring and hosting the show is Kirsten Manville, a Wakefield based singer-songwriter who engages audiences with melodic and lyric-focused Americana music, with a touch of blues and country. Her songs have singable lyrics and memorable melodies that capture stories about every day life , the ups and downs and in-betweens. Her latest CD is "Blossoms in the Sun." It was a Top 5 pick in the September 2022 issue of Metronome Magazine. 
Performing in this year's potpourri are Ric Allendorf, Dan & Faith, Alex Fam, Folkapotamus, Rick Gottlieb, Kenny Selcer, Rob Siegel, and Erin Ash Sullivan. This year's talents come with noteable CDs and award credits. For a preview, most of the contestents in our answer to THE VOICE have websites where you can listen to a tune or two.
Ric Allendorf Ric Allendorf is a Massachusetts native and award-winning singer-songwriter, accomplished illustrator and Associate Professor at MassArt. Since writing his first song in 2014, he has been a finalist and winner in multiple national songwriter competitions, a feature at New England folk festivals and listening rooms including the legendary Club Passim, and an opener for numerous acclaimed 'main stage' acts. His 2018 debut CD "Take It All In" continues to garner international radio play and an active gig schedule throughout New England. He participated in the Maine Songwriter's Association Annual Song Contest in 2021 and placed third for his original song, " Room for a Song." In 2021, Ric was featured in the Northeast Regional Folk Alliance (NERFA) 'Folk DJ Emerging Artist Showcase'.
Dan and Faith are an award-winning, New England-based husband and wife singer-songwriter duo who describe their music as dream-inspired folk. Daniel Senie (guitar, banjo, harmonica, vocals) and Faith Senie (mandolin, bass guitar, dulcimer, ukulele, vocals) tap into dreams and everyday life in crafting their original songs. The duo has released five albums. The most recent three are available: Simple Grace (2014), Seeking (2016) and Then and Now (2020). The latest, Then and Now, reached #7 on the Folk DJ Chart in January 2020.
Alex Fam is a spirited folk singer, songwriter, and multi-instrumentalist whose lyric-driven songs invite listeners on a journey of reflection and joy. She masterfully combines her vocals with violin, and ukulele. She is the 2022 recipient of the UU Mass Action "Ruth Rowan Award," given to a person actively engaged in social justice and who motivates others to take action, through music. 
Folkapotamus is a folk duo consisting of Penni Hart and Tony Trites who have been performing together since 2011. With beautiful melodies and lyrics, the duo has performed an many coffeehouses and folk venues in New England and the Midwest. Their two full albums, contain new compositions, as well as classical folk songs and a favorite rock song sung in their own folky style. "River Slope Mine" . tells about a mining disaster in Pennsylvania which contrasts with "Road to Nowhere" that has a good time sitting on the porch playing music vibe.
Rick Gottlieb has been a musician for over 40 years, playing songs of his favorite musicians and then writing some of his own, influenced by David Wilcox and his use of non-standard tunings, as well as Susan Werner, and Jackson Browne. He claimsi his music speaks to the "babyboomers."
Kenny Selcer is known for his sizzling blend of Americana folks, rock, roots, and everything in between. He will get your toe tapping, brain thinking, and maybe dancing in the aisle. Kenny is an engaging storyteller and inspired guitar player. Other musicians have described his recent LP as one that makes you feel good and contains a banquet of delicious sounds. 
Rob Siegel is an innovative songwriter who draws from his idyllic yet stressed-out middle-class suburban existence and produces memorable, intelligent, well-crafted songs. His songs are fearless and truthful, and connect with audiences because what's deeply personal is often universal. Rob says: "Some folks who live and breathe traditional folk music think I'm too wordy and too metaphor- and reference-heavy. What I try to be is challenging – somewhere between William Faulkner and Robin Williams. I don't like songs that aren't memorable, and I try not to write them myself." 
Erin Ash Sullivan is a Massachusetts-based folk singer-songwriter who loves a good storytelling song. In 2021 she released her debut solo album, We Can Hear Each Other, which reached #10 on the FAI DJ Chart. In 2022, she has been a Grassy Hill Emerging Artist at the Falcon Ridge Folk Festival, the recipient of the Mark Erelli Judge's Choice Award in the New England Songwriting Competition, and a Songwriter Serenade Semifinalist. Victor Infante of the Worcester Telegram & Gazette describes her music as "delicate and evocative" with songs full of "nuance and emotional resonance."
Admission to this special Linden Tree concert is a suggested $10 donation, cash or check at the door. Please reserve your seats by calling 781-246-2836. Masks recommended but not required. Bottled beverages and wrapped snacks are currently available.
Our previous streaming shows, including October's Squeezebox Stompers, are still available for viewing on our YouTube and Facebook pages linked from our home page: www.LindenTreeCoffeehouse.org
The Linden Tree Coffeehouse operates, in part, with thanks to partial support from Wakefield's Arts Council of the Massachusetts Cultural Council. For more reservations and information: 781-246-2836, www.LindenTreeCoffeehouse.org