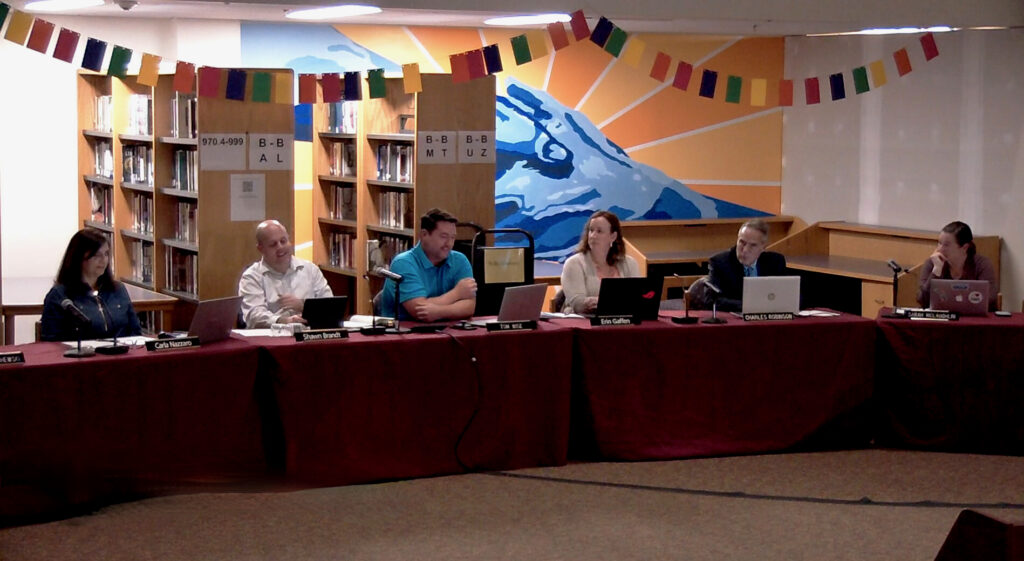 Reading, MA — Assistant Superintendent for Teaching and Learning Sarah Hardy shared the spring 2022 MCAS results with the School Committee on Thursday. She began by placing scores in context, reminding the committee that the 2022 test was the first full MCAS test given to students since 2019, before the pandemic. "Student experiences were deeply impacted by the pandemic," Hardy stated. She continued, sharing that the data has been analyzed, looking for evidence where students are getting back "on track."
Hardy reported that statewide, scores in English and language arts (ELA) dropped, while scores in math showed some levels of recovery. Statewide scores in science showed a small recovery rate.
2022-MCAS-Results

In Reading, Hardy reported that there continues to be an impact from the pandemic on student scores but that Reading's declines were not as sharply noted as the statewide data. Hardy continued, expressing that the most significant impact on scores in Reading are in the area of literacy in the early grades.
In ELA, 9.8% of students in grades three through eight in Reading are exceeding expectations, while another 51.8% are meeting expectations. In Math, 9.1% of the same group are exceeding expectations, while 49% are meeting expectations. "Reading is achieving at much better levels than the state," Hardy declared. Of concern are the 5.2% of students who are not meeting expectations in ELA and the 5.6% of students who are not meeting expectations in math.
Hardy also shared that students in grades three through eight achieve much higher science scores than the state average.
For students in tenth grade, 16.9% of the students are exceeding expectations in ELA, while 21.7% are exceeding expectations in math. In ELA, 61.2% are meeting expectations, while 47.2% are meeting expectations in math. Sixteen and four-tenths percent of tenth grade students are exceeding expectations in science, and 38.4% are meeting expectations. Hardy did note that Reading's achievement in tenth grade science is similar to statewide achievement.
Hardy also noted that student growth percentiles in all areas tested show that Reading students are growing at a faster rate than their peers across the state.
Hardy reported that only 18% of African-American or black students in the district in grades three through eight meet or exceed expectations in ELA. Only 13% are meeting or exceeding expectations in math. Hardy noted this trend as one of particular concern. She also reported an almost twenty percent gap in achievement for students in the district who are chronically absent from school.
Superintendent of School Thomas Milaschewski referred to the data as "concerning." "We owe it to kids to raise the bar," Milaschewski pointed out.
While appreciating the presentation, School Committee member Thomas Wise noted that comparison data would be more useful if arranged within the grade cohorts instead of year-by-year, as this would provide more usable data. Wise also noted that, while statewide information is interesting, of greater use would be information comparing Reading's scores to other peer-set districts. Chair Shawn Brandt stated that while the report includes "some encouraging factors," it also points out a disconnect between the accountability percentile between the two middle schools.
Individual student MCAS scores and data will be mailed to parents in the coming week.
Moving forward, Hardy reported that the Department of Elementary and Secondary Education will use the 2022 scores as baselines for assessing growth in the coming years. She also noted that maintaining the fidelity of implementation for new curriculums will be a key factor to improving student achievement across the district. "The things we have in place now, on paper, are things that should move the needle for kids," Milaschewski indicated. Hardy also mentioned that continuing education with principals would aid in student advancement. "Work with our building leaders is essential," Hardy proclaimed.
The conversation moved to Milaschewski presenting measurable goals for utilizing the district improvement plan in the coming months. The plan lists three overriding areas of improvement. The first area, promoting a supportive and safe learning environment, will be assessed through an attendance data dashboard, encouraging advanced coursework participation and use of data from the Panorama dashboard, which collates student and parent survey information.
The second area of coherent instructional systems will be measured through progress towards MCAS benchmarks, published practice and district-wide documents, multi-year special education program review, and a commitment to looking at communications about students with parents. The third area, improved school operational systems, will include an assessment of the food service program, a transfer of "ownership" of school websites to building staff, and a better-defined human resources protocol for staff recruitment.
Wise questioned the specific targets for deliverables on each of the goals. "The specificity needs to be turned up a notch," Wise declared. School Committee member Sarah McLaughlin also wondered if there would be greater specificity in the next layer below these broader goals. Member Erin Gaffen, in the same vein, wondered how a safe and supportive environment could be measured, as attendance is only one piece of the puzzle. She also questioned how the effectiveness of the new school counselors would be assessed. Member Chuck Robinson noted some data could come from this year's Youth Risk Behavior Survey.
Milaschewski responded that the Panorama data would also be useful in this assessment. He also shared his opinion that setting some specific goals may be challenging as the recommendations from working groups are not yet known. However, he committed to rethinking the plan and will be prepared to come to the committee with more specific measurables in a future meeting.
Director of Finance Susan Bottan reported that the district finished Fiscal Year 2022, returning $203,000 to the town's free cash reserves. This is the lowest amount returned to the town in five years. She also noted that over $300,000 from previous years that were being held for past obligations were also returned to free cash. Bottan reported that the district also spent $2,080,000 in grants in FY 2022. Member Carla Nazzaro thanked the finance team for seeking to utilize the funds so efficiently, which provided for extra programs such as the February and April vacation academies. The School Committee voted 6-0 to move over $444,000 from the regular day cost center to cover other cost centers in the FY 2022 budget, closing out the FY 2022 financials.
The committee voted 6-0 to approve an amendment to the Town and School agreement on how funding used for students is reported. Brant noted, "This is just documenting the practice that was already in place."
The committee voted 6-0 to approve the Reading Memorial High School handbook. The committee also welcomed three new building principals as they presented updates on their entry plans. The committee also heard from Joanne King, who will be the interim director of the RISE program for the coming year.
The School Committee adjourned at 10:45 pm.