Reading, MA— On October 1, 2022, the Reading Public Library unveiled its latest collection item, a Healing Library. What is a Healing Library?
The RPL Healing Library is a series of kits customized with books and resources to help a person, group, or family navigate areas of trauma and personalize the healing process. Topics include depression, divorce and family change, gender identity, domestic violence, and various forms of grief.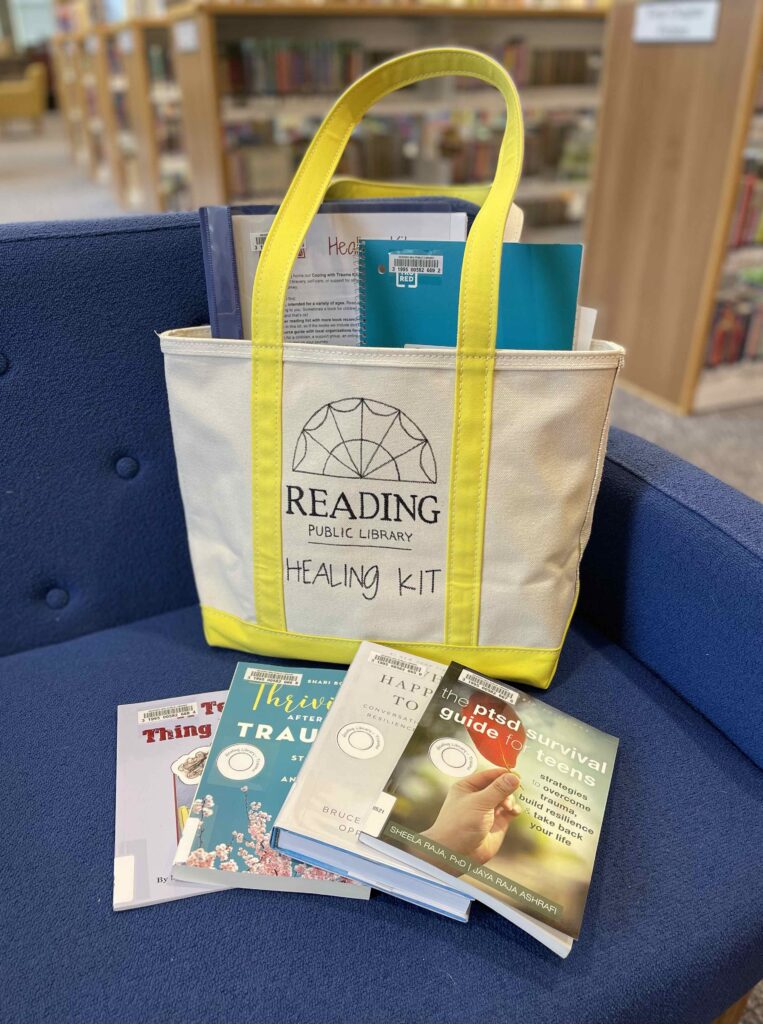 "These resources have been thoughtfully curated to be accessible and are accompanied by guides which outline positive steps that we can take to explore in these areas," said Allison Sarno, RMHS school psychologist. "Whether supporting a loved one or friend, or seeking insight for ourselves, these tools are a wonderful asset for our community."
The 10 kits were designed by Ashley Waring, RPL Children's Librarian, with guidance and support from the Reading Coalition for Prevention & Support, RESPOND, Inc and from Reading Public Schools Behavioral Health team. Each kit contains selected titles that appeal to children, teens, adults and families. Also included are ideas for therapeutic activities, information about local resources, a sharing journal, and curated lists for further reading.
Erica McNamara, Director of the Reading Coalition at the Reading Police Department shared "The Healing Library kits are a great tool that have been cultivated by the RPL over the past year. Coalition staff have appreciated being part of the process of building this important resource for our residents."
The Healing Kits may be checked out to bring home or browsed at the library. To view a full list of covered topics and request a kit, you can visit the Healing Library webpage at: https://readingpl.org/healing-kits
The Healing Library was developed as part of the Reclaiming Your Story Civic Hub grant, graciously awarded through the Library Services & Technology Act (LSTA) Direct Grant Program and funded by the Institute of Museum and Library Services. This project aims to amplify local voices and changemakers through the art of storytelling.
❦
The Reading Public Library is committed to evolving together to strengthen communication, equity, collaboration, and learning in our community. Our mission is to be a center and resource for learning and civic engagement. We provide a place and platform of, by, and for the people who can benefit as individuals as well as contribute to the well-being of the community. We work to achieve these goals and commitments by focusing on education, equity, accountability, and access.