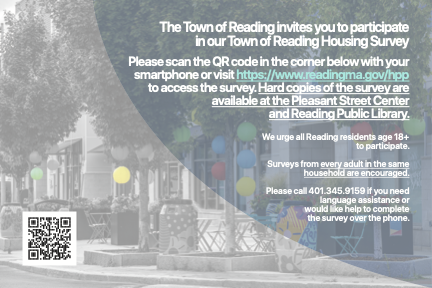 The Town of Reading's Housing Production Plan Update and Housing Survey is underway!
Please visit readingma.gov/hpp
We urge all Reading residents age 18+ to participate and surveys from every adult in the same household are encouraged.
Non-residents of Reading may also participate!
Please call 401.345.9159 if you need language assistance or would like help to complete the survey over the phone.
Updates on the initiative will be posted continuously on the webpage, so check back early and often if you are interested.
In addition, we will be having a Housing Forum on Monday, October 24th – stay tuned for more details!
If you have any questions or comments, please contact Julie Mercier, Community Development Director:jmercier@ci.reading.ma.us.