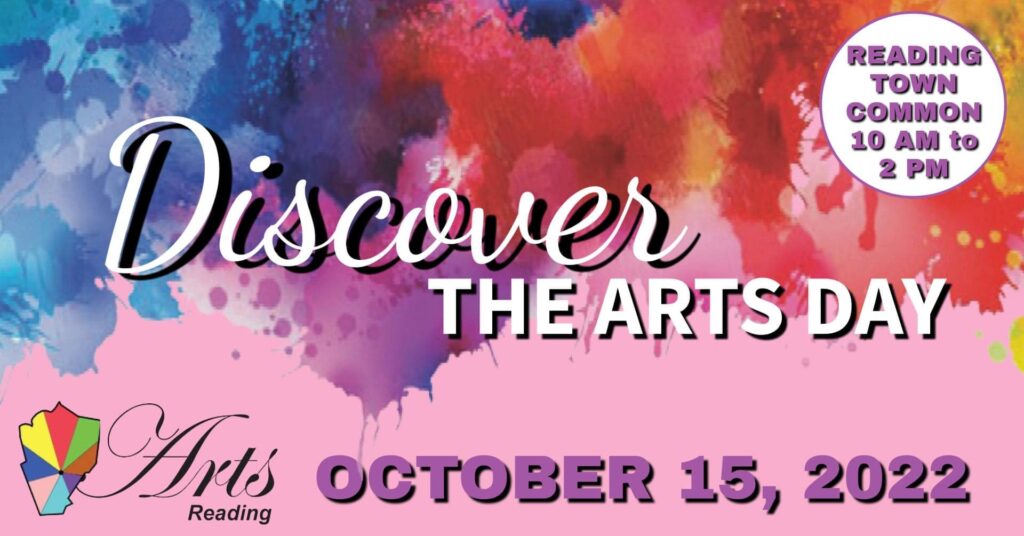 Reading, MA — Arts Reading, Inc. is pleased to announce that its 4th annual cultural event, "Discover the Arts Day Cultural Festival," will take place on Saturday, October 15, from 10 AM to 2 PM on the Reading Town Common in Reading, MA. The rain date is Sunday, October 16, from 1 to 5 pm.
This enjoyable, entertaining day will focus on many of the arts and cultural organizations and individuals in Reading and surrounding communities. All are welcome to stop by to visit and find out more about each organization and individual and what upcoming events they have planned.
Some of the Arts and Cultural groups that will be participating with Arts Reading, Inc, are: – Colonial Chorus Players – Creative Arts for Kids – Nimble Thimblers – Northeast School of Ballet – Quannapowitt Players – Reading Symphony Orchestra – Ricky Corbett Art – Reading Historical Commission – Reading Public Library – CATO Coalition of Us – Reading Cares– TASK Party – Reading Police Department – Reading Antiquarian Society – New England School of Performing Arts, plus Face Painting and Balloon Animals.
Entertainment performances will be provided by Rhodium Plated RP, 5th Gear, Stoneface Mountain, and MaryBeth Maes!
New this year is something called TASK Party. Don't miss the fun at this drop-in event, where attendees join the creative fun by selecting a task from the "Task Pool" and then interpret and complete their task in any way they see fit using the materials (or participants as the case may be) available to them at the party. When complete, write a new task to add to the pool and pull a new task to complete, and so on. Please use this link (CTRL+Left Click) to enjoy a glimpse of a TASK Party.
The TASK experience is designed to help participants remove prescribed social boundaries and interact in new and creative ways with permission and even expectation. Young and old, families and strangers, will be creating together and challenging themselves to think 'outside-the-box' and to be braver than usual to complete their tasks. Participants will have fun, stretch themselves creatively, and recognize our shared need to create and connect.
This Festival is also happening in conjunction with the Reading Fire Department's Open House, located at their Main Street headquarters at 757 Main Street, which also runs from 10 am-2 pm. It's a short walk from the Town Common to headquarters so we hope you can take in their Open House and attend our festival!
Please visit Arts Reading, Inc. at artsreadinginc.org to view our calendar, links to all of our Cultural Groups and individuals, plus our organization's information. You may also visit our Facebook page at facebook.com/ArtsReadingMA.
For any questions or if you are interested in joining Arts Reading, please email us at artsreadingma@gmail.com.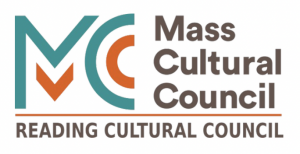 Arts Reading, Inc. wishes to thank the Mass Cultural Council and the Reading Cultural Council for their past financial support through grants.
Thank you – See you soon!