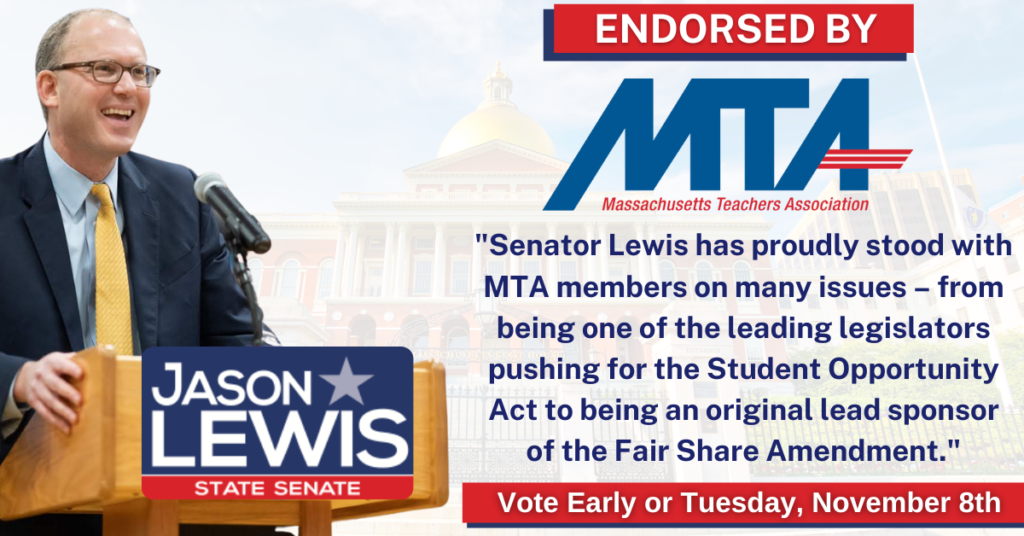 State Senator Jason Lewis is proud to be endorsed for re-election by the Massachusetts Teachers Association, which represents 115,000 teachers, faculty, professional staff, and education support professionals working at public schools and colleges across Massachusetts.
"The Massachusetts Teachers Association is pleased to recommend Senator Jason Lewis for re-election in the 5th Middlesex District," said MTA President Max Page. "Senator Lewis has proudly stood with MTA members on many issues – from being one of the leading legislators pushing for the Student Opportunity Act to being an original lead sponsor of the Fair Share Amendment, which is Question 1 on this November's ballot. He will continue to center economic and racial justice in his work and ensure that educators, families and students have a strong voice on Beacon Hill."
"I'm proud to have worked alongside the MTA and other education stakeholders to pass the historic Student Opportunity Act," said Senator Jason Lewis, who serves as the Senate Chair of the Joint Committee on Education. "If re-elected I will continue to focus on ensuring that every student in Massachusetts has access to a high quality public education, and our schools have the resources they need to continue to recover from the pandemic."
As a result of the passage of the Student Opportunity Act in 2019 — led by Senator Lewis — our communities have benefited from increases in Chapter 70 school funding as well as higher Special Education Circuit Breaker and Charter School reimbursements from the state.
Senator Lewis has represented the Fifth Middlesex District in the state Senate since 2014. He will be facing Republican Ed Dombroski in the November election.
To learn more about Senator Lewis' positions on issues and his accomplishments for the district and the Commonwealth of Massachusetts, please visit electjasonlewis.com.