March 2, 1963 – September 21, 2022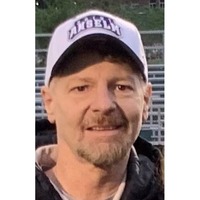 On September 21, Bradford E. Howse, 59, of Windham, NH, formerly of Reading and North Reading, passed away peacefully at his brother's home in Reading after a lengthy illness. He was surrounded by his loving family.
Brad was the son of George A.G. Howse (deceased) and Beatrice I. (Moultrie) Howse. He leaves his children, Thomas B Howse, 22, and Julia E. Howse,19, and his former wife Karen I. Howse, all of North Reading. He was one of eight children: Pamela J. Kelly and her husband David, Kenneth W. Howse and his wife Cynthia, Cheryl H. Nichols and her partner James Lynch, Randall S. Howse and his wife Anne, Russell W. Howse and his wife Linda. He was predeceased by his brothers Scott E. Howse and Rodney S. Howse. Brad was a beloved uncle to over 25 nieces and nephews. He also leaves his very close friends and caregivers, Gary Carbonneau and Jean Watt, who lovingly adopted his cat Ziggy.
Brad graduated in 1981 from Northeast Metropolitan Regional Vocational High School in Wakefield, MA. He worked as an Electrician for Local 103 contractors for many years. He was owner of Howse Security and Controls and later worked for Howse Corporation until ill health caused his early retirement. 
At a young age, Brad discovered his artistic ability, shown in his pen and ink drawings, scrimshaw, and wood carving projects. As an adult, his favorite times were spent at Lake Winnipesauke, boating, jet skiing, and kayaking with his large family. He moved to Cobbetts Pond in Windham to be close to the water, where he enjoyed fishing and working with his best friend and son Tommy on motorcycles, boats, and trucks. He was so proud of his daughter Julia and loved watching her softball games, from youth sports to her current role on St. Anselm's women softball team. He loved barbequing, cornhole, and campfires with his family and friends. As his illness progressed, he looked forward to Friday Night Movie Night with his friend Gary.
Brad's kindness, generosity, wonderfully unique sense of humor, and smirky smile will be greatly missed by all who knew him.
A funeral service will be held on Wednesday, September 28, at the Douglass, Edgerley, and Bessom Funeral Home, 25 Sanborn St. (corner of Woburn St.) Reading, at 10am followed by the burial at Puritan Lawn Memorial Park in Peabody. Funeral home visiting hours will be Tuesday evening from 4-8pm. 
In lieu of flowers, contributions may be made in Bradford's memory to the food pantry of your choice.
To send a flower arrangement or to plant trees in memory of Bradford E. Howse, please click here to visit our Sympathy Store.