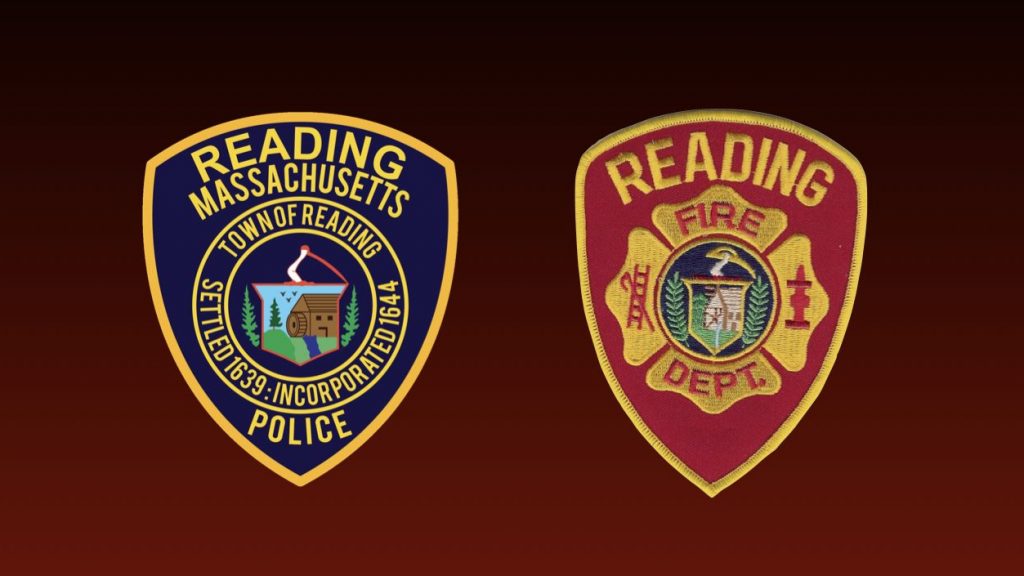 Reading, MA – Excerpts from the Reading Police and Fire Log:
Friday, September 9, 2022
1:54am – Motor Vehicle Stop for Speeding (40 in a 30) on West Street.
6:41am – Motor Vehicle Disabled Lowell Street and Grove Street.
8:46am – Traffic Enforcement on Charles Street. No Citations Issued.
9:37am – Larceny – Money Lost in Online Scam on Heather Drive.
9:46am – Traffic Enforcement on Green Street. No Citations Issued.
10:20am – 911 Hang Up from New Crossing Road.
10:25am – Motor Vehicle Lockout on Thomas Drive.
10:33am – Fire Department Assisting Person with a Wheelchair on Haverhill Street.
10:40am – Motor Vehicle Stop Salem Street and Wilson Street. Warning for Red Light Violation.
11:03am – Residential Alarm Haven Street. No Smoke/Fire
11:15am – Minor Motor Vehicle Crash Main Street and Haven Street.
11:16am – Accidental 911 call from Public Library Elevator.
11:41am – Traffic Enforcement Timberneck Drive. No Citations Issued.
1145am – Traffic Enforcement Bay State Road. No Citations Issued.
11:55am – Accidental 911 Call Main Street Residence.
12:00pm – Car Struck by Trash Truck Lawrence Road.
1:24pm – GBH nonprofit Soliciting in the Area of Franklin Street.
3:48pm – Motor Vehicle Hit and Run Haven Street.
6:12pm – Residential Check Ash Street.
6:22pm – Traffic Enforcement on Curtis Street. One Citation Issued.
8:18pm – Residential Check Buckingham Drive.
8:48pm – Motor Vehicle Stop Washington Street. Warning for Marked Lanes Violation.
9:22pm – 911 Misdial from Cell Phone Temple Street
9:44pm – Report of Fireworks/Gunshots in the Bancroft Avenue Area.
11:00pm – Fire Department Lift Assist on Summit Drive.
11:40pm – Disabled Motor Vehicle in the Jordan's Furniture Parking lot
Saturday, September 10, 2022
12:44am – Multiple Cars and Loud Music in the Parking Lot of Wood End School.
1:02am – Commercial Alarm Reading Public Library Middlesex Avenue.
2:06am – Suspicious Person – Loud Yelling coming from the Citgo Gas Station on Main Street.
5:13am – Smoke Alarm Activation Sumner Cheney Place. No Smoke or Fire.
8:24am – Commercial Alarm at the Salem Five on Walkers Brook Drive.
8:39am – Lincoln PD Requesting to Speak with West Street Resident
10:53am – Parkview Road Resident Watering Lawn During Water Ban
11:08am – Motor Vehicle Stop Birch Meadow Drive. Warning for Verbal Hands-Free Violation.
11:51am – Vehicles Parked on Both Sides of Sunset Rock Lane, Impeding Traffic.
11:57am – Motor Vehicle Sideswiped by another Motor Vehicle at the Mobil Gas Station West Street.
12:41pm – Male in Military Truck Assembling a Large Gun on Ash Street
12:58pm – Somerville Police Department Attempting to Contact Woburn Street Resident.
1:28pm – Suspicious Person Tennyson Road. An Older Male Came to the Front door.
1:41pm – State PD requesting contact with Haven Street Resident regarding Hit & Run.
4:41pm – Motor Vehicle Crash Market Basket Parking Lot on General Way.
7:50pm – Prospect Street Motor Vehicle Running for Over Half Hour with No one Inside.
11:09pm – Loud Dog in the Area of Haystack Road.
Sunday, September 11, 2022
2:01am – Missing Youths Returned Home Middlesex Avenue.
2:36am – Motor Vehicle Crash Haverhill Street. Van Struck Fence and fled the scene.
3:$0am – Motor Vehicle Crash Haverhill Street and Granger Avenue. No injuries reported.
6:50am – Smoke Detector Activation High Street. No Smoke or Fire.
9:40am – Fire Alarm Activation on Eastway. No Smoke or Fire.
1:03pm – Found Kitten with Pink Collar on Winthrop Avenue.
3:38pm – South Street Resident Reporting Attempted Fraud.
5:06pm – Disabled Motor Vehicle on Main Street near Home Goods.
5:39pm – Motor Vehicle Stop Eaton Street. Warning for Equipment Violation.
7:05pm – Two youths hit with Squirt Gun from Vehicle on High Street.
9:05pm – Traffic Enforcement Catherine Avenue. No Citations issued.
9:06pm – Traffic Enforcement Tamarack Road. No Citations issued.
10:00pm – Traffic Enforcement Salem Street & Main Street. No Citations issued.