North Reading, MA — Chief Michael Murphy reports that Massachusetts Environmental Police, with assistance from the North Reading Police Department, immobilized a black bear on Sunday, believed to be the same bear sighted by residents in multiple communities in recent weeks.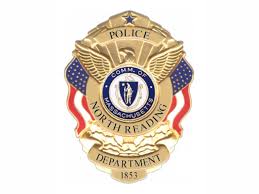 North Reading Police have received several calls regarding black bears in the past month. On Sunday, Aug. 22, at about 8:30 a.m., North Reading police were informed that a bear was attacking chickens on Foley Drive. During the day police received several other calls reporting sightings in the areas of Haverhill Street and Gowing Lane. North Reading Police contacted Massachusetts Environmental Police to assist via mutual aid.
At about 5 p.m., North Reading officers and members of the Environmental Police responded to another reported sighting in the area of Hill Street and consulted on the best course of action to protect the community. Environmental Police began the process of immobilizing the bear. North Reading Police alerted the community via a Code Red emergency notification.
The bear was captured at about 7 p.m. in the area of Hill and Peabody streets. Environmental Police tagged the bear and safely transported it nearby to a wooded location suitable for a bear of this size.
While believed to be the same bear seen in numerous Middlesex County and Essex County communities in the past few weeks, residents are urged to remain vigilant as authorities have no way of ascertaining that fact, as black bears are native to the area and multiple bears are spotted in the area each year.
"Thank you to the Environmental Police for their response and handling of this incident," Chief Murphy said. "Bears do not necessarily pose a threat to the community. But we ask residents who see a bear to not interact with it or track it, but to call our department immediately. In this instance, the biggest danger is that a bear will learn to associate human activity and domestic poultry as food sources."
The North Reading Police Department shares the following tips from the Massachusetts Division of Fisheries and Wildlife:
Bird feeders: It is best to not set out bird feeders. In general, most bears are denned from mid-December through February. If you choose to put out bird feeders, doing so during this time may decrease the chance of a bear coming to your feeder. In mild winters, some bears may be active year-round. Bring in any feeders at the first sign of bear activity.
Secure trash: Put trash barrels out the morning of trash pickup, not the previous evening. Store all garbage in closed containers in a garage or outbuilding. Trash should always be placed inside the dumpster, and never left accessible to bears.
Remove other attractants: Always feed pets indoors. Clean greasy barbecues and grills after each use. Do not leave food scraps, grease containers, or spilled grease in your yard.
Protect chickens and bees: Coops and chicken wire provide inadequate protection from black bears. Properly maintained electric fencing is the only way to protect bees, chickens, and other poultry from bears.
Protect crops and orchards: Temporary electric fencing may be used to protect corn and other crops. Seven-strand slanted non-electric fences have been used to keep bears out of orchards.
If you encounter a bear: A bear's first response to something unusual is to leave. If a bear is feeding in an area where it doesn't belong, such as your yard, on a porch, or in a dumpster, step outside, yell, and make lots of noise. The bear will usually leave, accompanied by its young. Habituated bears may ignore minor harassment. If you continue to see bears, check your property and remove any potential food sources.
For more information on black bears, visit mass.gov/bears.
Further media inquiries should be directed to the Massachusetts Environmental Police.