Russell Lived in Town During His Time with the Celtics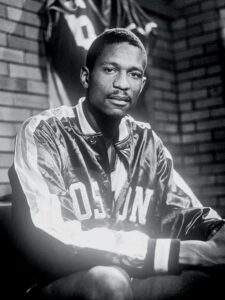 Reading, MA — Town Manager Fidel Maltez wishes to share that the Town of Reading, Reading Select Board, and the Reading Public Library remembers and honors the life of a former resident and Celtics all-time great Bill Russell. Russell died on Sunday, July 31, at the age of 88. Russell won 11 NBA championships as a player and a coach- including eight straight between 1958 and 1996—as well as a gold medal at the 1956 Olympics. During part of the Celtic's run of success, Russell and his family resided in Reading.
Russell was also well-recognized as a civil rights icon. His daughter wrote in 1987 of the racially motivated vandalism they endured at their home, as well as the racism Russell himself faced throughout his time in Boston.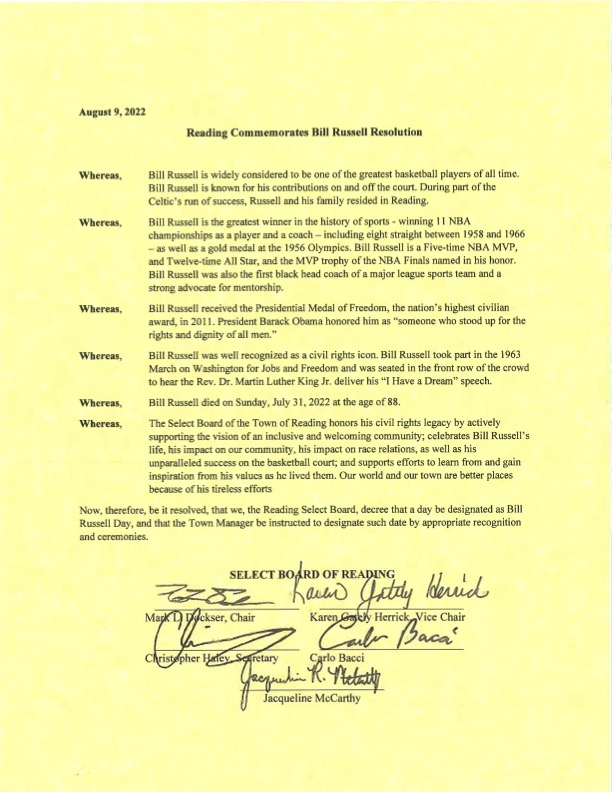 "Outside of his unparalleled success on the basketball court, Bill Russell was a strong advocate for equality and fought hard to end racism, including the time he lived in Reading," Maltez said. "May this be an opportunity for us to reaffirm values of equal and inclusive community, and to reconcile an unjust past with the vision of an equitable and harmonious future. We do want to celebrate his life, his impact on our community, his impact on race relations, as well as his unparalleled success on the basketball court. He should be remembered for his achievements both on and off the court. Our world and our town are better places because of his tireless efforts."
The Reading community is coming together to celebrate Russell and to recognize that his legacy of great sportsmanship and civil rights activism will continue to be a source of inspiration and education. To learn more about Bill Russell and his career as a sports and civil rights leader, visit the Reading Public Library for books and other resources. The Reading Select Board issued a proclamation to honor Bill Russell at their August 9 meeting. The Select Board will also consider other ways to acknowledge and honor Bill Russell's legacy in Reading in the coming months.