The following article is based on an Around Reading feature. Follow Around Reading on social media Facebook | Youtube | Instagram
To the delight of many visitors, a mural can now be enjoyed in the Town Forest just off Strout Avenue near the Ipswich River. Artist Matt Baynes explained that the Town Forest Committee was looking to improve the rundown and graffitied cinder block structure and sought Baynes out to create a mural for it.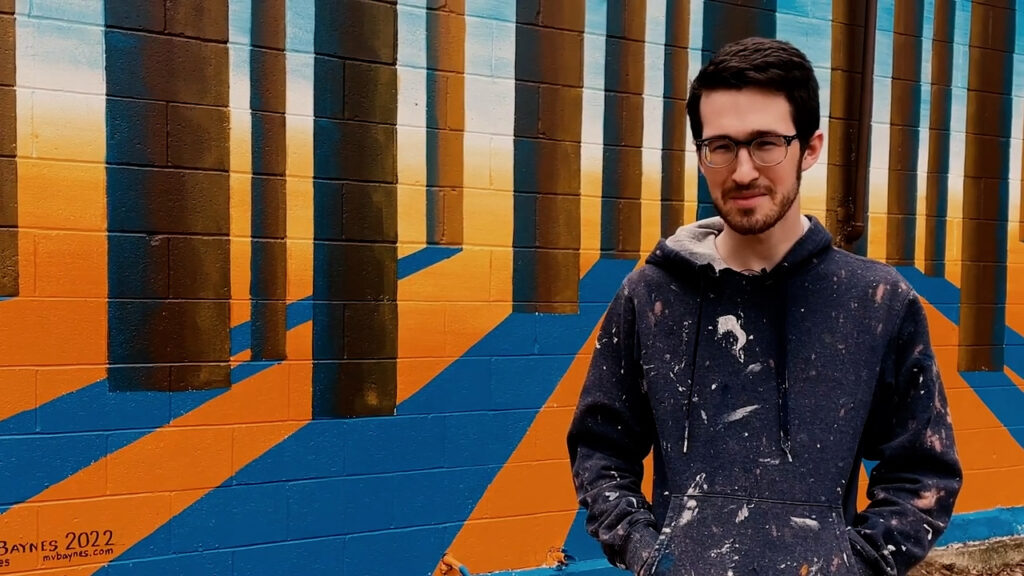 "I've always been drawn to the light in the Town Forest when there's really long shadows and golden light," Baynes continued. "As an artist, I'm really drawn to light."
Baynes attributes his interest in art to his teachers in the Reading Public Schools, an interest that continued as he pursued a degree at Emerson College. Baynes noted that he was also selected to paint one of the electrical boxes downtown two years ago. Baynes's work can be seen on the electrical box at the corner of Haven Street and Main Street and depicts the Reading Train Station. He also has painted a mural in the music and drama suite at Reading Memorial High School, along with other private projects.
"I've spent the last couple of months spending time making art," Baynes shared. "Most days, I am painting."
"The mural I've made [in the Town Forest] ties into my body of work," Baynes concluded. To keep up to date on Baynes's activities, he can be found on Instagram at @mvbaynes or on his website at mvbaynes.com.